BECOME
DRIVING
INSTRUCTOR

With more than twenty years of experience in the field, the French Motorsport Federation has developed new training programs, especially with the creation of diplomas recognized by the French State. Today, the FFSA Academy provides different training sessions for anyone who wants to become a driving insctructor.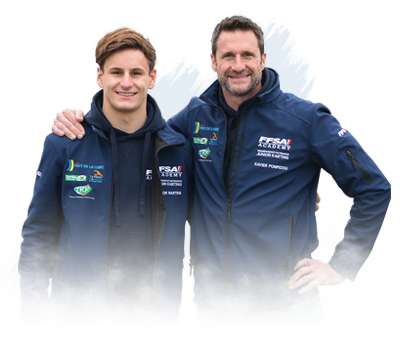 Depending on the training level of each candidate, two different trainings are offered by the FFSA Academy.
BP JEPS & DE JEPS
THE PEDAGOGY TEAM
The federal training center relies since its beginnings on a qualified educational team (trainers, coordinators…) and experts. Today, this team is composed of :
CHRISTOPHE LOLLIER
National Technical Director
& Trainings Director
SÉBASTIEN MENARD
Educational Director
MARC BERTEAUX
ANTHONY ABBASSE
BRUNO ARNOUD
GUILLAUME GREUET
GILBERT DUCONGET
VINCENT MARCEAU
JEAN-BERNARD BOUVET
Trainers
BP JEPS & DE JEPS
«

MOTORSPORT

»
CAN BE PREPARED AT THE FFSA ACADEMY.
FINANCES
By the end of the rankings and testings, an estimation is delivered to the candidate, who can finance it himself or through a third party (OPCA, Region, Company…). As for a full training, the price is 15 000€ (selection, certification and positionning costs excluded, which represents a total of 17 000€).
Financial aids can be considered, depending on the status of the candidate: for example the ones who already have a job can benefit from a ''CPF de transition (ex CIF)'', the ones who are looking for a job ask for financial aids to ''Pôle Emploi", to benefit from an AIF (Aide Individuelle à la Formation), "La Mission Locale", "La DDTEFP" (Direction Départementale du Travail, de l'Emploi et de la Formation Professionnelle), etc. and the region where they live can also support the charges of the formation. Our ''BP JEPS SA'' training course is datadock registered and eligible for ''CPF''.

BP JEPS/ Driving Instructor
Diploma recognized by the French State to exercise an animation or training activity in the motorsport sphere, the "Brevet Profesionnel de la Jeunesse, de l'Éducation Populaire et du Sport (BP JEPS)" allows to meet a practising security need. This certificate is intended for everyone who wants to supervise motor sport activities.
Two differents paths are proposed : Karting and Driving improvement.
The formation works on an alternative sessions spent at work for practice on the field and inside the FFSA Academy for academical learning. 600 hours and in-company practice for 658 hours, for a total of 1258 hours maximum. One training session per year is offered, with entry and exit on a fixed date. Admission tests at the beginning of the course: every year in October for entry into the course in February of the following year.
Getting the BP JEPS in the FFSA Academy presents a double advantage to pretend to an autonomous work while guaranteeing safety for all.
The BP JEPS concerns either a driving instructor (80% of the candidates) who want to regulate his/her situation, or a "novice" who wishes to take on a driving instructor career. This training targets all French candidates but also foreigners who want to exercise on the French soil.
Expertise developed
Communication, pedagogy, groups management, driving technics, event organization, sporting and automobile regulation to allow the instructors to be autonomous and ensure optimal and security conditions for the apprentices (cf. BO N°15).
Evaluation and validation during the training action (cf. Certification referential).
Conditions for enrolment and access to the training
The first condition is to be the owner of a car license B. It is worth knowing that you must have a good level of driving as well. Moreover, you must have the attestation of "Prévention et Secours Civiques de Niveau 1" (PSC1). The candidate must then complete a registration form to apply to the FFSA Academy and pass the tests to see if he/she qualifies.
– To be 18 years old and hold a B driving licence
– To hold a Level 1 Prevention and First Aid training certificate (see PSC1 training).
– Provide a medical certificate of no contraindication to the practice of motor sport activities (see Medical Certificate)
– Accessibility to disabled persons: Requires the opinion of a doctor approved by the French Federation of Handisport or the French Federation of Adapted Sport (cf. Art. A.212-35-Art.A.212.36). Each situation will be studied on a case by case basis.
– To present the complete registration file (see registration file) (to be returned to the training centre) accompanied by the payment cheques and to validate all the admission tests costing 1300 euros (A sufficient level of piloting will be required – (see description of admission tests + instruction n° 06-08JS).
FINANCES
& ORGANIZATION
For a complete training, the cost is 25€/h (selection and certification costs excluded).
The formation takes place
alternatively :
> 700 hours in the FFSA Academy
> 700 hours in a firm
which adds up to 1 400 hours of formation spread over 10 months.

DE JEPS/ Driving Instructor
Since 2010, in addition to the BP JEPS, the FFSA Academy offers the possibility of preparing the "Diplôme d'État de la Jeunesse, de l'Éducation Populaire et du Sport (DE JEPS) – Sporting Improvement" allowing to manage training sessions and competitions in motorsport.
The "DE JEPS Motorsport Sporting improvement" is intended for BP JEPS holders with two years of experience or for candidates with five years of experience in the given field. All of them have to first succeed the technical tests.
Four different paths are proposed : Circuit, Karting, Rally and Off-road
Skills developed through training :
Design sports development programs
Coordinate the realization of a development project
Conduct a development process
Conduct training activities for professionals