BECOME
COMPETITION
MECHANIC

Since 1993, under the aegis of the French National Education Ministry, the FFSA Academy develops a free "competition mechanic" training.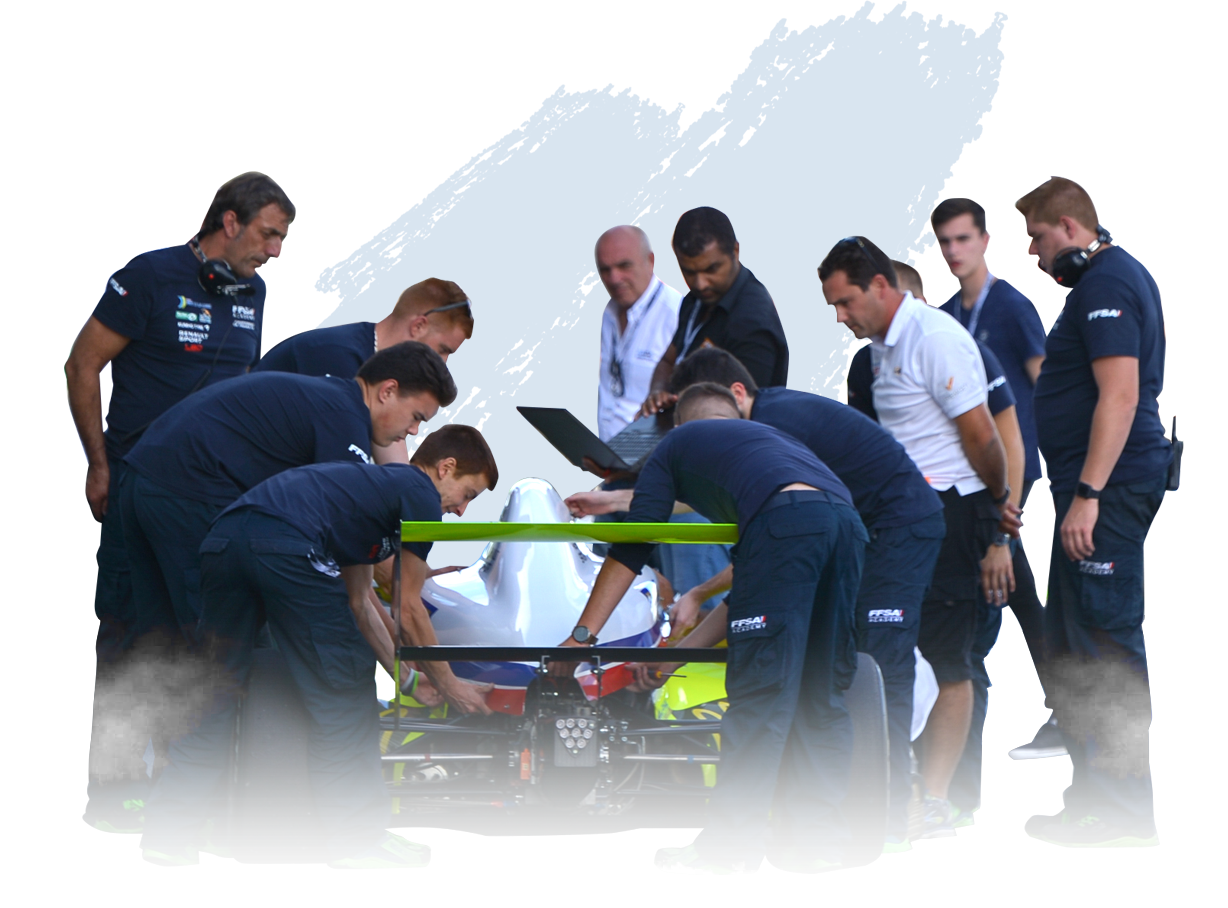 During 13 months, the selected students receive a theoretical and practical training in the FFSA Academy, supervised by teachers from the FFSA Academy or the Lycée Polyvalent Le Mans Sud and by competition specialists. This training is reinforced by internships in structures operating in the highest disciplines of international motorsport.
Theoretical education related to technologies applied to competition: chassis, track adjustment, suspension, competition gearboxes, data acquisition, aerodynamics.
English classes, universal language in the world of motorsports.
Complete revision of the single-seaters
Repairing and complete painting of the bodywork in composite materials (carbon fibre)
Beginners' course: soldering, painting, manufacturing
Preparation to the electrical certification for hybrid vehicles.
The follow up of the single-seaters of the FFSA Academy or the Ford Fiesta R2J from the Rallye Jeunes FFSA Team represents the main part of the activity of the mechanics and participate in the good preparation of their entry to professional life.
During the racing season, the trainee mechanics notably have the responsibility of:
The preparation/repair of racing cars.
The regulations, finalised during the training sessions and the practice sessions.
The maintenance of cars.
During the course, several training sessions are programmed. When it is possible and according to the available places, a first professional overview is done with a participative training course at the 24 Hour Le Mans Race with the Le Mans teams engaged in this mythical race.
A training course of 3 months will be proposed to the most deserving trainees with Renault Sport F1 in Viry-Chatillon at the departement of F1 engine. At the end of the school year, the trainee mechanics do a training course of several weeks in teams evolving in prototype sport, single-seater, GT, rally, etc. and which very often results in a proposition of hiring.
THE ADMISSION TO THE COMETITION MECHANICS TRAINING IS POSSIBLE BY COMPLETING AN APPLICATION FORM.
Every applicant needs to fill out the paperwork with a resume and motivation letter to be sent before the end of April for a start in September of the same year.
Please note that the recruitment level required is "Bac Pro Maintenance Véhicule Automobile" or "BTS Maintenance des Véhicules".