The French F4 Championship drivers dodged the raindrops during a day that generated incessant animation in the pack. Two drivers celebrated their first success: Reshad De Gerus in Race 1 and Enzo Valente in Race 2.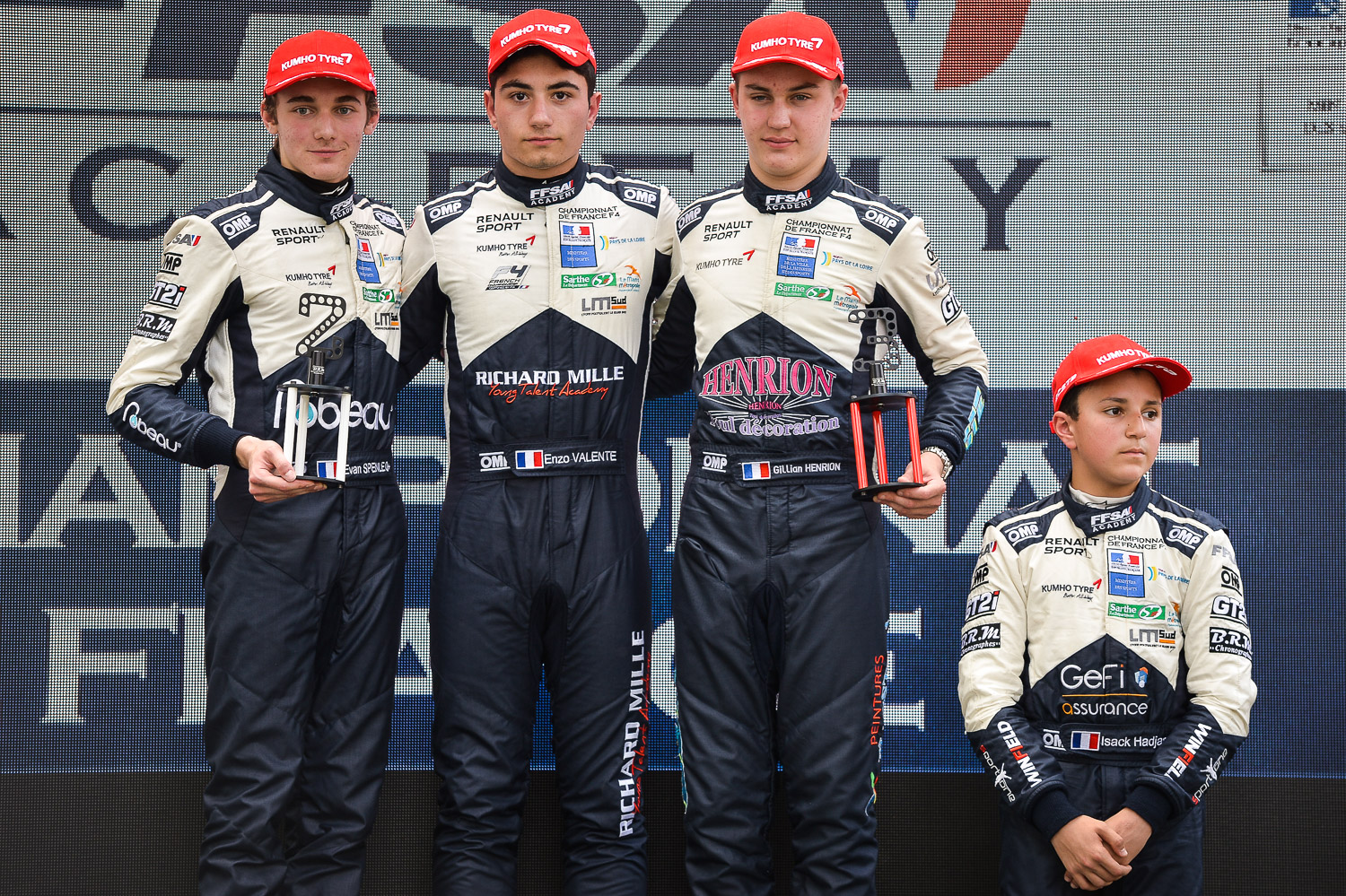 The city of Henri IV definitely reserves its share of surprises and twists! Although the track remained dry in Race 1, a collision involving several cars significantly changed the hierarchy in the chasing group and had a noticeable influence on Race 2 due to a starting grid given in reverse order for the top 10 of the first race.
Race 1: Reshad De Gerus from start to finish
The French F4 Junior Vice-Champion, Reshad De Gerus has never hidden his title ambitions in 2019 for his second season in motorsport. The young Reunionese driver waited impatiently for his first victory in the FFSA Academy and was successful after a fantastic race behind him. "I had a great start and was able to take the lead over poleman Stuart White from the first braking point," said Reshad. "I had already started to widen the gap and set the fastest lap, but the race was interrupted on the fifth lap due to a collision. At the restart, I concentrated on keeping my position. A little later, I lost an aerodynamic appendage on my wing and the car became harder to drive. I really had to fight to the end to keep Hadrien David behind me."
Despite a very fast pace, David could not find the opening, but was very satisfied with his performance. "Finishing 2nd after starting 4th in the streets of Pau is still a good performance. I managed to overtake Enzo Valente and then Stuart White, but Reshad really went out of his way to protect his position and it was really not possible to overtake. This 2nd place is satisfactory in view of the Championship."
Behind the South African White who completed the podium, the rankings changed in the pack. "At the Lycée hairpin, there was a clash behind me while I was looking to defend my 3rd place. In fact, I was in trouble because of a slow puncture and was considered responsible, so I got a 30-second penalty," said Valente. The red flag was went out, but several cars could not restart because of the damage done to their car. From 7th place, Isack Hadjar took a good 4th and, at the same time, the victory in Junior. The Dane Valdemar recovered 5th place, while Gilian Henrion (+8 places) and Mathis Poulet (+12) took the opportunity to make spectacular recoveries to 6th and 7th place. Caught in the incident while he was running 5th, Jules Mettetal was unlucky in this race and Evan Spenle, penalised for jumping the start, was satisfied with 7th place.
Race 2: Enzo Valente's turn
According to the reverse grid principle, Bryson Lew had the honour of starting on pole position for Race 2, again run on slick tyres. But the American was not able to keep his position. Very quickly, Valente regained the leadership and headed for an indisputable victory. "After losing points in the Championship in Race 1, the goal was really to take advantage of my P3 start to win this second race and that's what I managed to do. A success at Pau in this legendary place will remain a great memory for me."
On the second step of the podium, Evan Spenle could relax, after struggling to resist the return of Gillian Henrion. "I had a great start, but Valente managed to come back at the Parc Beaumont. Then I saw Henrion in my mirror, but I was able to keep my position," said Evan. Although Henrion clinched his second podium in F4 this season, Mathis Poulet confirmed his progress by reaching 4th place ahead of Stuart White, up eight places, and Isack Hadjar, again the best Junior. De Gerus, Ugo Gazil, the American Lew and Mettetal completed the top 10. Victim of a collision, Hadrien David had to retire.
Schedule for Sunday, 19th May:
Race 3 at 11:08