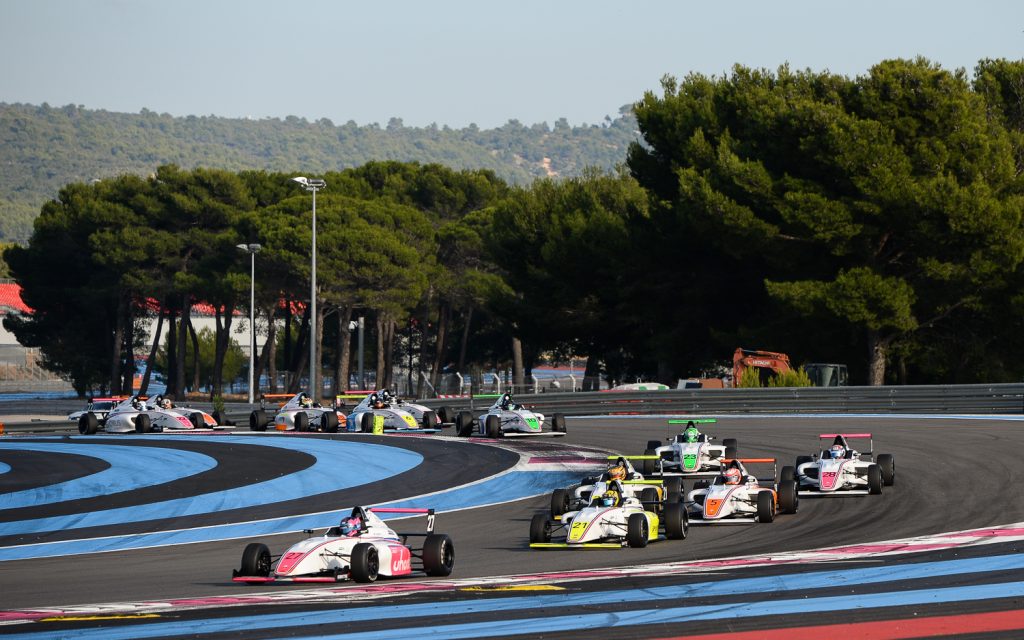 A real springboard for young hopefuls dreaming of climbing the pyramid of motorsport, the FFSA Academy French F4 Championship will conclude the 2019 season at the Paul Ricard circuit at a particularly high level. It has been exciting in more ways than one. No less than 10 different drivers had the opportunity to mount the top step of the podium, while the suspense has been preserved until the end, both for the general classification and for the Junior title.
Impressive throughout the season, Hadrien David and Reshad De Gerus will face each other one last time to find out who will win the crown. David has an advantageous but short lead on dropped scores, but it is not enough to simply relax. There is no doubt that the Qualifying session will be of great importance both in terms of performance and of confidence. During the weekend, the Reunionese driver will have a small advantage as he will be able to use two additional tyres, as allowed by the rules, knowing that David used his at the start of the season in Budapest.
Although the title will inevitably go to one of these two drivers, many can aim for the third step of the podium, but Nicky Hays does not intend to let it go easily. The American will have to watch out for Gillian Henrion, Isack Hadjar, Victor Bernier, Enzo Valente and the South African Stuart White. Many other drivers will want to finish the season in style, such as the Belgian Sten Van der Henst and Evan Spenle, both brilliant in some races. The winner of the Winfield Volant at the Var circuit, Jules Mettetal will be keen to demonstrate his abilities again.
Three new drivers are preparing to join this FIA-certified Championship in anticipation of their commitment in 2020. They are Esteban Masson, the outgoing French Junior Karting Champion, as well as Sami Meguetounif and Enzo Joulié. They will meet Russia's Vladislav Lomko, who will take part in his second round after an encouraging first attempt in Budapest.
In the French Junior Championship, Victor Bernier holds the lead ahead of Isack Hadjar and will have to avoid any missteps so as not to let his rival get ahead of him. From 11th to 13th October, the drivers will race in the prestigious meeting of the French FFSA Circuits Championship, on the Paul Ricard circuit at Le Castellet.
Timetable
Friday, 11th October: Free Practice (12:35) and Qualifying Practice (18:00)
Saturday, 12th October: Race 1 (13:10) and Race 2 (18:25)
Sunday, 13th October: Race 3 (10:15)
Provisional ranking after Magny-Cours
1- Hadrien David (FRA) – 247 pts
2- Reshad De Gerus (FRA) – 233.5 pts
3- Nicky Hays (USA) – 147 pts
4- Gillian Henrion (FRA) – 122 pts
5- Isack Hadjar (FRA) – 110 pts
6- Victor Bernier (FRA) – 104 pts
7- Enzo Valente (FRA) – 101 pts
8- Stuart White (ZAF) – 97 pts
9- Sten Van der Henst (BEL) – 87.5 pts
10- Evan Spenle (FRA) – 84 pts
Etc.