The new calendar has been approved, the cars are ready, the FFSA Academy staff are in the starting blocks and the drivers are impatient to get started. All the lights are – at last – green for the launch of the 2020 F4 French Championship…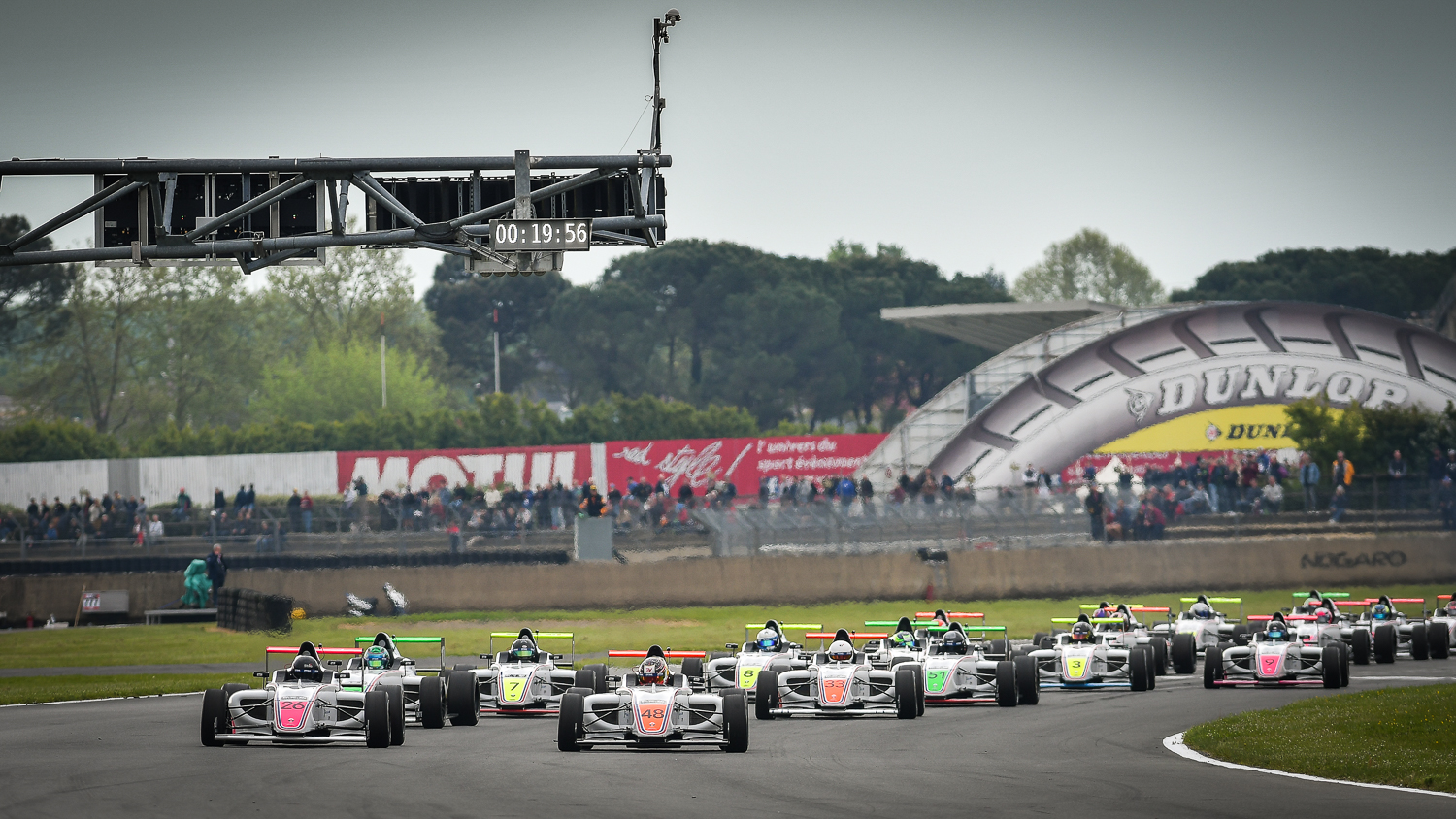 Initially scheduled from 11th to 13th April, the first event of the French F4 Championship will finally take place from 21st to 23rd August! The Covid-19 pandemic and containment have disrupted the start of the 2020 racing season. Forced to close for many weeks, the FFSA Academy has finally been able to reopen its doors. However, one unit remained active with the number one objective being the development of a new calendar. "The constraints have been difficult to manage," confirms Amaury Richard, head of sport for the French F4 Championship at the FFSA Academy. "Unfortunately, some of the postponements could not be rescheduled, such as the 2020 edition of the Pau Grand Prix which was cancelled. In spite of the uncertainties, we have been able to announce good news to the competitors and our partners, as the seven meetings initially planned have been maintained. We'll still make two outings outside France, on well-known tracks: Spa Francorchamps and Zandvoort, which replaces Budapest."
Regrouping in Le Mans mid-August
Before also visiting the prestigious circuits of Magny-Cours, Paul Ricard, Lédenon and Le Mans, the season will start at Nogaro, as is the tradition. Between now and the start of this event, eagerly awaited by all those involved in F4 France, the drivers will meet from 12th to 14th August at Le Mans, in the FFSA Academy premises, to settle the final details, fine-tune the driving position of each participant and attend several information briefings. In addition, they will need to be aware of the health protocols in force. "It's a whole system to put in place," says Amaury Richard. "However, as the French F4 Championship is managed entirely by the FFSA Academy, we are confident that it will run smoothly despite the situation, thanks to the measures we are going to put in place".
This year again, the field will be looking good, with significant foreign participation, showing the growing internationalisation of this competition. "Despite the fears arising from the shutdown, the vast majority of the drivers entered at the start of the season have confirmed their presence in 2020. The late start to the season even enables us to welcome drivers who would like to join us at the last minute. Please do not hesitate to contact us."
In 2020, the FFSA Academy is delighted to welcome back the winner of the Richard Mille Young Talent Award. This is Mexican driver Rafael Villagomez. In addition, the partnership with Honda Japan is being strengthened, with a contract having been signed with two Asian drivers, who will be to be followed with interest throughout the seven meetings.
See you at Nogaro
Although the serious action will really start during the official Qualifying for the first race at Nogaro, several private practice sessions are scheduled a few days earlier on the Paul Armagnac circuit, on August 18th and 19th. It will be an opportunity to discover the Mygale F4-FIA in depth, now powered by a 1.3-litre 4-cylinder TCe engine with a turbo. "With this new block developed by Renault Sport, which is more advanced and more powerful, torque is increased over a wide range, bringing significant lap gains, while reducing weight by 30 kg! This is a new milestone for our academicians."
More than ever, the FFSA Academy French F4 Championship is shaping up to be the benchmark competition for starting out in single-seater racing, with a training and detection programme that is unique throughout the world.
2020 Calendar 
21th – 23rd August: Nogaro (France)
11th – 13th September: Magny-Cours (France)
25th – 27th September: Zandvoort (Netherlands)
02nd – 04th October: Paul-Ricard (France)
16th – 18th October: Spa-Francorchamps (Belgium)
06th – 08th November: Lédenon (France)
13th – 15th November: Le Mans (France)