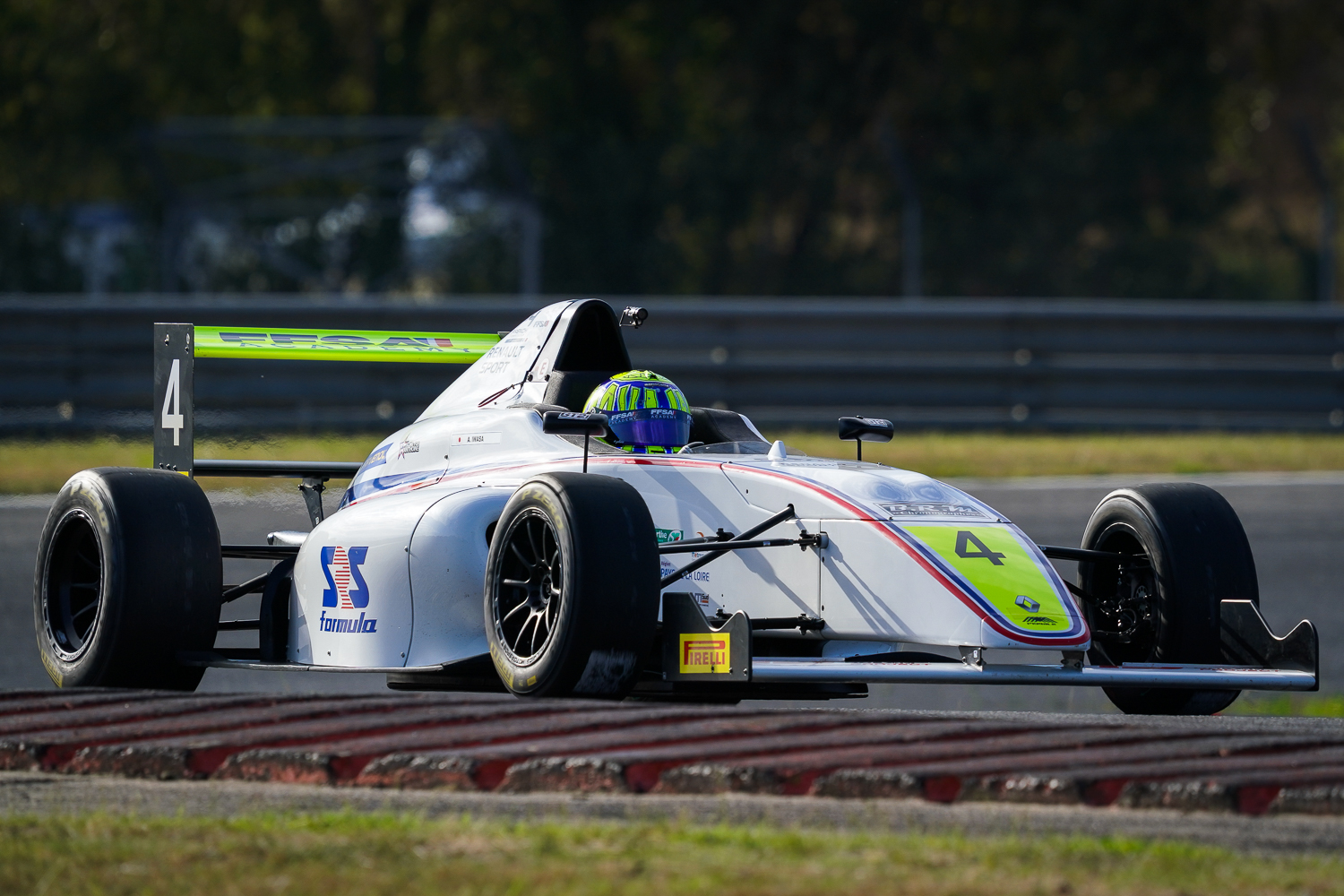 Japan's Ayumu Iwasa achieved the first pole position of the season at the Easter Cup in Nogaro and the successful launch of the FFSA Academy 2020 F4 French Championship. The three races of the weekend will be intense!
As is often the case in a thrilling Qualifying session, the drivers played cat and mouse. Some of them went back on track very quickly to enliven the beginning of the session in temperatures that were still very high at the end of the day. Romain Leroux was the first at the front of the grid, but was quickly worried by Owen Tangavelou, the Russian Lev Lomko and Daniel Ligier. The Ukrainian Ivan Peklin came in at the front of the field, before the lap times started to get really crazy after the first 10 minutes.
An undecided hierarchy
Winner of the Richard Mille Academy last winter, Mexico's Rafael Villagomez was the first to knock Romain Leroux off his pedestal. The 2019 World Karting Champion in KZ, Dutchman Marijn Kremers was in 3rd place, just as the two Japanese drivers of 2020 were attacking, as was Isack Hadjar, vice-Champion of the French F4 Junior Championship last year. As the drivers returned to the pits to cool down their tyres before setting off on another run, Ren Sato was leading the way ahead of Isack Hadjar, Ivan Peklin, Ayumu Isawa, Marijn Kremers and Loris Cabirou, who was also very fast.
The Japanese in the lead!
Restarting for about five minutes, Ayumu Iwasa quickly got back into the swing of things, setting two consecutive reference times of 1'27″094 and 1'27″112, which meant a convincing double pole position. The Japanese driver will therefore start first in Races 1 and 3 this weekend. Sato was the 2nd fastest driver of the day ahead of Isack Hadjar, but the order will be reversed in Race 3, where the second fastest time for each driver will be taken into account.
Ivan Peklin got the better of Marijn Kremers for 4th place, despite a final improvement from the Dutchman, while Loris Cabirou finished 6th. However, Sami Meguetounif, Rafael Villagomez and Romain Leroux were undoubtedly hoping for better than 7th, 8th and 9th respectively, as they finished in that order in the top three places of the midday Free Practice session. Germany's Valentino Catalano set the fastest time of the Juniors.
Working with the technical staff of the FFSA Academy and using the new Pirelli tyres was one of the keys to a successful Qualifying session.
"Apart from my satisfaction at seeing the French F4 Championship get off to an excellent start here at Nogaro, I am also pleased to see that the FFSA Academy has managed to put together a very good line-up despite a year disrupted by the pandemic," said Christophe Lollier, National Technical Director. "In 2020, French F4 will have one of the best line-ups among the various European championships, with a very international entry and varied profiles. I would like to congratulate our two Japanese drivers from the partnership with the Suzuka driving school. By setting the two fastest times, Isawa and Sato demonstrated their talent in the face of stiff competition. I think that the qualities of the drivers as well as our F4 Mygale equipped with the new Renault Sport Turbo engine and now with Pirelli tyres should enable us to enjoy a magnificent season."
Continuation of the Easter Cup programme at Nogaro
Saturday 22nd August at 11:16: Race 1
Saturday 22nd August at 17:05: Race 2
Sunday 23rd August at 11:48: Race 3