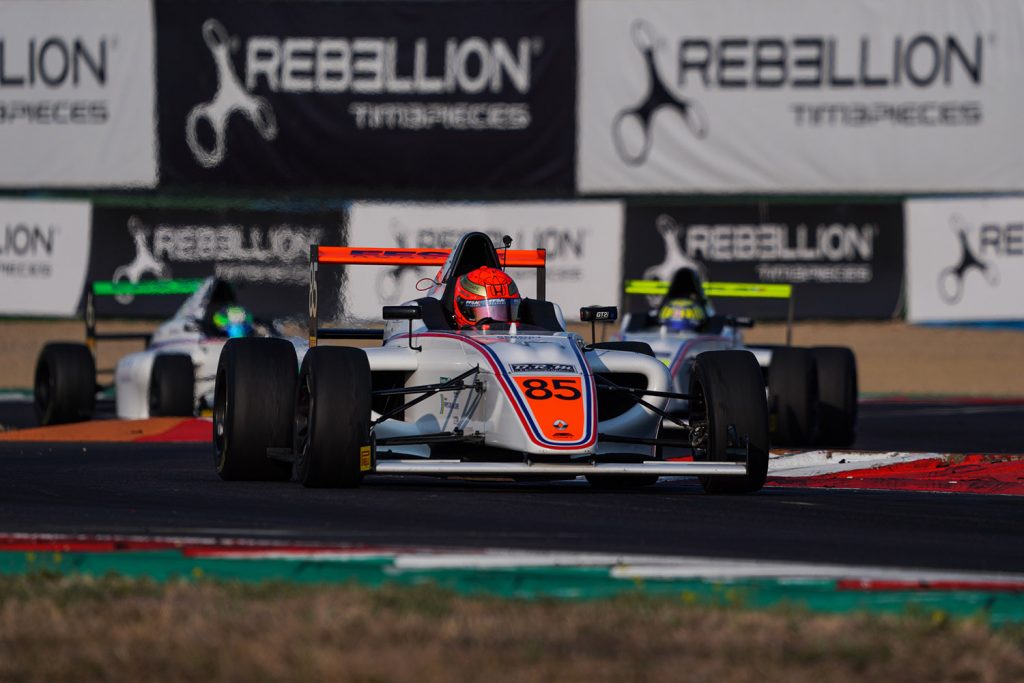 A small mistake and a trip to the gravel trap could have had unfortunate consequences for Ren Sato. But the Japanese driver had enough of an advantage to stay first and win Race 3 of the French F4 Championship at Magny-Cours.
The provisional ranking of the FFSA Academy has just changed leader! Japanese driver Ren Sato has added a second victory to his list of achievements and therefore leapfrogged his compatriot Ayumu Iwasa in the lead of the French F4 Championship. By mounting the podium again, Isack Hadjar confirmed that he remains a serious candidate for the title in this decidedly exciting 2020 season. Once again, there was no lack of action in the pack during this last race of the meeting.
An impeccable start for Sato, but cold sweats!
The starting grid for Race 3 was based on the second fastest times by each driver in Friday's Qualifying session. Ren Sato and Ayumu Iwasa formed a 100% Japanese front row and the first confrontation between the two Suzuka Racing School drivers took place the first time through the Adelaide hairpin. Iwasa tried his luck on Sato, who started very well, but he was blocked and couldn't prevent Sato from keeping the lead. Sato was trying to escape while setting record laps, but a few laps later he made a mistake under braking at the Lycée. At the last minute, he regained the track just in front of Iwasa.
"I admit it was a difficult moment, but it ended well", commented Ren Sato. "Fortunately, I was really fast on this Magny-Cours circuit. I tried to concentrate as much as possible and I managed to regain the advantage. Two victories during the weekend, I couldn't have hoped for better, I am very happy."
Third podium of 2020 for Hadjar
Behind, Isack Hadjar didn't just follow the Japanese duel, as he managed to get into 2nd position with panache. Keeping a good rhythm throughout the race, he held Ayumu off until the chequered flag was lowered. The Frenchman has again scored important points for the championship.
After a bad start, Sami Meguetounif put on his share of the show. Only 6th on the first lap when he started in 3rd position, Meguetounif had to work hard to get back to the front. The Mexican Rafael Villagomez was the first to give in to the pressure of the Frenchman, who then attacked successfully against Dutch driver Marijn Kremers. Meguetounif was too far away from the leaders to come back and took 4th place.
Kremers tried to resist the chasers, but couldn't prevent Villagomez and German driver Valentino Catalano from overtaking him. The Dutchman saved 7th place despite pressure from Loris Cabirou. It was also a difficult race for Romain Leroux, who crashed in 9th position. Daniel Ligier managed to get into the top 10, without however preventing Catalano from winning again in the Junior category.
The next race is at Zandvoort in the Netherlands on 25th, 26th and 27th September.
Provisional ranking of the French F4 Championship FFSA Academy after Magny-Cours (2/7)
1 Ren Sato (JPN) 97 pts
2 Ayumu Iwasa (JPN) 92 pts
3 Isack Hadjar (FRA) 52 pts
4 Sami Meguetounif (FRA) 48 pts
5 Marijn Kremers (NLD) 45 pts
6 Ivan Peklin (UKR) 41 pts
7 Valentino Catalano (DEU) 38 pts
8 Rafael Villagomez (MEX) 36 pts
9 Romain Leroux (FRA) 31 pts
10 Loris Cabirou (FRA) 25 pts
Etc.