On the Paul Ricard circuit, a wet track confronted the drivers of the FIA French F4 Championship during the Qualifying session. Despite the successive efforts of Sato, Villagomez and Hadjar, Iwasa finished in a hurry to secure pole position.
During this weekend of 2nd, 3rd and 4th October, the French F4 Championship will move in to the second part of the season, compressed to only three months because of the pandemic. This fourth event, out of the seven for the FFSA Academy F4 in 2020, began with a contrasting day. Free Practice on Friday morning was held on an almost dry track, but then the rain arrived, forcing the 14 drivers to switch to wet tyres.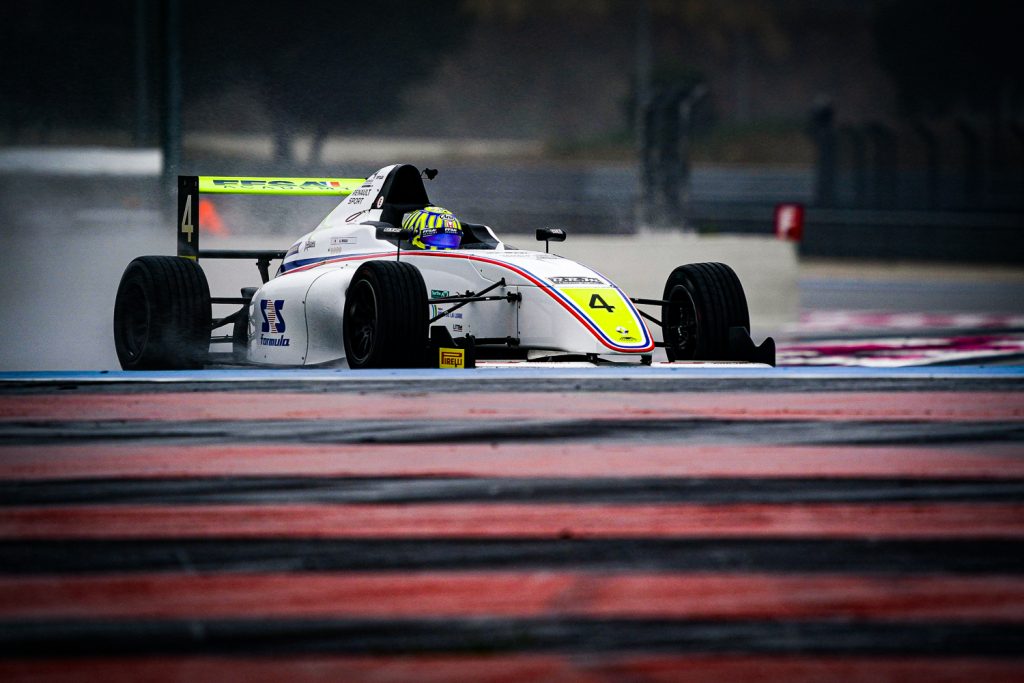 Another double pole for Iwasa
While Japan's Ren Sato set the first reference time at the start of the Qualifying session, Mexico's Rafael Villagomez quickly took over from Germany's Valentino Catalano. Sato temporarily took over the leadership from Frenchman Isack Hadjar, but his compatriot Ayumu Iwasa then began to link the fastest sectors of the 5.8 km Paul Ricard circuit.
Iwasa set the best lap of this session in 2'26″658, about five minutes before the chequered flag was lowered. With this new pole position, he repeated his performance of mid-September at Magny-Cours. Villagomez was to be the only other driver to break the 2'27 barrier, securing a front row position for Race 1 on Saturday morning for the first time. Sato saved 3rd place in front of Hadjar. 5th position was decided by a tiny gap of 8 thousandths in favour of the German Valentino Catalano, the top Junior, to the detriment of Sami Meguetounif.
Yellow flag at the end of the Qualifying
Loris Cabirou made good progress throughout the session to move up to 7th place ahead of the Ukrainian Ivan Peklin, who was unable to improve at the end when he went off the track, which resulted in a yellow flag. Several drivers did not slow down enough in this sector, which saw their fastest lap cancelled. Romain Leroux was in a good rhythm at the beginning of the session, but finally settled for 9th place ahead of Owen Tangavelou and Noah Andy.
For their first experience in the French F4 Championship, Etienne Cheli and Indian driver Yash Aradhya did not have it easy due to the changing weather conditions of the day. Cheli also had his fastest lap cancelled and will start 12th in Race 1 ahead of Daniel Ligier and Aradhya.
A few changes are to be noted in the standings with each driver's second fastest lap, which will give the starting order for Race 3 on Sunday morning. Villagomez will this time be only 5th behind Iwasa, Sato, Hadjar and Meguetounif, while Tangavelou will start in a more advantageous position, 7th, just behind Catalano. Leroux will be 8th on the grid ahead of Cabirou and Peklin.
F4 weekend programme at Paul Ricard
Saturday, 3rd October, 2020: Race 1 (09:25) and Race 2 (14:30)
Sunday, 4th October, 2020: Race 3 (09:30)