The FIA-certified French F4 Championship finished at Paul Ricard with an amazing Race 3, won by Iwasa, crowned 2020 champion ahead of Sato. Behind the two Japanese drivers, Leroux completed the podium of the race and Hadjar the podium of the Championship.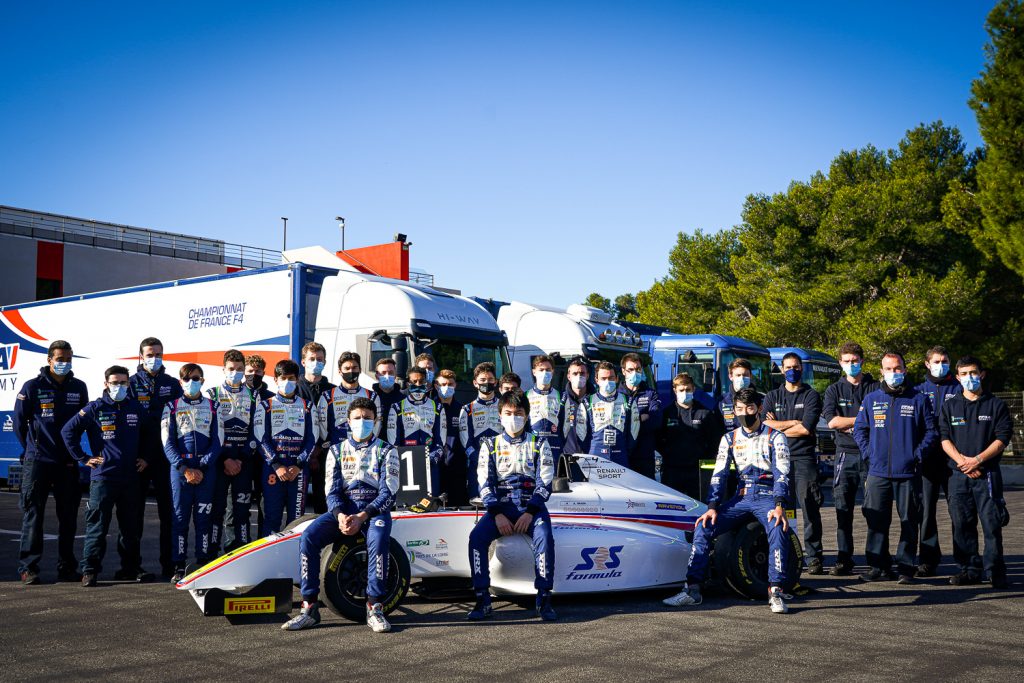 The final conclusion was the same as the hierarchy of the French Championship with a Japanese double for Ayumu Iwasa and Ren Sato, who kept a cool head to repel the numerous attacks from their opponents Isack Hadjar, Sami Meguetounif and Romain Leroux. 2020 has kept all its promises, thanks to perfect organisation by the FFSA Academy and high quality training, which will allow the drivers to prepare for next season in the best conditions.
Romain Leroux finishes on the podium
Although Iwasa kept the advantage of his pole position when the lights went out and during the first lap, Hadjar was able to pass him just after with a magnificent overtake from the outside. But the Japanese driver responded a few kilometres later in an action that led to a regrouping. Ren Sato and Sami Meguetounif took the opportunity to overtake Hadjar, after a braking session that saw the three cars arrive at the end of the pit lane! This duel didn't stop there. Meguetounif got the better of Sato, whereas Hadjar was dropped in the pack and lost another two places to Romain Leroux and Rafael Villagomez.
Loris Cabirou moved from 9th to 6th place after a very good start, but he had to pay the price for this battle and took back his original position. In front, Iwasa took the opportunity to escape. The closing laps still offered their share of the show, and some drivers were beginning to find themselves in a tricky situation with their tyres. Meguetounif had to give way to Sato and then Leroux, both of them joining Iwasa on the podium. Behind them, Meguetounif won his head-to-head with Villagomez for 4th place, which would also be his position in the overall championship standings.
Magnificent duels in the chasing pack
Hadjar was content with 6th place in front of Owen Tangavelou, who fought hard to finish his season on a positive note. Esteban Masson brilliantly continued his learning curve in single-seater racing in a tumultuous pack, finishing in an encouraging 8th place ahead of Cabirou and the German Valentino Catalano. The latter experienced a difficult end to the race, but the big winner of the 2020 French F4 Junior Championship narrowly saved a new victory in his category against Daniel Ligier. A technical problem prevented Marijn Kremers from getting involved in the final battle, while Ivan Peklin overtook Noah Andy in the last third of the race to take 12th place.
National Technical Director and head of the FFSA Academy, Christophe Lollier has drawn his conclusion of the season… "Considering the pandemic situation, we were satisfied to be able to organise the seven meetings initially planned. In sporting terms, the standard of driving was still very high at the front of the field. At the same time, we have seen drivers make great progress during the season when they had little or no experience in single-seaters, demonstrating that the training system set up by the FFSA Academy has again proved its worth. In the end, we have a fine champion in Ayumu Iwasa, who made the difficult choice to leave his country to take part in our Championship. He is reaping the rewards of his work, his rigour, his consistency and his performances. The time has already come to prepare for the next season with attractive prospects for 2021."
Final ranking of the French F4 Championship (FFSA Academy)
1 Ayumu Iwasa (JPN) 338 pts
2 Ren Sato (JPN) 257 pts
3 Isack Hadjar (FRA) 233 pts
4 Sami Meguetounif (FRA) 183 pts
5 Valentino Catalano (DEU) 144 pts, 1er Junior
8 Rafael Villagomez (MEX) 121 pts
7 Romain Leroux (FRA) 116 pts
6 Marijn Kremers (NLD) 110 pts
9 Loris Cabirou (FRA) 94 pts
10 Ivan Peklin (UKR) 53 pts