Winner of the Richard Mille Young Talent Academy this winter, Australian driver Hugh Barter held off Macéo Capietto to win Race 3 at Nogaro, while Esteban Masson made an incredible comeback from last to 3rd place.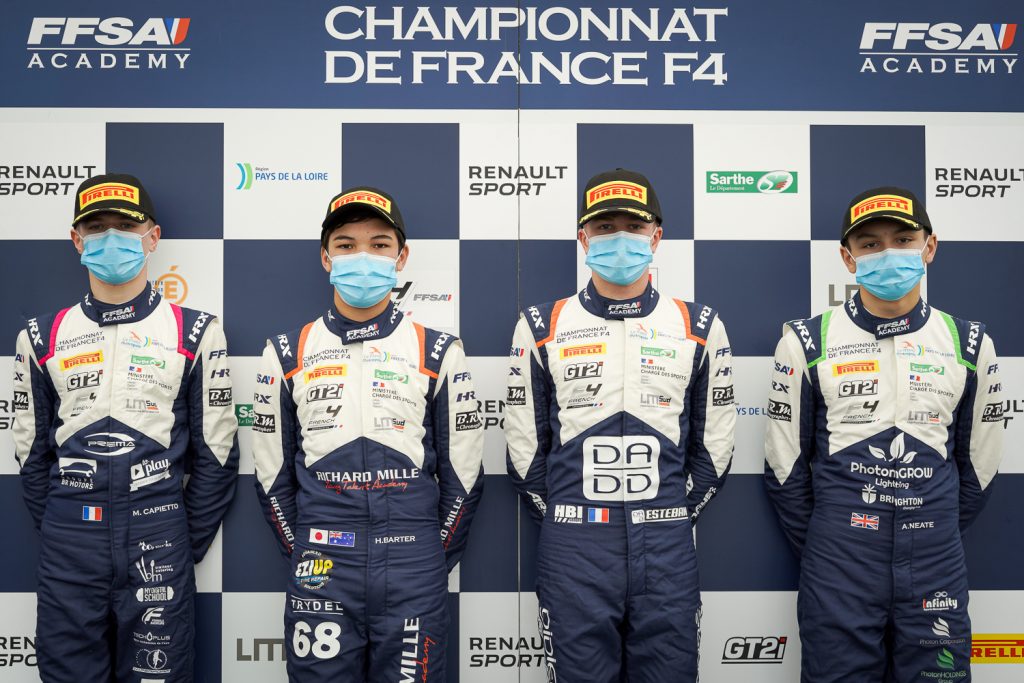 Podium of race 3 in Nogaro with from left to right, Macéo Capietto, Hugh Barter, Esteban Masson and Aiden Neate, first Junior.
The 2021 French F4 Championship is off to a flying start and promises to be an intense and interesting season, as Race 3 on Easter Monday perfectly illustrated. The battle was fierce at all levels of the field. It has to be said that the first lap saw a few twists and turns. Poleman Esteban Masson stalled on the starting grid and started in last position, while Hugh Barter took the lead at the first corner. Daniel Ligier was caught between Macéo Capietto and Owen Tangavelou, but he touched the latter and damaged his front wing and had to give up. Tangavelou had a punctured rear tyre and was forced to retire with many regrets.
Masson puts on a show
Capietto was happy to have escaped the incident at the start and immediately followed Barter, both drivers creating a big gap on the chasing pack led by British driver Aiden Neate, a particularly promising Junior. Just behind them, an exciting head-to-head battle started between Gaël Julien, Thanapongpan Sutumno and Pierre-Alexandre Provost. During this time, Esteban Masson started a crazy climb. The winner of Race 1 was already 8th on the third lap.
At the front, Capietto came up against the leader. "With the aerodynamic turbulence, it was difficult for me to get close enough to Hugh to attack."
The Australian certainly didn't have it easy. "It was quite stressful, Macéo put a lot of pressure on me, I really tried to stay focused to avoid making a mistake. It was quite a relief to pass under the chequered flag as a winner. It gives me valuable points and I'm already 2nd in the Championship, which is positive after my first race in a single-seater."
"After my retirement from Race 1, it was important to get a podium finish this weekend. My next objective will be to have a very good Qualifying in the next race," commented Macéo.
Aiden Neate the top Junior
Although the positions ended up being fixed in the first two places, Esteban Masson continued his advance. He dispatched Provost, Sutumno and Julien, and then attacked Neate, whom he overtook inexorably. This third step of the podium, conquered by his own efforts, allows Masson to leave Nogaro with the lead in the Championship. "Another victory was within my grasp, it's a shame to have missed this start. In the end, however, there are many positives to take from this first meeting of the season."
4th at the finish, Aiden Neate again scored significant points, as well as taking another Junior win. The British driver was able to keep Gaël Julien behind him, although he was very consistent and efficient. 2nd Junior and 6th in this race in front of Sutumno, the Swiss driver Dario Cabanelas showed excellent potential in Nogaro.
A final incident occurred in the last lap, with contact between Pierre-Alexandre Provost, unfortunately eliminated in the adventure, and Alessandro Giusti, who recovered 8th place in front of the Pole Adam Szydlowski, in the top 10 for the first time of the weekend. Noah Andy took 10th place despite pressure from the young Enzo Geraci, who grew stronger during the meeting. Further back, Indian Vignesh Kadarabad won his duel with Angelina Favario.
While the next round at Magny-Cours is already on everyone's mind, the FFSA Academy can draw an extremely positive conclusion from the launch of the new season. Future podiums, victories and titles promise to be coveted!
Race 3 standings
1 Hugh Barter (Australia) 15 laps
2 Macéo Capietto (France) at 0″742
3 Esteban Masson (France) at 15″266
4 Aiden Neate (United Kingdom) at 23″108, 1st Junior
5 Gaël Julien (France) at 25″412
6 Dario Cabanelas (Switzerland) at 26″032, 2nd Junior
7 Thanapongpan Sutumno (Thailand) at 27″686
8 Alessandro Giusti (France) at 31″557, 3rd Junior
9 Adam Szydlowski (Poland) at 31″671
10 Noah Andy (France) at 38″314
11 Enzo Geraci (France) at 39″937, 4th Junior
12 Vignesh Kadarabad (India) at 50″538
13 Angélina Favario (France) at 50″684
14 Pierre-Alexandre Provost (France) at 1 lap, 5th Junior
15 Daniel Ligier (France) at 13 laps
16 Owen Tangavelou (France) at 14 laps
Best lap: Macéo Capietto in 1'28″820 (avg. 147,3 km/h)
2021 French F4 Championship standings after Nogaro
1 Esteban Masson (France) 47 pts
2 Hugh Barter (Australia) 39 pts
3 Aiden Neate (UK) 30 pts, 1st Junior
4 Gaël Julien (France) 26 pts
5 Thanapongpan Sutumno (Thailand) 22 pts
6ex Daniel Ligier (France) 21 pts
6ex Macéo Capietto (France) 21 pts
8 Alessandro Giusti (France) 20 pts, 2nd Junior
9 Owen Tangavelou (France) 18 pts
10 Dario Cabanelas (Switzerland) 16 pts, 3rd Junior
11 Noah Andy (France) 3 pts
12 Adam Szydlowski (Poland) 2 pts
13ex Pierre-Alexandre Provost (France), 4th Junior
13ex Enzo Geraci (France), 4th Junior
13ex Vignesh Kadarabad (India)
13ex Angélina Favario (France)