Just as he did at Nogaro for the opening round of the FFSA Academy F4 Championship, Esteban Masson achieved a magnificent double position on the Nevers Magny-Cours circuit. The Frenchman put his rivals under pressure from the outset!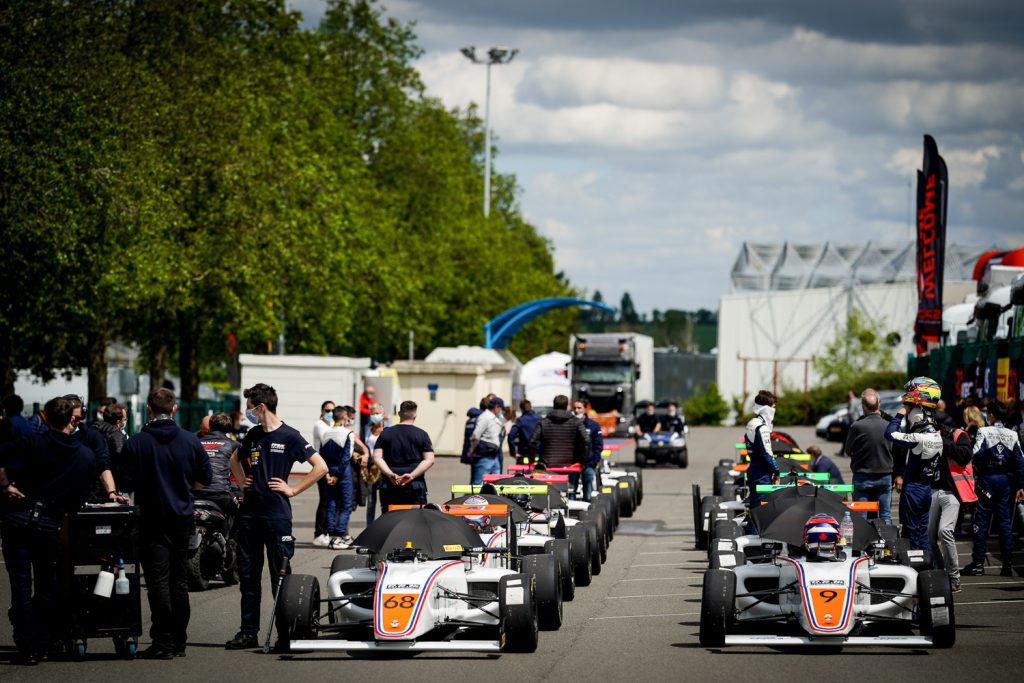 After a morning Free Practice session that was inconsequential due to a wet and then dry track, the sky cleared over the Nièvre and the drivers were able to put on Pirelli slick tyres, taking advantage of perfect conditions for Qualifying. Although Australian Hugh Barter took the lead in the first minutes, Esteban Masson quickly went under 1'41, followed by Daniel Ligier and Macéo Capietto.
Two top times for Masson
The more the tyres warmed up, the more the times of the academicians improved. While Masson increased the gap, the hierarchy was constantly changing behind the leader. Noah Andy, Owen Tangavelou and Alessandro Giusti took turns in the coveted 2nd position. Some drivers had their times cancelled for exceeding the track limits and others chose to do a lap at reduced speed in the middle of the session to let their tyres cool down. This proved to be a wise strategy, as many of them improved in the last third of the 25-minute session.
Already the fastest with a time of 1'40″112, Esteban Masson was the only one to break the 1'40 barrier, with two superb times of 1'39″647 and 1'39″648. "Of course, starting from pole position this weekend in Races 1 and 3 was my goal," commented the French hopeful. "But I didn't expect to create a gap of 4 tenths and even 7 tenths for the fastest second lap classification. I had an excellent feeling with my car, I really like this Magny-Cours circuit and I managed to use the tyres perfectly when they were at their most effective. It's an ideal way to start this meeting."
Small gaps behind the leader
After dropping back to 5th, Barter reacted and the Richard Mille Young Talent Academy winner was suddenly 2nd with 1'40″097. Capietto completed the top three in the last seconds, having beaten Giusti by only five thousandths! The latter could console himself with the best time of the Juniors, just ahead of the Briton Adrian Neate. Owen Tangavelou was 6th in the main classification time and he set consistent laps to finish 2nd in the best second lap classification, which means a front row place for Race 3 on Sunday.
The last top 10 places went to Daniel Ligier, Gaël Julien, Noah Andy and the Swiss driver Dario Cabanelas, the 3rd fastest Junior. The three races of the weekend can be followed via live timing and streaming on the ffsaacademy.org website
Continuation of the programme in Magny-Cours
– Saturday 8th May: Race 1 (10:40 – 11:10) and Race 2 (19:00 – 19:30)
– Sunday 9th May: Race 3 (10:40 – 11:10)
Qualifying session standings *
1 (1) Esteban Masson (France) 1'39″647
2 (4) Hugh Barter (Australia) 1'40″097
3 (6) Macéo Capietto (France) 1'40″254
4 (3) Alessandro Giusti (France) 1'40″259
5 (7) Aiden Neate (UK) 1'40″368
6 (2) Owen Tangavelou (France) 1'40″379
7 (5) Daniel Ligier (France) 1'40″431
8 (8) Gaël Julien (France) 1'40″496
9 (10) Noah Andy (France) 1'40″785
10 (9) Dario Cabanelas (Switzerland) 1'40″954
11 (12) Adam Szydlowski (Poland) 1'41″841
12 (11) Pierre-Alexandre Provost (France) 1'42″159
13 (13) Enzo Geraci (France) 1'42″863
14 (14) Vignesh Kadarabad (India) 1'44″684
15 (15) Angélina Favario (France) 1'46″066
* In brackets, fastest second lap ranking