Leader of the French F4 Championship on his arrival at the Hungaroring, Esteban Masson marked his territory from the start by taking another pole position. But it was Macéo Capietto who will start first in Race 3 thanks to his fastest second lap.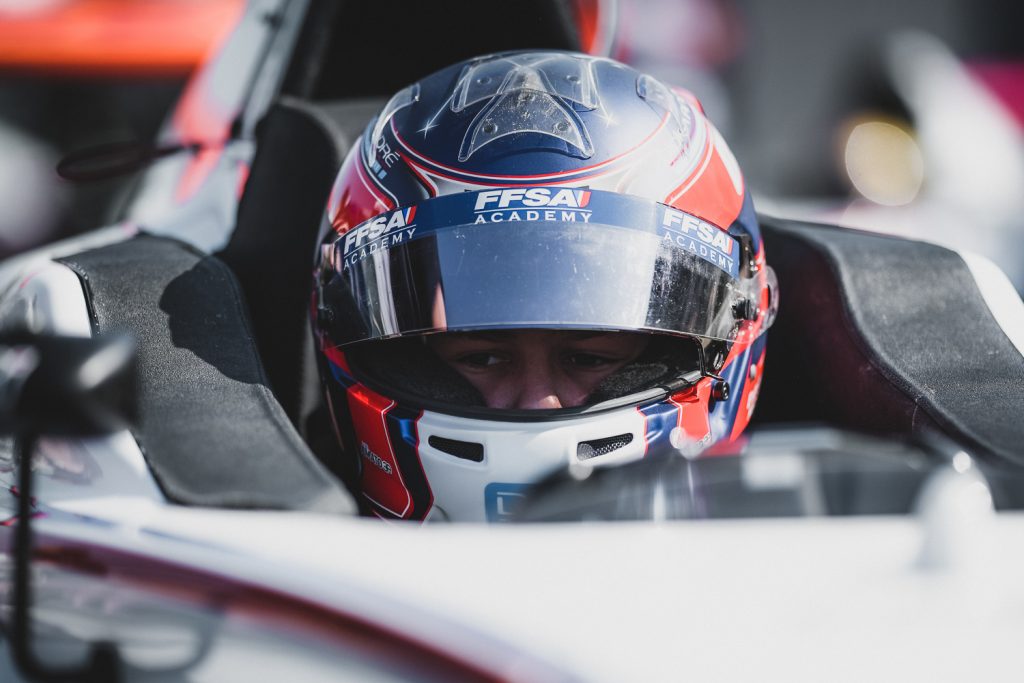 Despite the threatening and stormy skies, the track remained perfectly dry for the Qualifying session, which had a few twists and turns, notably due to cancelled times for some drivers who had exceeded the track limits. With the ambient heat and the high level of grip from the Hungarian tarmac, the drivers quickly improved their times. Although Macéo Capietto was the first to set a reference time, Esteban Masson took the lead on his second lap. The French hopeful never left this position, managing to decrease his times during the three following laps.
Capietto has not had his last word
Australian Hugh Barter tried to fight back, as did Elliott Vayron on his first single-seater debut, but both young drivers were to experience the disillusionment of having their fastest laps cancelled. Meanwhile, another newcomer was making a name for himself – the Thai Tasanapol Inthraphuvasak, who brilliantly took 3rd place behind Masson and Capietto.
Owen Tangavelou was also getting faster and faster as the session went on, and he took 4th place at the expense of Swiss driver Dario Cabanelas, Gaël Julien and Daniel Ligier, the latter two being separated by only 16 hundredths! With ten minutes to go in this very interesting Qualifying session, several drivers took the gamble of stopping to cool down their hard-working tyres. Few of them gained an advantage from this choice, only Barter and Julien benefited from it.
Dario Cabanelas the top Junior
At the top of the table, Masson logically retained his pole position with a time of 1'46″100, but narrowly missed out on winning the double pole, as he explained. "Overall, I am very satisfied with my level of performance. I have a good feeling on this Hungaroring circuit and I felt very comfortable behind the wheel of my F4. I put in two excellent laps which secured me pole position for Race 1 on Saturday morning, but I learned that one of my two laps had been cancelled. So I went back on the attack to retain pole position for Race 3, which is decided by the second fastest lap of each driver. I thought I had achieved my goal, but that lap was cancelled again. This time I wasn't warned, although I had made the decision to pit in order to save my tyres for the weekend's races."
Capietto, who was already a strong 2nd in the session, took pole for Race 3 with a time of 1'46″525, 51 hundredths faster than his rival. Inthraphuvasak and Tangavelou confirmed their potential and will certainly have a major role to play during the weekend. In the FFSA Academy Juniors, Swiss driver Dario Cabanelas was able to make the difference at the optimal moment, each time ahead of Alessandro Giusti. Pierre-Alexandre Provost completed his best Qualifying of the season and will be one to watch, as will young Enzo Geraci.
Enzo Richer beat Angelina Favario in his first F4 appearance, and it will be interesting to follow the comebacks of Barter and Vayron, both of whom were unhappy after penalties for overshooting the track limits.
Continuation of the programme in Budapest
– Saturday 10th July: Race 1 (11:10 – 11:35) and Race 2 (16:55 – 17:20)
– Sunday 11th July: Race 3 (11:20 – 11:45)
Qualifying session standings *
1 (2) Esteban Masson (France) 1'46″100
2 (1) Macéo Capietto (France) 1'46″449
3 (4) Tasanapol Inthraphuvasak (Thailand) 1'46″623
4 (3) Owen Tangavelou (France) 1'46″641
5 (5) Dario Cabanelas (Switzerland) 1'46″868
6 (7) Gaël Julien (France) 1'46″975
7 (12) Daniel Ligier (France) 1'46″991
8 (6) Alessandro Giusti (France) 1'47″360
9 (14) Hugh Barter (Australia) 1'47″363
10 (9) Pierre-Alexandre Provost (France) 1'47″425
11 (8) Noah Andy (France) 1'47″518
12 (10) Enzo Geraci (France) 1'47″754
13 (11) Enzo Richer (France) 1'48″054
14 (15) Elliott Vayron (France) 1'48″287
15 (13) Angélina Favario (France) 1'50″020
* Classification of the best second laps in brackets