Four drivers grouped in just a tenth! At Lédenon, the Qualifying session of the fourth round of the French F4 Championship was very intense. Capietto pulled out all the stops to beat the revelation Julien, the Australian Barter and Masson.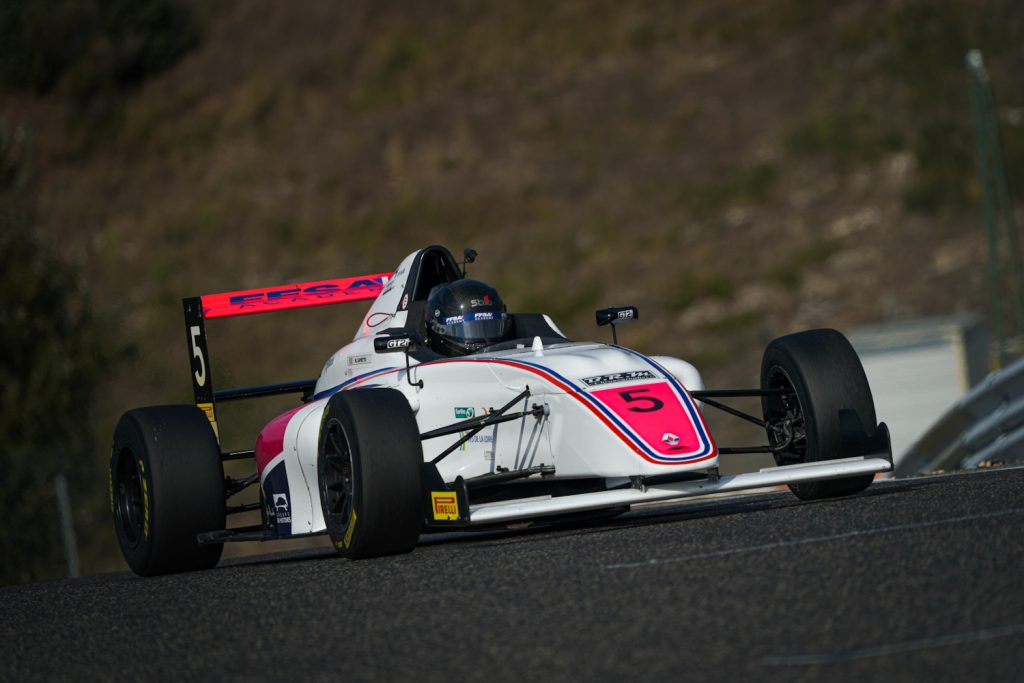 The overcast skies from the morning onwards gradually dissipated over Lédenon to allow generous sunshine, which illuminated the talent of the young drivers of the FFSA Academy and in particular that of Macéo Capietto. The French driver quickly climbed to the top of the hierarchy just as the Pirelli tyres were beginning to show their full potential. The Australian Hugh Barter, who set the fastest time in Free Practice in the morning, in turn moved up to provisional pole position on his sixth lap.
Capietto the fastest, but Julien takes the lead
Macéo Capietto fought back and, in mid-session, he set the absolute fastest lap of 1'21″269, which would not be beaten again. Esteban Masson, leader of the French Championship, managed to join the leading trio by coming within a tenth of the poleman, but without succeeding in obtaining a fourth consecutive pole position.
It was Gaël Julien who created the surprise by setting a magnificent 1'21″335, allowing him to get between Capietto and Barter in 2nd position! Gaël took the risk of stopping in the pits to cool the tyres, before setting off again for a final lap. His strategy paid off, as he set the best of the second fastest times, giving him pole position for Race 3 on Sunday morning.
Enzo Geraci in the lead of the Juniors
Behind this strong quartet, Enzo Geraci confirmed his significant progress in this Championship by finishing 5th in this very interesting Qualifying session. For the first time in his young career in single-seaters, Enzo was 1st in the F4 Junior class at the end of Qualifying. Only 8 thousandths separated Daniel Ligier and Owen Tangavelou, who finished 6th and 7th respectively, ahead of two Juniors, Swiss Dario Cabanelas and Alessandro Giusti, while Noah Andy completed the top ten. Newcomer to the category, Pablo Sarrazin secured 11th place ahead of Pierre-Alexandre Provost, Paul Trojani, another F4 promotion, and Angelina Favario.
"In Free Practice I noticed that the front tyres tended to overheat and cause understeer," commented poleman Macéo Capietto. "So I tried to get the rear tyres warm. The balance of my car was good, I was able to set a great lap, but when I saw Barter ahead of me, I went back on the attack to improve, I gave it my all and it worked, especially as I was able to take a good slipstream. The timing was right! I like this track at Lédenon, it's hilly, but overtaking doesn't seem easy, so I'm happy to have achieved my first "real" pole position in F4, after having managed the fastest of the second laps in Hungary."
Continuation of the programme at Lédenon
> Saturday 11th September: Race 1 (10:45 – 11:10) and Race 2 (15:50 – 16:15)
> Sunday 12th September: Race 3 (10:20 – 10:45)
Qualifying session standings *
1 (2) Macéo Capietto (France) 1'21″269
2 (1) Gaël Julien (France) 1'21″335
3 (4) Hugh Barter (Australia) 1'21″365
4 (3) Esteban Masson (France) 1'21″377
5 (9) Enzo Geraci (France) 1'21″500
6 (6) Daniel Ligier (France) 1'21″666
7 (5) Owen Tangavelou (France) 1'21″674
8 (7) Dario Cabanelas (Switzerland) 1'21″699
9 (8) Alessandro Giusti (France) 1'21″742
10 (12) Noah Andy (France) 1'21″913
11 (10) Pablo Sarrazin (France) 1'21″964
12 (11) Pierre-Alexandre Provost (France) 1'22″146
13 (13) Paul Trojani (France) 1'22″359
14 (14) Angélina Favario (France) 1'24″048
* classification of the fastest second laps in brackets