Capietto, who took pole position, confirmed his form with a clear victory in Race 1 ahead of Masson, from whom he took valuable points in the Championship. The reversed grid in Race 2 was favourable to the Juniors, with Provost winning against Géraci.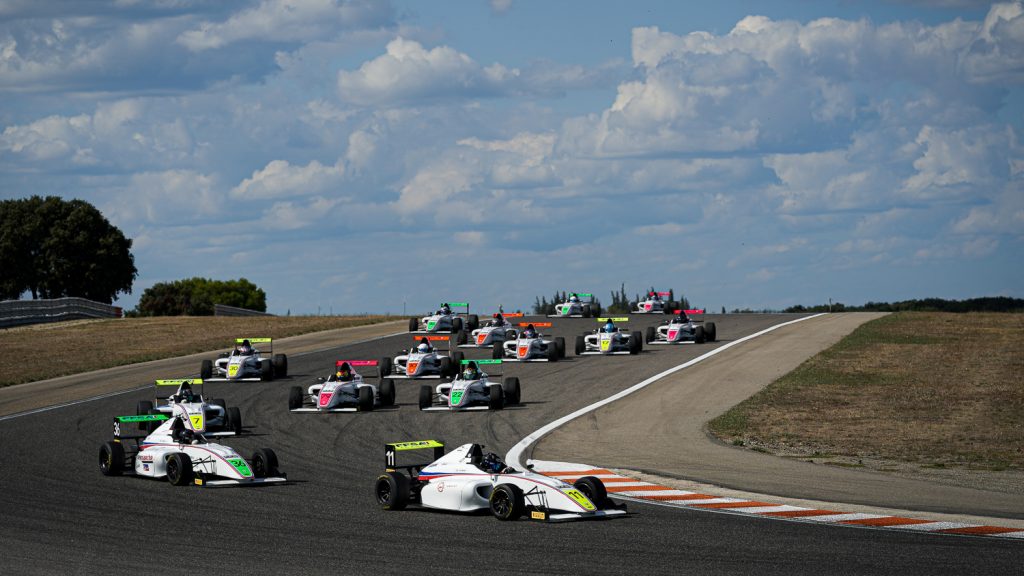 Two months have passed since the previous event in Hungary and the drivers of the French F4 Championship operated by the FFSA Academy were eager to get back to the adrenaline of racing. At Lédenon, in particularly good weather at the end of the summer, two races were on the programme on Saturday 11th September. In Race 1, Macéo Capietto turned his pole position achieved the day before into a particularly important victory in the Championship, his third since the beginning of the season. "In single-seater racing, getting pole position is crucial and once you have achieved that goal, it is important to remain focused and determined to confirm that advantage. For me, everything went well. I got a good start, set the fastest lap in the race and won by more than four seconds. I couldn't have wished for anything better!"
Capietto imperial, Giusti top Junior
Somewhat disappointed to have had to settle for 4th position in Qualifying, Esteban Masson reacted magnificently. After an excellent start, he quickly managed to take the lead over Gaël Julien and the Australian Hugh Barter to limit the loss of points to his rival Capietto. Masson never stopped pushing, as the young French hopeful had to fend off assaults from Daniel Ligier, who had also got the better of Julien and Barter. Between these two drivers, the positions were reversed from the starting order, with Barter ahead of Julien.
Further back, Owen Tangavelou ended up in 6th position ahead of the four Juniors of the French F4 field: Alessandro Giusti, happy to win the category, the Swiss Dario Cabanelas, Enzo Géraci and Pierre-Alexandre Provost. Of the two newly promoted to single-seaters, Pablo Sarrazin was the best in 11th place ahead of Noah Andy, with Corsican Paul Trojani ahead of Angelina Favario.
Provost holds off Geracci in Race 2
Always spectacular due to a starting grid in reverse order of the Race 1 ranking for the top 10, Race 2 put the young drivers of the F4 Junior ranking in the spotlight. Provost was on pole position and led the race from start to finish, showing great strength. However, Enzo Géraci never wavered, keeping the pressure on the leader from start to finish. The positions remained there, with Provost happy to get his first F4 success and Géraci just as happy to climb on to the podium. "Honestly, I didn't put any pressure on myself, I just tried to get a good start, not to make any mistakes and to apply the advice of my supporters," admitted Pierre-Alexandre. "I don't have much experience of karting, I know I still have a lot to learn in single-seaters, but this victory is obviously welcome to validate the early part of my training."
Behind him, Daniel Ligier also achieved a great feat by completing the top three, even though he only started in 8th position in the middle of the French Championship's experienced drivers. Daniel was again particularly incisive in the first laps to gain precious places. Hugh Barter did not spare any effort to move up to 4th ahead of Owen Tangavelou and Esteban Masson, who managed to keep Macéo Capietto behind him. Pablo Sarrazin and Paul Trojani had a promising first top ten in F4. There was disappointment for Swiss driver Dario Cabanelas, who was running in an excellent 3rd place, before spinning out with three laps to go.
Continuation of the programme at Lédenon: Race 3, Sunday 12th September from 10:15 to 11:45
Race 1 ranking
1 Macéo Capietto (France) after 16 laps
2 Esteban Masson (France) at 4″514
3 Daniel Ligier (France) at 4″952
4 Hugh Barter (Australia) at 6″414
5 Gaël Julien (France) at 7″756
6 Owen Tangavelou (France) at 1″979
7 Alessandro Giusti (France) at 11″979, 1st Junior
8 Dario Cabanelas (Switzerland) at 16″722, 2nd Junior
9 Enzo Geraci (France) at 18″718, 3rd Junior
10 Pierre-Alexandre Provost (France) at 22″728, 4th Junior
11 Pablo Sarrazin (France) 23″465
12 Noah Andy (France) at 26″816
13 Paul Trojani (France) at 29″784
14 Angélina Favario (France) at 53″170
Fastest lap: Macéo Capietto in 1'21″432 (avg. 139,5 km/h)
Race 2 ranking
1 Pierre-Alexandre Provost (France) with 16 laps, 1st Junior
2 Enzo Geraci (France) at 0″490, 2nd Junior
3 Daniel Ligier (France) at 2″830
4 Hugh Barter (Australia) at 3″515
5 Owen Tangavelou (France) at 4″004
6 Esteban Masson (France) at 4″726
7 Macéo Capietto (France) at 6″168
8 Pablo Sarrazin (France) at 11″381
9 Paul Trojani (France) at 13"529
10 Noah Andy (France) at 29"794
11 Dario Cabanelas (Switzerland) at 34"739, 3e Junior
12 Angélina Favario (France) at 35"986
13 Gaël Julien (France) at 38"452
14 Alessandro Giusti (France) after 9 laps, 4th Junior
Fastest lap : Esteban Masson in 1'22"637 (avg. 137,4 km/h)