Under a beautiful Provencal sun, Esteban Masson felt particularly inspired during the Qualifying Practice, where he was the fastest on the Paul Ricard circuit. The Junior Alessandro Giusti was 2nd ahead of Macéo Capietto.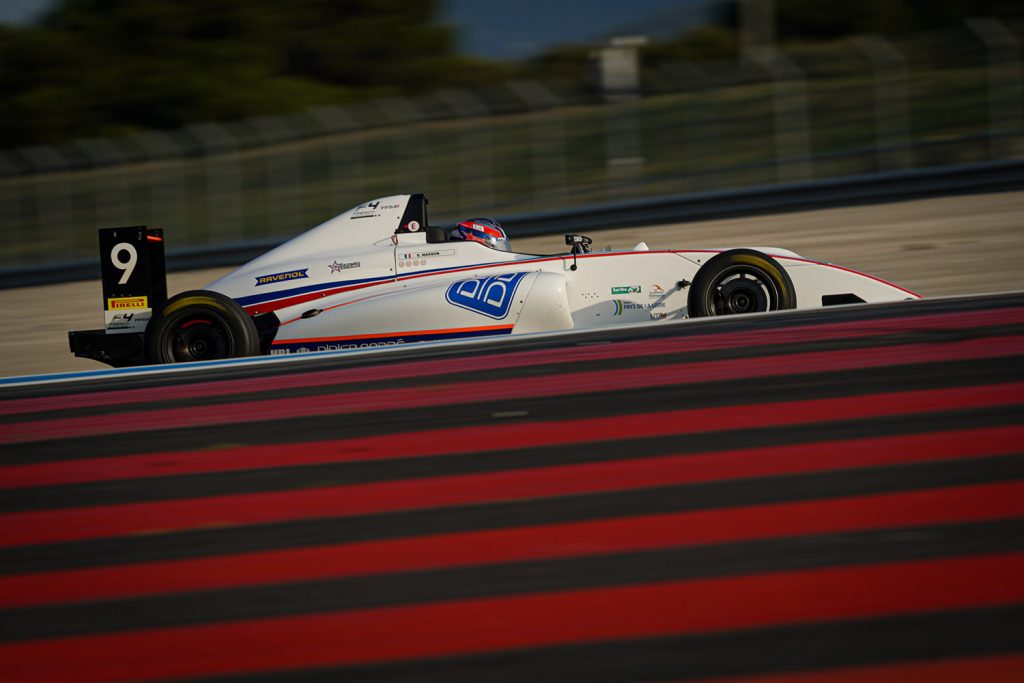 With this sixth and penultimate round of the FIA French F4 Championship, the young academicians are entering the home straight of their 2021 season. Their appetites are stronger than ever, all of them determined to finish the year in style and reach their objectives. During this meeting organised alongside the FFSA French GT Championship, the Qualifying session was particularly competitive and many drivers succeeded each other at the top of the hierarchy. But Esteban Masson struck a blow in the final minutes…
Unleashed Juniors
The first laps of the practice allowed Gaël Julien to take the first place, before being replaced by Noah Andy, who had already set the best time in the morning Free Practice. The tyres fitted to the FFSA Academy's Mygale F4-Renault Sport cars began to warm up, and Elliott Vayron took advantage of this to go under the 2:09 mark. It was then Alessandro Giusti's turn to set a magnificent 2'08″652, immediately followed by an even faster time of 2'08″491. Enzo Geraci's 2nd place shows the significant progress made by the Juniors since their debut at the Easter Cup in Nogaro.
Masson fastest in traffic
The situation continued to evolve as the laps went by. As soon as Macéo Capietto managed to move up to 2nd position, Esteban Masson went on the attack. In 2'08″369 and then in 2'08″641 the following lap, a few minutes before the chequered flag, Masson secured the essential: a front row inside for Race 1 on Saturday morning, as well as for Race 3 on Sunday morning. Giusti's excellent performance allowed him to keep 2nd place ahead of Masson's rival in the Championship, Macéo Capietto.
Hero of the Monza meeting where he won both races of the weekend, Elliott Vayron confirmed his new podium ambitions with the 4th best performance of the day. Although he was unable to complete the same number of laps as his rivals, Swiss driver Dario Cabanelas found the time to come back in extremis in 5th position, 6 thousandths ahead of Daniel Ligier. The last driver to reach 2'08, Enzo Geraci managed to beat one of the benchmarks of the Championship, the Australian Hugh Barter. Gaël Julien and Noah Andy completed the top 10, a few tenths ahead of Owen Tangavelou.
"I wanted to take this pole position at Paul Ricard, even though it was difficult to get", admitted Esteban Masson. "Many drivers made mistakes or slowed down suddenly to avoid being hindered by another driver. I struggled to find a clear lap and really gave it my all at the end of the session. Starting 1st for Races 1 and 3 gives me an advantage. I don't intend to let this chance pass me by in order to secure my position as provisional leader."
Continuation of the programme at Paul Ricard
> Saturday 2nd October: Race 1 (09:55 – 10:20) and Race 2 (17:40 – 18:05)
> Sunday 3rd October: Race 3 (10:40 – 11:05)
Qualifying session standings *
1 (1) Esteban Masson (France) 2'08″369
2 (2) Alessandro Giusti (France) 2'08″491
3 (4) Macéo Capietto (France) 2'08″580
4 (3) Elliott Vayron (France) 2'08″614
5 (5) Dario Cabanelas (Switzerland) 2'08″741
6 (6) Daniel Ligier (France) 2'08″747
7 (7) Enzo Geraci (France) 2'08″768
8 (8) Hugh Barter (Australia) 2'09″045
9 (9) Gaël Julien (France) 2'09″136
10 (10) Noah Andy (France) 2'09″211
11 (11) Owen Tangavelou (France) 2'09″362
12 (12) Pierre-Alexandre Provost (France) 2'09″580
13 (13) Thanapongpan Sutumno (Thailand) 2'09″661
14 (14) Romain Andriolo (France) 2'10″038
15 (15) Louis Pelet (France) 2'10″443
16 (17) Luciano Morano (USA) 2'10″690
17 (16) Enzo Richer (France) 2'10″908
18 (18) Paul Jerome (France) 2'12″271
19 (19) Angelina Favario (France) 1'12″735
* In brackets, best second lap ranking