This highly interesting meeting of the French F4 Championship at Paul Ricard celebrated a third winner in three races. Esteban Masson took his fifth victory of the season, beating Alessandro Giusti, winner in the Junior category.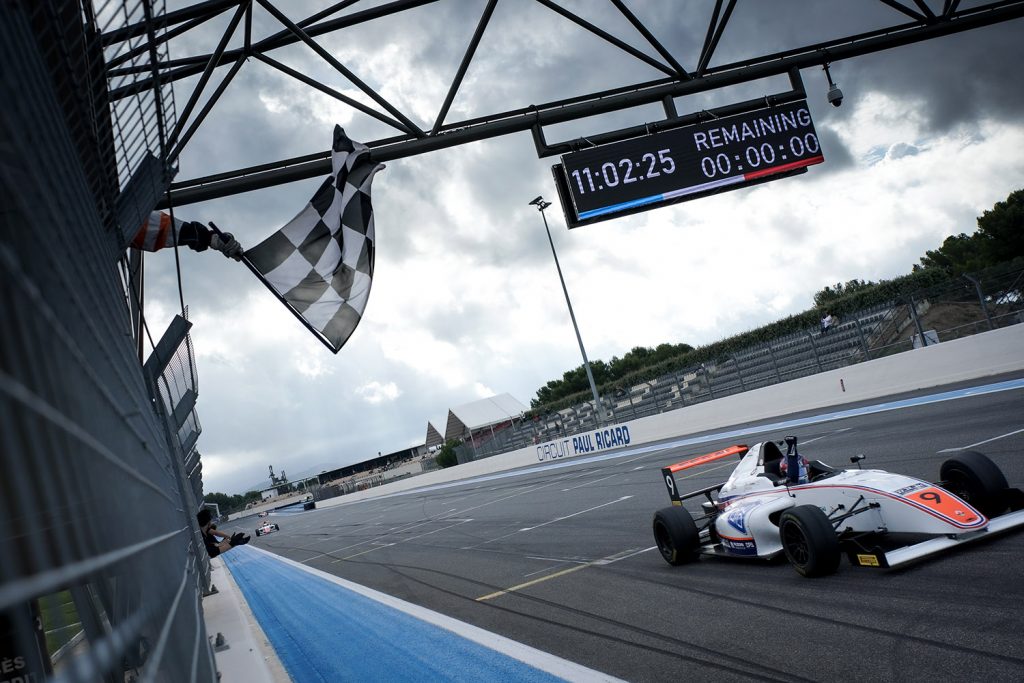 After having lost important points to Macéo Capietto in the general classification on Saturday, Esteban Masson reacted perfectly, winning Race 3 from pole position. Everything will be decided at Magny-Cours between the two drivers fighting for the 2021 crown. Equal suspense remains in the Junior class between Alessandro Giusti, who took the lead on Sunday morning, and the Swiss driver Dario Cabanelas.
Rendez-vous at Magny-Cours
At the start of the race, Esteban Masson took off perfectly and was the leader in the "S" of La Verrerie, immediately followed by Macéo Capietto who surprised Alessandro Giusti and Elliott Vayron. At the back of the field, a collision eliminated Gaël Julien. Another incident forced Vayron to return to the pits to repair his front wing, while Pierre-Alexandre Provost also crashed at the back of the field. At the front, Masson quickly made sure of a safety margin over Capietto, who was being chased by Giusti. Giusti regained 2nd place on the second lap, while Barter led a compact group composed of Noah Andy, Daniel Ligier and Enzo Géraci.
Esteban Masson put in a string of fastest laps and steadily increased his lead throughout the 11-lap race, before taking the chequered flag with a commanding victory. "The double pole position on Friday was an important part of the meeting and I am very happy to have been able to convert this lead into a victory," said Esteban. "It was important to finish the weekend in this way, before the trip to Magny-Cours where I will aim for the title. After a Saturday marked by ups and downs, I was able to get myself back on track and I would like to thank the FFSA Academy and my entourage for all their support. I stuck to my plan and it paid off."
Hugh Barter snatches the podium
Alessandro Giusti, who was very fast all weekend, was also satisfied with his performance which ended with a deserved 2nd place, with victory in the Junior category. In this classification, the young Frenchman took back some points from Dario Cabanelas before the final race in Magny-Cours. The end of the race was very lively in the battle for 3rd place between Macéo Capietto and Hugh Barter, a little bit faster in the closing laps. Despite fierce resistance, Capietto was unable to counter the Australian's final assault, the two cars remaining neck and neck for several corners!
Daniel Ligier took the measure of the chasing pack before isolating himself in 4th position in front of Noah Andy, who did not spare any effort in resisting Owen Tangavelou and Enzo Géraci, second Junior of the day in front of Dario Cabanelas. The Paul Ricard meeting gave Louis Pelet the opportunity to showcase his skills in his very first single-seater race. Thanks to careful and consistent progress since Friday's tests, Pelet managed to gain his place in the top 10. Romain Andriolo, who was competing in his second consecutive race after making his FFSA Academy debut at Monza, finished in Pelet's wake before being demoted due to an jumped start penalty.
Paul Jerome and the American Luciano Morano, two other newcomers, as well as Enzo Richer, in his third participation in F4, learned a lot on this prestigious Paul Ricard circuit. Thanapongpang Sutumno from Thailand came in between these two in 12th place, while Angélina Favario was 14th.
The final round of the 2021 French F4 Championship will take place on 22nd, 23rd and 24th October at Magny-Cours.
Race 3 standings
1 Esteban Masson (France) with 11 laps
2 Alessandro Giusti (France) at 1″737
3 Hugh Barter (Australia) at 6″181
4 Macéo Capietto (France) at 6″448
5 Daniel Ligier (France) at 9″482
6 Noah Andy (France) at 15″918
7 Owen Tangavelou (France) at 16″511
8 Enzo Geraci (France) at 18″925
9 Dario Cabanelas (Switzerland) at 21″892
10 Louis Pelet (France) at 33″413
11 Luciano Morano (USA) at 41″987
12 Thanapongpan Sutumno (Thailand) at 44″541
13 Enzo Richer (France) at 50″786
14 Angélina Favario (France) at 51″114
15 Romain Andriolo (France) at 1'03″559
16 Pierre-Alexandre Provost (France) at 1 lap
17 Elliott Vayron (France) at 1 lap
18 Gaël Julien (France) at 8 laps
19 Paul Jerome (France) at 11 laps
Best lap: Masson in 2'08″854 (average speed 162,6 km/h)
Provisional French F4 Academy Championship standings after Paul Ricard (after dropped scores) *
1 Esteban Masson (France) 226 pts (236 pts)
2 Macéo Capietto (France) 222 pts (243 pts)
3 Hugh Barter (Australia) 172 pts (178 pts)
4 Daniel Ligier (France) 157 pts (178 pts)
5 Owen Tangavelou (France) 133 pts (145 pts)
6 Gaël Julien (France) 119 pts (129 pts)
7 Alessandro Giusti (France) 104 pts (111 pts), Junior
8 Dario Cabanelas (Switzerland) 83 pts (83 pts), Junior
9 Enzo Geraci (France) 45 pts (45 pts), Junior
10 Noah Andy (France) 41 pts (43 pts)
11 Pierre-Alexandre Provost (France) 30 pts (30 pts), Juniors
12 Aiden Neate (United Kingdom) 30 pts (30 pts), Junior
13 Angélina Favario (France) 7 pts (7 pts)
14 Adam Szydlowski (Poland) 2 pts (4 pts)
* In brackets, total number of points, without dropped scores