Four drivers continue to stand out in the provisional standings of the French F4 Championship: Hugh Barter, Souta Arao, Alessandro Giusti and Elliott Vayron, who confirmed their talent by finishing Race 3 at Spa Francorchamps in this order.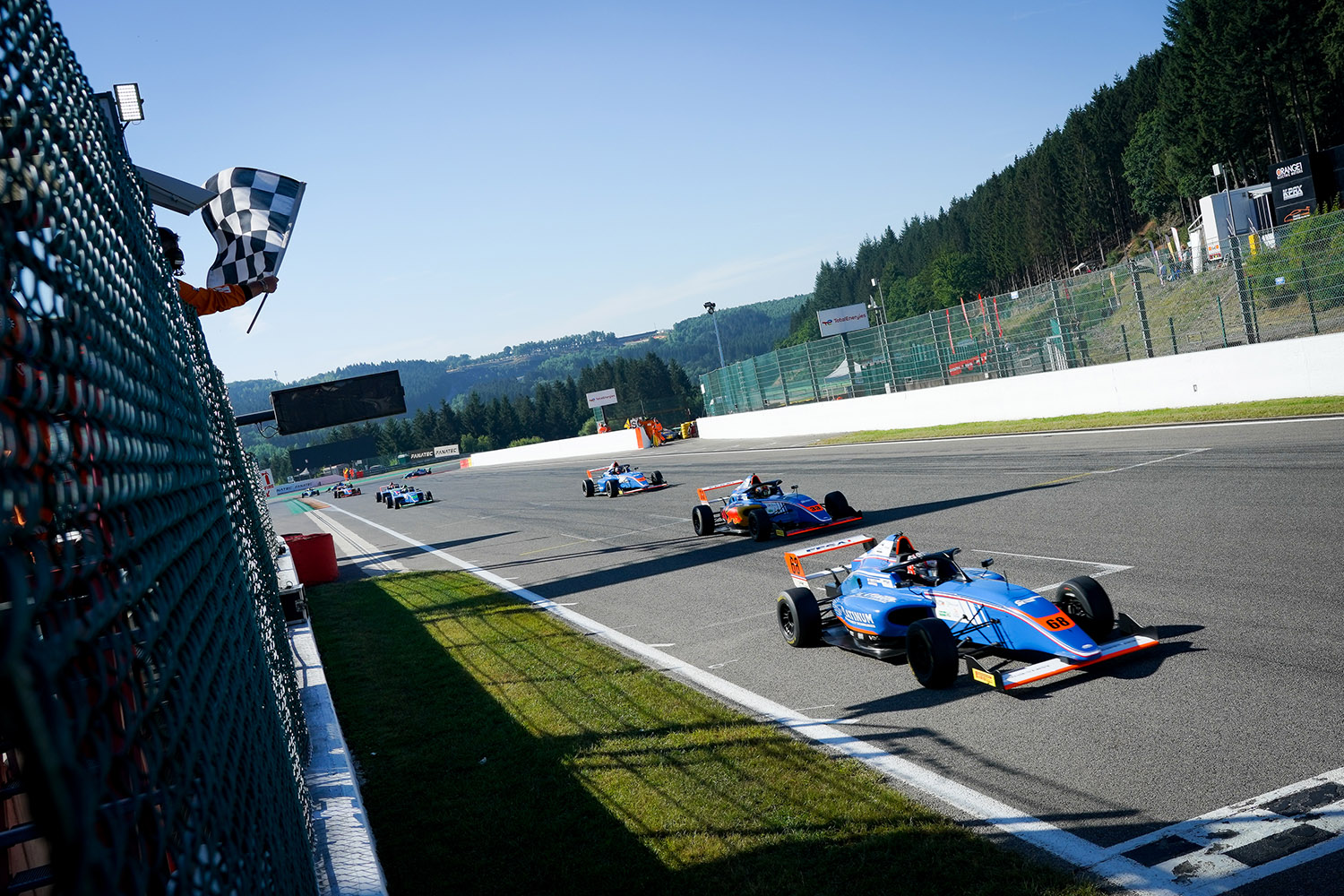 Two stoppages behind the safety car disrupted the last race of the Belgian meeting, limiting the risk-taking within the leading pack. For once, the positions of the top six drivers on the starting grid remained the same at the finish. Behind them, however, there were a few incidents and a number of strong comebacks in the heart of the field.
Tight positions in the Championship
No sooner had Australian driver Barter completed the first lap, with Japan's Arao Souta and Alessandro Giusti in his wake, than a collision eliminated three drivers: Edgar Pierre, the Panamanian Valentino Mini and Pierre-Alexandre Provost. For the latter two, it was the end of a very unfortunate weekend! Barter was in perfect control of the restart, while Louis Pelet found himself under pressure from Elliott Vayron behind the leading trio.
The wear of the tyres began to be felt for some, allowing others to launch themselves in remarkable progress, like Leny Réveillère who made a very good start, Romain Andriolo or the Belgian Lorens Lecertua.
Around the halfway point, Enzo Geraci was added to the list of retirements. A few minutes later, the confrontation between Jeronimo Berrio and Enzo Peugeot unfortunately ended in slight contact with serious consequences, with Berrio retiring on the steep hill. Peugeot was able to continue, but failed to score points in 11th position.
The Race Director decided to send the safety car back on track. By the time Berrio's car had been cleared, it was too late to restart the drivers, who saw their positions frozen for good. With a third consecutive fastest lap in three races, Hugh Barter scored his seventh win of 2022 ahead of Arao Souta, Alessandro Giusti and Elliott Vayron. Barter did not score any points at this meeting because he had already raced at Spa, so his rivals did well in the standings. In 2nd position, Souta is only 21 points behind Barter, Giusti 25 points behind and Vayron 40 points behind.
Louis Pelet confirmed his excellent weekend in 5th position, having maintained his advantage over the Japanese driver Yuto Nomura. Behind him, several drivers made it into the top 10 after good performances: local Lorens Lecertua from 13th to 6th place, Swiss Dario Cabanelas from 10th to 8th and Romain Andriolo from 16th to 9th. Ecuadorian Mateo Villagomez finished his best meeting of the season in 10th position. Réveillère gained six places.
> Race 3 ranking
1 Hugh Barter (Australia) with 8 laps
2 Souta Arao (Japan) at 0″278
3 Alessandro Giusti (France) at 0″737
4 Elliott Vayron (France) at 1″341
5 Louis Pelet (France) at 1″685
6 Yuto Nomura (Japan) at 2″636
7 Lorens Lecertua (Belgium) at 4″168
8 Dario Cabanelas (Switzerland) at 5″250
9 Romain Andriolo (France) at 5″603
10 Mateo Villagomez (Ecuador) at 6″322
11 Enzo Peugeot (France) at 6″895
12 Leny Réveillère (France) at 8″335
13 Max Reis (Germany) at 8″541
14 Pol Lopez Gutierrez (Andorra) at 9″072
15 Amir Sayed (India) at 10″957
16 Enzo Richer (France) at 13″618
17 Pablo Sarrazin (France) at 13″841
18 Antoine Fernande (France) at 14″311
19 Luciano Morano (France) at 16″231
20 Jeronimo Berrio (Colombia) at 3 laps
21 Enzo Geraci (France) at 5 laps
22 Pierre-Alexandre Provost (France) at 7 laps
23 Edgar Pierre (France) at 7 laps
24 Valentino Mini (Panama) at 7 laps
FL: Hugh Barter in 2'24″968 (avg. 173,9 km/h)
> French F4 FIA Championship (provisional after the fourth round at Spa Francorchamps)
1 Barter (AUS) 161 pts, 2 Arao (JAP) 140 pts, 3 Giusti (FRA) 136 pts, 4 Vayron (FRA) 121 pts, 5 Peugeot (FRA) 74 pts, 6 Nomura (JAP) 59 pts, 7 Berrio (COL) 56 pts, 8 Cabanelas (SUI) 52 pts, 9 Provost (FRA) 49 pts 10 Andriolo (FRA) 44 pts, 11 Lecertua (BEL) 40 pts, 12 Geraci (FRA) 32 pts, 13 Pelet (FRA) 28 pts, 14 Pierre (FRA) 28 pts, 15 Reis (GER) 16 pts, 16 Villagomez (ECU) 11 pts, 17 Sarrazin (FRA) 6 pts, 18 Mini (PAN) 2 pts
Next races: Lédenon (Gard) from 9th to 11th September, Valencia (Spain) from 16th to 18th September and Paul Ricard (Var) from 14th to 16th October.