Pole, victory and fastest lap: Alessandro Giusti richly deserved his first victory in the French F4 Championship, taken in Race 3 at Lédenon ahead of the Australian driver Barter and the Switzerland's Cabanelas. The Frenchman can still believe in his title hopes.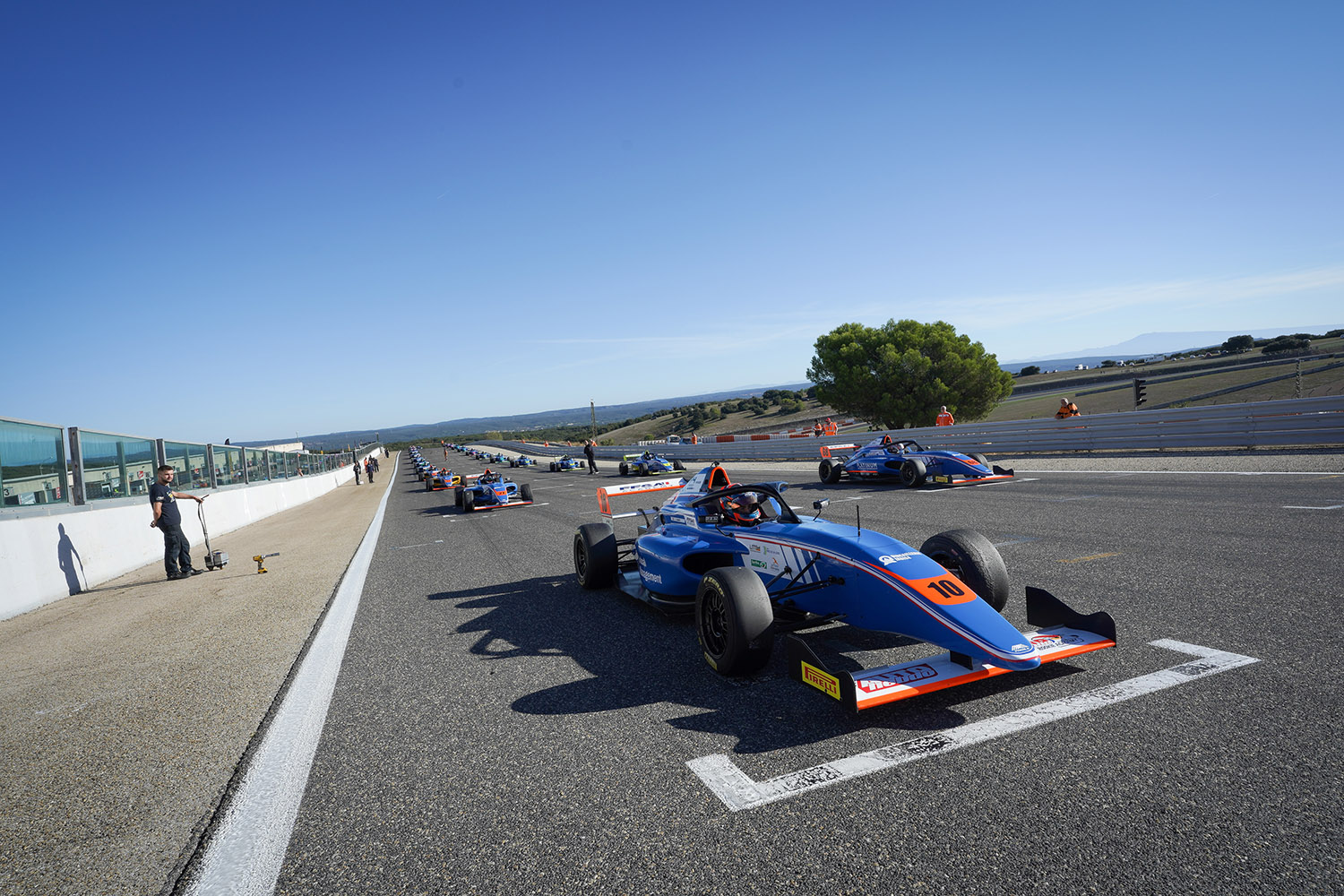 Suspense remains in the Championship! The four-way battle should continue until the end between Australian Hugh Barter, Alessandro Giusti, who stole 2nd place from Japanese driver Souta Arao, and Elliott Vayron. The latter two, however, dropped a few points to the two strongest drivers of the Lédenon meeting: Barter and Giusti. The last two races at Valencia in Spain (16th-18th September) and Paul Ricard (14th-16th October) promise to be exciting, as well as decisive.
Perfect start for Alessandro Giusti
After a double pole position on the Cevennes circuit, Alessandro Giusti was unable to convert his advantage on the grid in Race 1 after being overtaken by Hugh Barter. But this time he concluded with a win in Race 3. "At the start, the goal was really to be able to get by Barter at the entrance to the left triple," said Alessandro. "Once I was in the lead, he was quite threatening for the first few laps, but I was also very fast and was able to hold off his attacks. Then, as the laps went by, I managed to get him out of my slipstream. My tyres kept their effectiveness until the end and my lap times remained very fast from start to finish."
The Championship leader could do nothing! "I think I had the means to make a difference at the beginning of the race, but Alessandro resisted my attempts to overtake," said Australian Hugh Barter. "After that, we were running on a similar pace and I could only look to secure more points for the Championship. This meeting has allowed me to increase my lead a little bit, which is positive!"
Dario Cabanelas back on the podium
Dario Cabanelas made an excellent start, immediately following the leading duo and then maintained a steady pace to complete the final podium of the meeting. "I've been waiting for this since Pau in May," said the Swiss driver. "Overall, the performance was good at Lédenon. Enzo Peugeot was in my rear-view mirror throughout the race, but I didn't make any mistakes and it held up to the end." For his part, Peugeot was able to get away from Edgar Pierre, who was happy to turn his excellent Qualifying into a tangible result this time.
Only 9th on the grid, Elliott Vayron knew that a good start would be the key to scoring maximum points and not letting his rivals in the French Championship get ahead of him. Mission accomplished with a remarkable comeback to 6th position. Attacking behind the Frenchman throughout the 15 laps of the race, Japanese driver Souta Arao was never able to get the better of him. Pierre-Alexandre Provost came very close to overtaking Arao at the start of the race. The two cars even touched each other. "P.A." finally managed to bring the car home in 8th position, after having gained one place following the retirement of Romain Andriolo, who returned to the pits with a damaged wing and who was decidedly unhappy in the Gard.
Better than the young German Max Reis, the Belgian Lorens Lecertua finished 9th. But Reis took back 10th place in the last lap after having passed Colombian driver Jeronimo Berrio. The local drivers of the round, Enzo Geraci and Pablo Sarrazin, were just behind in 12th and 13th places, while Leny Réveillère crashed at the end of the race while he was again in the process of gaining places.
> Race 3 standings
1 Alessandro Giusti (France) with 15 laps
2 Hugh Barter (Australia) at 1″320
3 Dario Cabanelas (Switzerland) at 6″631
4 Enzo Peugeot (France) at 7″068
5 Edgar Pierre (France) at 9″278
6 Elliott Vayron (France) at 13″700
7 Souta Arao (Japan) at 13″894
8 Pierre-Alexandre Provost (France) at 16″160
9 Lorens Lecertua (Belgium) at 21″374
10 Max Reis (Germany) at 21″986
11 Jeronimo Berrio (Colombia) at 22″651
12 Enzo Geraci (France) at 23″474
13 Pablo Sarrazin (France) at 23″843
14 Mateo Villagomez (Ecuador) at 31″414
15 Enzo Richer (France) at 32″767
16 Pol Lopez Gutierrez (Andorra) at 32″883
17 Valentino Mini (Panama) at 33″245
18 Antoine Fernande (France) at 42″068
19 Louis Pelet (France) at 1'05″229
20 Leny Réveillère (France) at 1 lap
21 Romain Andriolo (France) at 5 laps
22 Yuto Nomura (Japan) at 14 laps
FL: Alessandro Giusti (FRA) in 1'21″023 (avg. 140,2 km/h)
> French F4 FIA Championship (provisional after the fifth round at Lédenon)
1 Barter (AUS) 218 pts, 2 Giusti (FRA) 190 pts, 3 Arao (JAP) 161 pts, 4 Vayron (FRA) 151 pts, 5 Peugeot (FRA) 90 pts, 6 Nomura (JAP) 75 pts, 7 Cabanelas (SUI) 72 pts, 8 Provost (FRA) 68 pts, 9 Berrio (COL) 56 pts, 10 Andriolo (FRA) 44 pts, 11 Lecertua (BEL) 44 pts, 12 Geraci (FRA) 40 pts, 13 Pierre (FRA) 40 pts, 14 Pelet (FRA) 28 pts, 15 Reis (GER) 23 pts, 16 Villagomez (ECU) 11 pts, 17 Sarrazin (FRA) 6 pts, 18 Mini (PAN) 2 pts, 19 Réveillère (FRA) 1 pt.