Better than poleman Alessandro Giusti, Australian Hugh Barter won Race 3 in Valencia, but Giusti is now the Championship leader. Romain Andriolo completed the day's podium.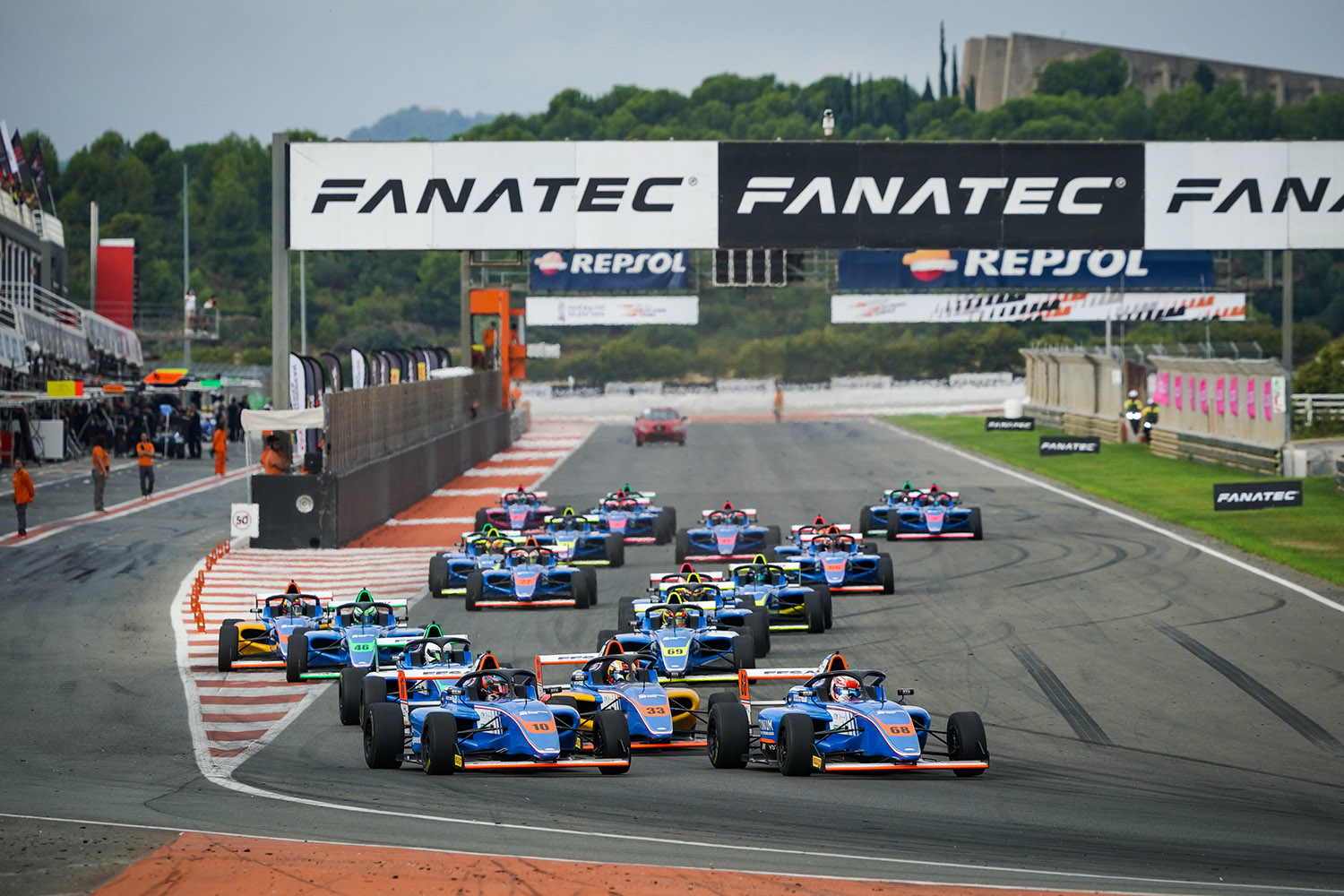 The sixth of seven races in the FFSA Academy French F4 Championship was an exciting one to follow from start to finish. The Spanish arena in Valencia was part of the show put on by the 22 academicians, who were as motivated as ever at the end of the season. Due to his double programme in France and Spain, Australian Hugh Barter was unable to score any points on this circuit also used by our Iberian neighbours. Alessandro Giusti took advantage of this situation to make an excellent improvement in the general classification. In mid-October, he will arrive at the Paul Ricard circuit for the last meeting of 2022 with a lead of more than 30 points!
Hugh Barter the fastest at the start
Between Alessandro Giusti and Hugh Barter, the scenario of Race 1 was repeated, but this time the Australian didn't have to wait very long, nor to take any risk in overtaking the Frenchman when braking, as he made a better start than his rival after the lights went out. Once again, Barter was dominant and reached the top step of the podium for the tenth time in 2022. As in Spa, this performance did not earn him any points. However, Barter still managed to win with a solid lead and the fastest lap in a race that was free of any incidents that could have resulted in the safety car.
However, things did happen in Valencia in Race 3. At the start of the race, contact between Japan's Souta Arao and Frenchman Elliott Vayron led to the latter's retirement and Arao's crash. These two drivers have lost all hope of a title, or almost, and will probably fight for the 3rd place in the Championship on 15th and 16th October on the Paul Ricard circuit.
A convincing podium for Romain Andriolo
Winner in Pau and 2nd in Spa-Francorchamps, but each time in Race 2 with a reversed grid, Romain Andriolo mounted the podium in a race with a start given according to the results of the Qualifying session. He started 4th and made a clean run to 3rd place. Jeronimo Berrio would have liked to worry the Frenchman. But while he was running in 4th position, the race director penalised him with a drive-through for a jump start.
Yuto Nomura concluded his regular and efficient performance in 4th position. Enzo Peugeot was very fast during the first part of the race, and he energetically climbed back up to 5th place, which he had to defend at the end of the race from a magnificent last lap from Dario Cabanelas. The Swiss driver was happy to finish in style after a difficult Saturday.
Several drivers were aiming for the last points of the top 10. Edgar Pierre moved up from 11th to 7th place, taking in his wake the Belgian Lorens Lecertua and Louis Pelet, both excellent finishers. Enzo Richer eventually passed Pablo Sarrazin to take 10th place. Panamanian Valentino Mini was 12th ahead of German Max Reis, Enzo Geraci and Antoine Fernande. Incidents cost Leny Réveillère and Pierre-Alexandre Provost better places. There were more disappointments for Mateo Villagomez from Ecuador and Pol Lopez Gutierrez from Andorra, who is definitely lacking success in Spain.
> Race 3 standings
1 Hugh Barter (Australia) with 14 laps
2 Alessandro Giusti (France) at 4″054
3 Romain Andriolo (France) at 7″734
4 Yuto Nomura (Japan) at 8″454
5 Enzo Peugeot (France) at 10″255
6 Dario Cabanelas (Switzerland) at 10″405
7 Edgar Pierre (France) at 17″072
8 Lorens Lecertua (Belgium) at 19″468
9 Louis Pelet (France) at 20″533
10 Enzo Richer (France) at 25″830
11 Pablo Sarrazin (France) at 26″720
12 Valentino Mini (Panama) at 27″119
13 Max Reis (Germany) at 29″785
14 Enzo Geraci (France) at 30″683
15 Antoine Fernande (France) at 41″290
16 Leny Réveillère (France) at 45″028
17 Pierre-Alexandre Provost (France) at 47″239
18 Souta Arao (Japan) at 52″782
19 Jeronimo Berrio (Colombia) at 2 laps
20 Elliott Vayron (France) at 13 laps
21 Mateo Villagomez (Ecuador) at 13 laps
22 Pol Lopez Gutierrez (Andorra) at 13 laps
FL: Hugh Barter (AUS) in 1'35″411 (avg. 151,1 km/h)
> French F4 FIA Championship (provisional after round 6 in Valencia)
1 Giusti (FRA) 250 pts, 2 Barter (AUS) 218 pts, 3 Arao (JAP) 183 pts, 4 Vayron (FRA) 176 pts, 5 Peugeot (FRA) 128 pts, 6 Nomura (JAP) 96 pts, 7 Cabanelas (SUI) 83 pts, 8 Berrio (COL) 80 pts, 9 Provost (FRA) 68 pts, 10 Andriolo (FRA) 68 pts 11 Lecertua (BEL) 50 pts, 12 Pierre (FRA) 48 pts, 13 Geraci (FRA) 40 pts, 14 Pelet (FRA) 40 pts, 15 Reis (GER) 23 pts, 16 Villagomez (ECU) 11 pts, 17 Richer (FRA) 8 pts, 18 Sarrazin (FRA) 7 pts, 19 Réveillère (FRA) 3 pts, 20 Mini (PAN) 2 pts