The seventh and final round of the French F4 Championship got off to a flying start for Alessandro Giusti, current leader of the provisional standings. Already the fastest during the Free Practice in the morning, the Frenchman managed a perfect Qualifying session in the afternoon on the Paul Ricard circuit. By taking the pole position for Races 1 and 3, he took a clear advantage on his Australian rival Hugh Barter, ranked 3rd behind the Japanese driver Souta Arao.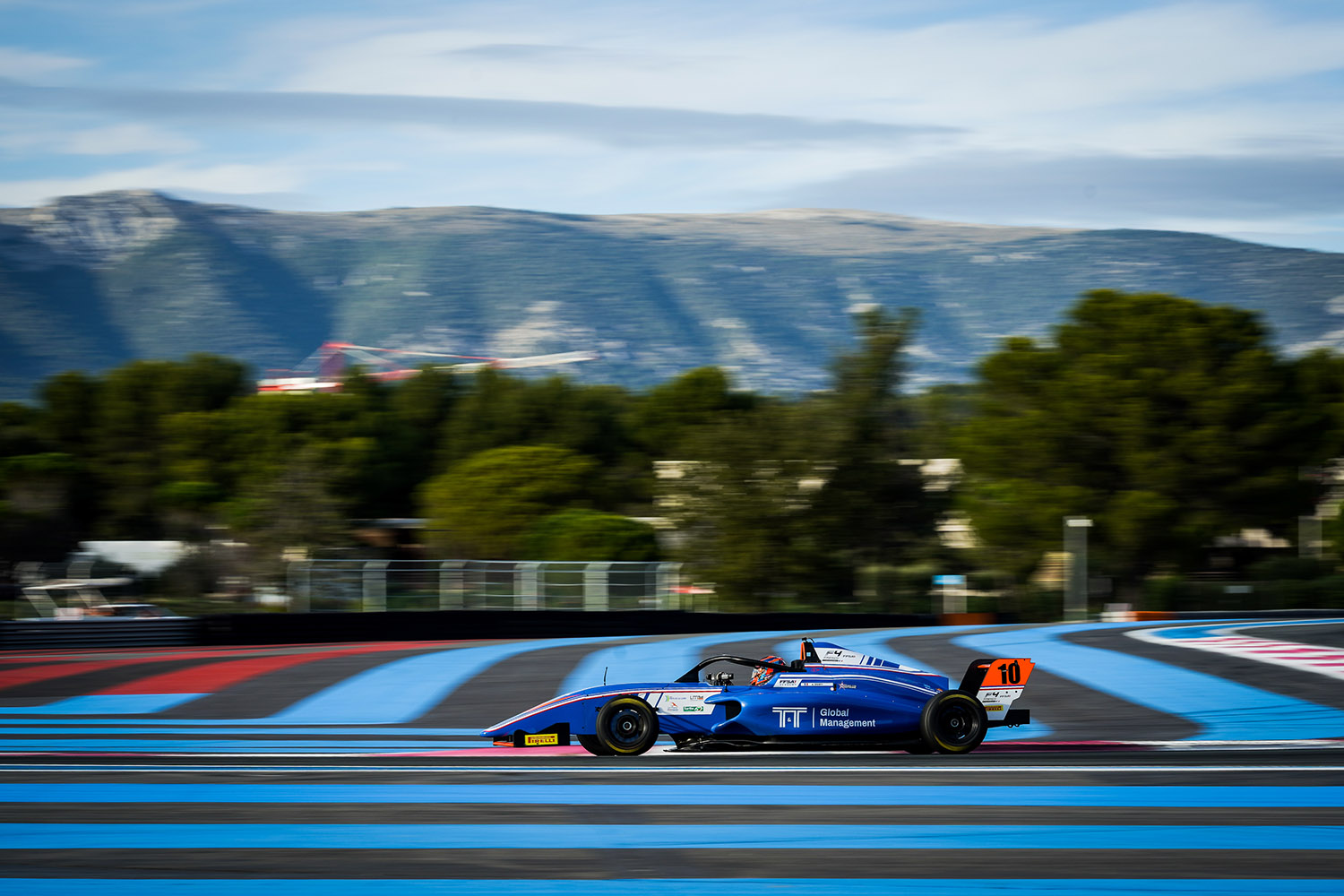 Under the sun of south-eastern France, the last Qualifying session of the season was eagerly awaited by the 24 drivers present at Le Castellet. With the tyres remaining good until the end of the session, the ranking changed frequently throughout the 25 minutes during which the drivers looked for the best moment to exploit the maximum effectiveness of the Pirelli tyres.
A coveted top 10
Alessandro Giusti and Hugh Barter made their presence felt on their fourth lap, immediately taking the top two places. Talent waits for no one, as they say, and both the Frenchman and the Australian confirmed their position at the top of the provisional French Championship ranking. Thanks to a reference time of 2:06.992, Giusti will remain the only driver to go under the 2:07 mark! On the following lap, he set an excellent 2nd best lap, which guaranteed him pole position in two of the three races of the Provencal meeting.
The following lap, Eliott Vayron was provisionally positioned behind the leading duo. It was not until the very end of the session that Japanese driver Souta Arao took 2nd place from Barter. This was also the moment that Pierre-Alexandre Provost and Pablo Sarrazin chose to take 4th and 6th place respectively. This was Sarrazin's best qualification of the year. Vayron was finally 5th in the Qualifying session.
Louis Pelet was only three hundredths of a second row for Race 1, but the young Frenchman will have a great card to play this weekend. Behind, the positions were also very close, with eight drivers grouped together in only 6 tenths. Switzerland's Dario Cabanelas, Colombia's Jeronimo Berrio and Yuto Nomura narrowly won their top 10 places and will benefit from the reversed grid for Race 2. Enzo Peugeot, Romain Andriolo, Enzo Geraci, Ecuador's Mateo Villagomez and Germany's Max Reis came close to a better result.