The suspense was over in Race 1! While the Japanese driver Arao won, the Frenchman Giusti secured the title during this last F4 meeting at Paul Ricard. Colombian driver Berrio won Race 2 after a superb and intense final duel.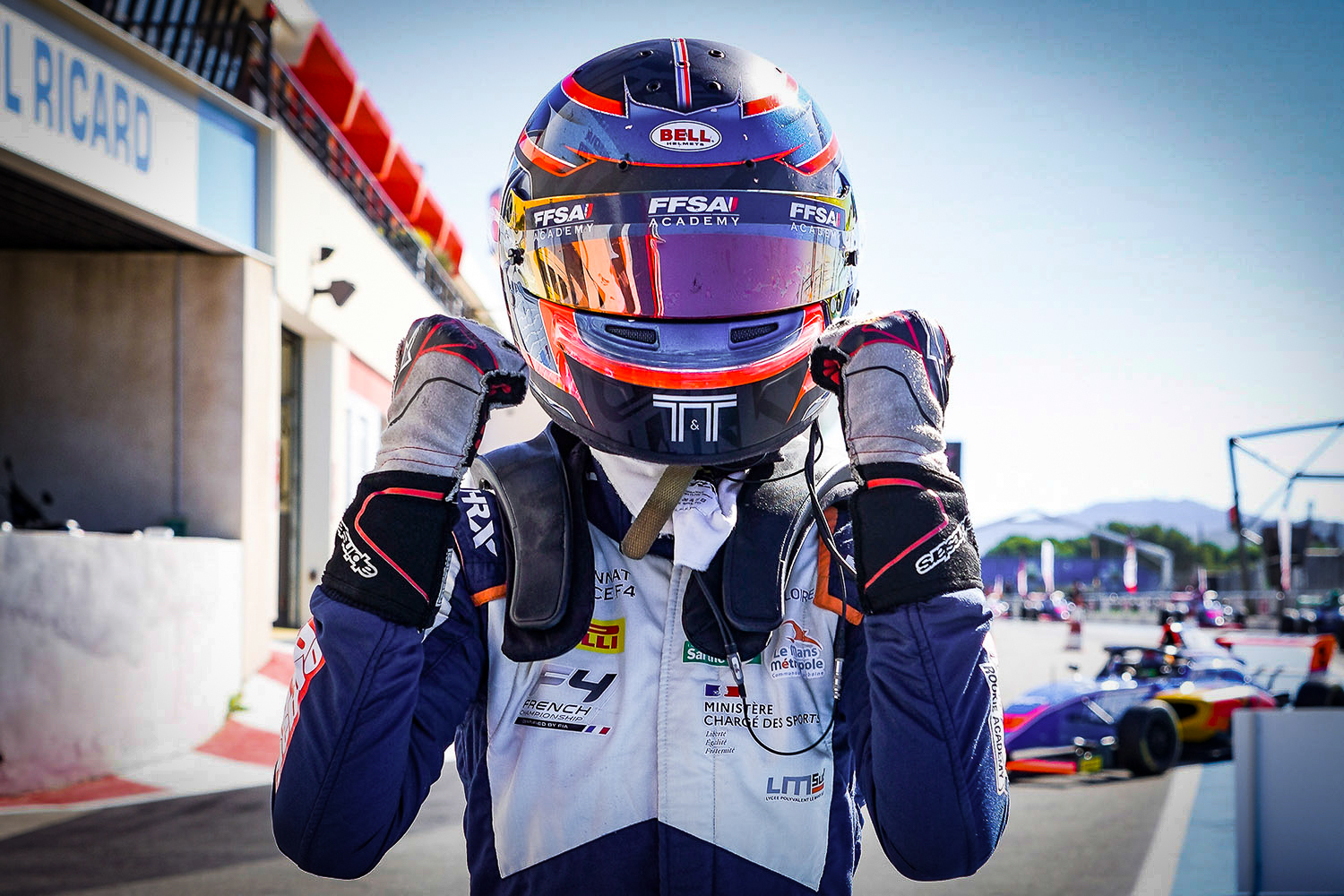 A race incident at the start of Race 1 definitively sealed the fate of the French F4 Championship run by the FFSA Academy. Alessandro Giusti's direct rival in the race for the title, Australia's Hugh Barter lost precious places from the start following an incident with Elliott Vayron and Pablo Sarrazin, as well as his last chance to take the lead over Giusti in the general classification. Even though he was passed on the first lap by Souta Arao from Japan, the Frenchman saw his horizon brighten up a bit more. A few laps later, Giusti set the fastest lap in Arao's wake, but he didn't take any risks in the hunt for the title.
Provost joins Arao and Giusti on the podium
Behind the leading duo, Pierre-Alexandre Provost quickly secured his 3rd place in Race 1, leaving his pursuers to fight it out for the top spots. Enzo Peugeot started 11th and made spectacular progress. He overtook Romain Andriolo and Japanese driver Yotu Nomura on the first lap, before successively overtaking Colombian driver Jeronimo Berrio and Louis Pelet to take 4th place. Vayron, who was unleashed after his misfortune at the beginning of the race, was 8th behind Pelet, Berrio and Andriolo. After the incident on the first lap, Pablo Sarrazin came back to 11th behind Nomura and the German Max Reis, who scored a point in the Championship. Disappointment also for Swiss driver Dario Cabanelas, who was leading the chasing pack before plunging to the bottom of the table!
Cut-throat duel in Race 2
As is traditional with the inverted grid, Race 2 gave rise to incessant clashes. The suspense lasted until the end for the podium. Colombian Jeronimo Berrio immediately got the better of Japan's Yuto Nomura and widened the gap. Swiss driver Dario Cabanelas set the fastest lap in the race and chased down the leader, while Nomura dropped down the order. Cabanelas eventually caught up with Berrio, but was unable to overtake him despite numerous attempts. The intense duel between the two drivers allowed Elliott Vayron to make the connection, with Louis Pelet and Hugh Barter just behind. Vayron tried his luck in the last corner, catching Cabanelas by surprise.
Forced to overshoot the track, the Swiss driver was given a five-second penalty and fell to 5th behind Barter, who had climbed from 8th. On the podium, the Colombian anthem rang out for the first time this season thanks to Berrio, the winner ahead of Vayron and Pelet. Alessandro Giusti gained four places and finished 6th ahead of Yuto Nomura, Enzo Peugeot, Souta Arao and Pablo Sarrazin, who was hoping for more after having been in the top five at the beginning of the race.
Continuation of the programme on the circuit Paul Ricard: Race 3, Sunday 16th October from 10:05 to 10:35
> Race 1 ranking
1 Souta Arao (Japan) with 11 laps
2 Alessandro Giusti (France) at 0″298
3 Pierre-Alexandre Provost (France) at 5″854
4 Enzo Peugeot (France) at 6″175
5 Louis Pelet (France) at 7″591
6 Jeronimo Berrio (Colombia) at 9″488
7 Romain Andriolo (France) at 14″929
8 Elliott Vayron (France) at 18″176
9 Yuto Nomura (Japan) at 18″187
10 Max Reis (Germany) at 22″168
11 Pablo Sarrazin (France) at 22″526
12 Lorens Lecertua (Belgium) at 23″078
13 Edgar Pierre (France) at 24″009
14 Enzo Richer (France) at 25″303
15 Enzo Geraci (France) at 25″968
16 Leny Réveillère (France) at 31″692
17 Garrett Berry (USA) at 34″837
18 Luciano Morano (FRA) at 35″695
19 Dario Cabanelas (Switzerland) at 39″613
20 Pol Lopez Gutierrez (Andorra) at 45″530
21 Antoine Fernande (France) at 51″013
22 Mateo Villagomez (Ecuador) at 1 lap
23 Hugh Barter (Australia) at 8 laps
24 Valentino Mini (Panama) at 8 laps
FL: Alessandro Giusti (France) in 2'07″506 (avg. 164,3 km/h)
> Race 2 ranking
1 Jeronimo Berrio (Colombia) with 11 laps
2 Elliott Vayron (France) at 1″022
3 Louis Pelet (France) at 1″204
4 Hugh Barter (Australia) at 1″746
5 Dario Cabanelas (Switzerland) at 5″859
6 Alessandro Giusti (France) at 7″685
7 Yuto Nomura (Japan) at 8″887
8 Enzo Peugeot (France) at 9″658
9 Souta Arao (Japan) at 15″405
10 Pablo Sarrazin (France) at 18″017
11 Pierre-Alexandre Provost (France) at 18″627
12 Edgar Pierre (France) at 19″540
13 Romain Andriolo (France) at 23″387
14 Enzo Richer (France) at 23″687
15 Mateo Villagomez (Ecuador) at 27″527
16 Pol Lopez Gutierrez (Andorra) at 27″818
17 Enzo Geraci (France) at 32″736
18 Leny Réveillère (France) at 34″198
19 Luciano Morano (FRA) at 38″212
20 Garrett Berry (USA) at 41″504
21 Antoine Fernande (France) at 1'20″008
22 Valentino Mini (Panama) at 5 laps
23 Lorens Lecertua (Belgium) at 9 laps
24 Max Reis (Germany) at 11 laps
FL : Dario Cabanelas (Switzerland) in 2'07″956 (avg. 163,8 km/h)