Assured of the French F4 Champion title since the day before, Giusti was keen to finish his season with a success. Dominant in Race 3, he achieved his goal. Souta and Barter joined him on the race podium as well as on the Championship podium.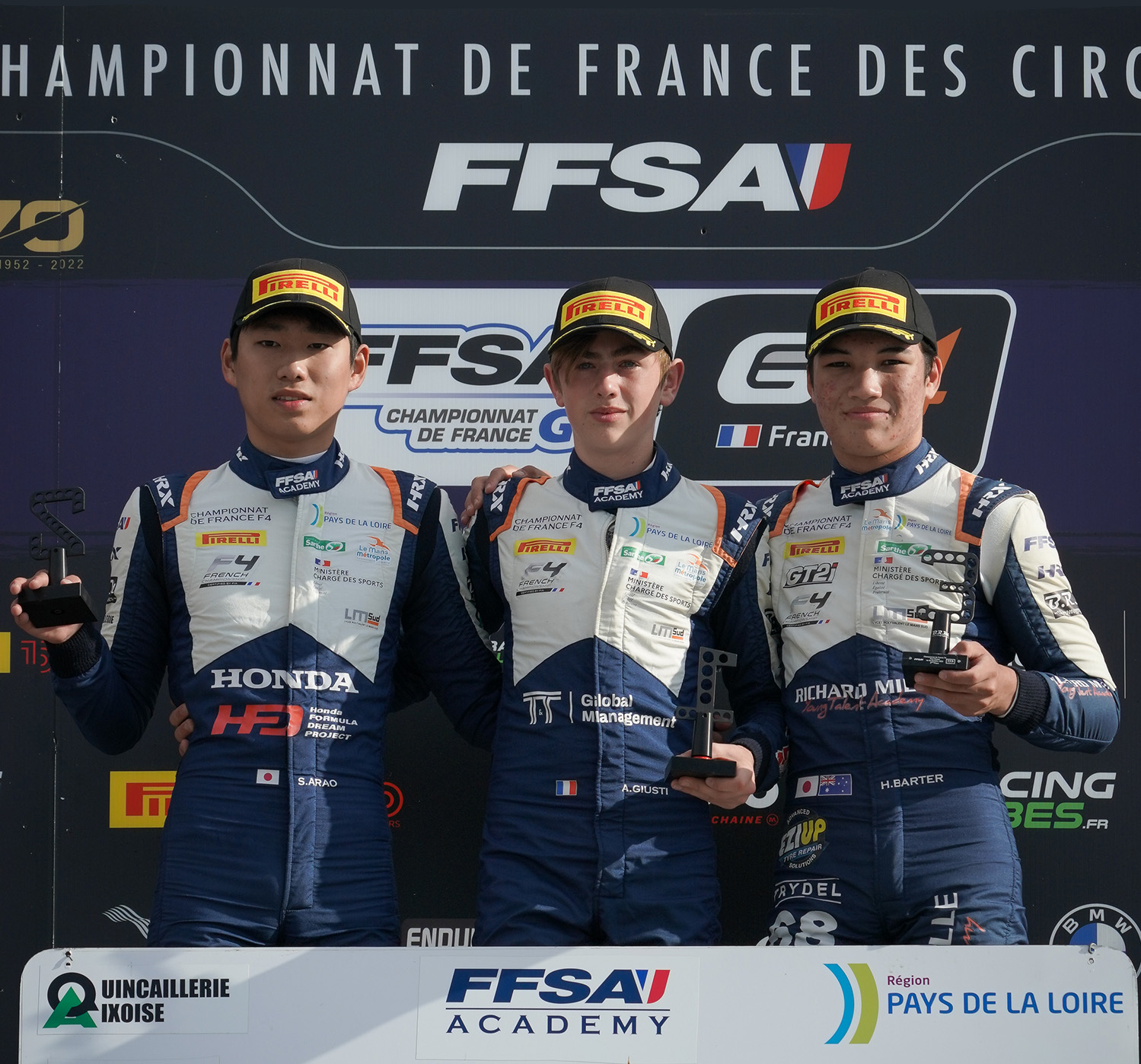 The weather remained good and the track dry for the very last race of this exciting 2022 season. Perfectly organised by the FFSA Academy, the French F4 Championship kept all its promises until this seventh and last race held on the Paul Ricard circuit. The ranking that has emerged over the year was fairly well reflected in Race 3. The top three in the final Championship standings found themselves on this last podium, albeit out of order for 2nd and 3rd places. Alessandro Giusti started from pole position and led from start to finish, keeping Japan's Souta Arao behind him, even though he set the fastest lap. Australian Hugh Barter, who started 3rd, lost two places at the start, but managed to recover his position to complete the podium and above all save his place as runner-up from Arao in the 2022 Championship.
"After winning the F4 Junior Championship in 2021, becoming French F4 Champion was clearly my goal for the season," commented Alessandro Giusti. "On Saturday, I felt great joy when I got out of the car, even though I was a little disappointed not to have won. I was on pole position in Race 1, but Souta started better than me and I didn't want to take any risks when I saw that Hugh wasn't behind me. The title was the most important thing! Today I was able to let myself go, I really wanted to finish with a win. I'm very happy with my performance at the end of the season, it showed my ability to take pole positions and win."
Giusti-Arao-Barter: the infernal trio
Although Race 3 was clear at the front for Frenchman Alessandro Giusti and Japanese driver Souta Arao, drivers like Hugh Barter, Enzo Peugeot, Enzo Geraci, Edgar Pierre and Belgian Lorens Lecertua did not fail to enliven the chasing pack during their rise. After a contact, Barter was passed by Pierre-Alexandre Provost and Elliott Vayron. Quickly back in 4th position, he had to work hard to get back to Provost who had built up a gap. He finally made the connection at the very end of the race. In spite of Provost's fierce resistance, Barter managed to make the difference by a very narrow margin (one tenth). Enzo Peugeot, who started in 10th position, showed his fighting spirit by moving up to 6th place, to finish not far from Vayron. On the last lap, Swiss driver Dario Cabanelas dropped down in the hierarchy after a collision with Colombian Jeronimo Berrio, who was penalised by 30 seconds.
Enzo Geraci, who started 14th, finished his superb progression in 8th position in the wake of Louis Pelet, who was also excellent. The last points to be distributed went to Edgar Pierre and Lorens Lecertua, who gained seven and nine places respectively! The Japanese driver Yuto Nomura failed to finish in the top 10, leading a group of drivers behind him, composed of the Ecuadorian Mateo Villagomez, Enzo Richer, the Panamanian Valentino Mini and Leny Réveillère, who improved by seven places. Contact shortly after the halfway point caused Pablo Sarrazin to drop to 20th position behind Luciano Morano and Antoine Fernande. After a pit stop for a repair, Germany's Max Reis had to settle for 21st position. There was disappointment for Romain Andriolo and Andorran Pol Lopez Gutierrez, who ended their season with a retirement, while American Garrett Berry had an interesting experience for his F4 Academy debut.
> Race 3 standings
1 Alessandro Giusti (France) with 11 laps
2 Souta Arao (Japan) at 2″725
3 Hugh Barter (Australia) at 9″229
4 Pierre-Alexandre Provost (France) at 9″331
5 Elliott Vayron (France) at 15″846
6 Enzo Peugeot (France) at 17″423
7 Louis Pelet (France) at 20″782
8 Enzo Geraci (France) at 20″905
9 Edgar Pierre (France) at 21″559
10 Lorens Lecertua (Belgium) at 25″207
11 Yuto Nomura (Japan) at 28″973
12 Mateo Villagomez (Ecuador) at 29″926
13 Enzo Richer (France) at 30″514
14 Valentino Mini (Panama) at 30″985
15 Leny Réveillère (France) at 31″370
16 Dario Cabanelas (Switzerland) at 34″774
17 Jeronimo Berrio (Colombia) at 55″309
18 Luciano Morano (FRA) at 1'07″826
19 Antoine Fernande (France) at 1'08″083
20 Pablo Sarrazin (France) at 1'45″179
21 Max Reis (Germany) at 1 lap
22 Garrett Berry (USA) at 3 laps
23 Romain Andriolo (France) at 3 laps
24 Pol Lopez Gutierrez (Andorra) at 8 laps
FL: Souta Arao (Japan) in 2'07″886 (avg. 163.8 km/h)
> French F4 FIA Championship (final ranking after the seventh round at Paul Ricard)
1 Giusti (FRA) 300 pts, 2 Barter (AUS) 241 pts, 3 Arao (JAP) 227 pts, 4 Vayron (FRA) 202 pts, 5 Peugeot (FRA) 149 pts, 6 Berrio (COL) 103 pts, 7 Nomura (JAP) 100 pts, 8 Provost (FRA) 95 pts, 9 Cabanelas (SUI) 90 pts, 10 Andriolo (FRA) 74 pts, 11 Pelet (FRA) 66 pts 12 Lecertua (BEL) 51 pts, 13 Pierre (FRA) 50 pts, 14 Geraci (FRA) 44 pts, 15 Reis (GER) 24 pts, 16 Villagomez (ECU) 11 pts, 17 Richer (FRA) 8 pts, 18 Sarrazin (FRA) 7 pts, 19 Réveillère (FRA) 3 pts, 20 Mini (PAN) 2 pts, 21 Lopez Gutierrez (AND) 1 pt.