With 26 cars announced and 12 nationalities present, the 2023 season of the French F4 Championship bears witness to the great vitality of the FIA-certified F4 market. The qualities of the turnkey formula, operated by the FFSA Academy, are hitting the mark.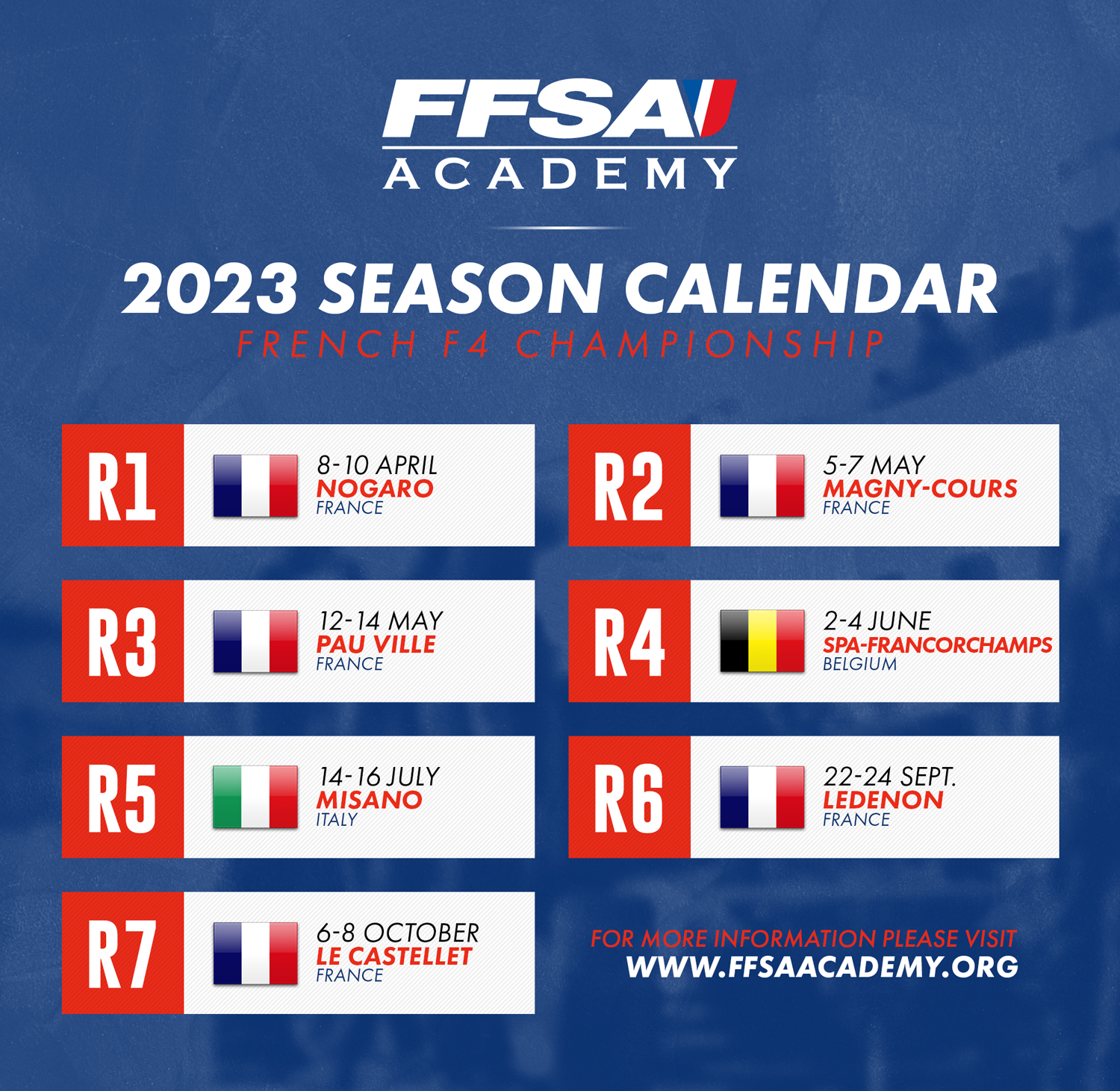 Flattering references for the FFSA Academy
The success of the French-style F4 can also be measured by the progress of its former students within the international single-seater pyramid. Pierre Gasly (class of 2011), who has had an exceptional career in F1, will take a new turn in 2023 by joining the BWT Alpine F1 team. The Belgian Stoffel Vandoorne, FIA Formula E World Champion 2021-2022, started in F4 in France (class of 2010). Théo Pourchaire (class of 2018) has never been so close to F1 and is once again lining up in F2 alongside some of the most promising young talents such as Victor Martins (class of 2017), Isack Hadjar (class of 2020), the Japanese Ayuma Iwisa (class of 2020), the Monegasque Arthur Leclerc (class of 2018), or the Belgian Amaury Cordeel (class of 2017). It is no coincidence that Helmut Marko himself trusted F4 France to train two Red Bull Junior Team drivers last year, Souta Arao and Yuto Nomura. In 2023, the German organisation ADAC will enter three drivers of the "ADAC Formula Junior Team" in the French F4 Championship.
A solid championship
The French F4 Championship remains true to its values by offering seven meetings of three races each year, in addition to supervised training sessions. The drivers take centre stage in the federal training process during this first stage in single-seaters. The single-seater car offers fair sporting competition for all while maintaining a controlled budget. The training provided by qualified and experienced instructors actively contributes to the development of each individual's potential in a favourable environment.
A modern, fast and safe car
The introduction of a 2nd generation F4 in 2022 was a success. The Mygale M21-F4 has fulfilled its mission perfectly with its safety halo, 100% carbon bodywork and other major developments for driver safety. Equipped with an Alpine engine prepared by Oreca and fitted with a brand new turbo, the French F4 offers performances capable of preparing the young drivers for their further development in single-seaters. Finally, in financial terms, the rates offered by the FFSA Academy to French and foreign drivers always favour accessibility with their very competitive level. French F4 is also at the forefront of innovation in terms of environmental issues, as it has been using a biofuel supplied by Repsol since 2022, which allows for greenhouse gas savings of over 70% compared to fossil fuels.
2023 French F4 Championship calendar
Round 1: Nogaro from 8th to 10th April.
Round 2: Magny-Cours from 5th to 7th May.
Round 3: Pau from 12th to 14th May.
Round 4: Spa-Francorchamps (BEL) from 2nd to 4th June.
Round 5: Misano (ITA) from 14th to 16th July.
Round 6: Lédenon from 22nd to 24th September.
Round 7: Le Castellet from 6th to 8th October.
One pre-season test day per driver is scheduled at Nogaro on 15th-16th February. A package of five driving days is offered during the season. Simulator training is available at Le Mans.
A stronger line-up than ever
26 cars have been entered for the 2023 season for drivers aged 15 to 19 from 12 nations. This growing number of drivers remains reasonable enough not to complicate the races, while allowing them to learn about racing and create a quality show. Six young drivers are returning for a second year of training, including French driver Enzo Peugeot, who was ranked 5th last year.
List of drivers for the 2023 French F4 Championship
Paul Alberto, France
Romain Andriolo, France
Garrett Berry, USA
Edouard Borgna, France
Adrien Closmenil, France
Joao Paulo Diaz Balesteiro, Colombia
Gabriel Doyle-Parfait, France
Andrei Duna, Romania
Kevin Foster, Canada
Evan Giltaire, France
Jason Leung, Canada
Pol Lopez, Spain
Leonardo Megna, Italy
Enzo Peugeot, France
Edgar Pierre, France
Frank Porte Ruiz, Andorra
Max Reis, Germany, "ADAC Formula Junior Team"
Enzo Richer, France
Luca Savu, Romania
Louis Schlesser, France
Karel Schulz, France
Yani Stevenheydens, Belgium
Yaroslav Veselaho, Ukraine
Hiyu Yamakoshi, Japan
Finn Wiebelhaus, Germany, "ADAC Formula Junior Team"
Tom Kalender, Germany, "ADAC Formula Junior Team"