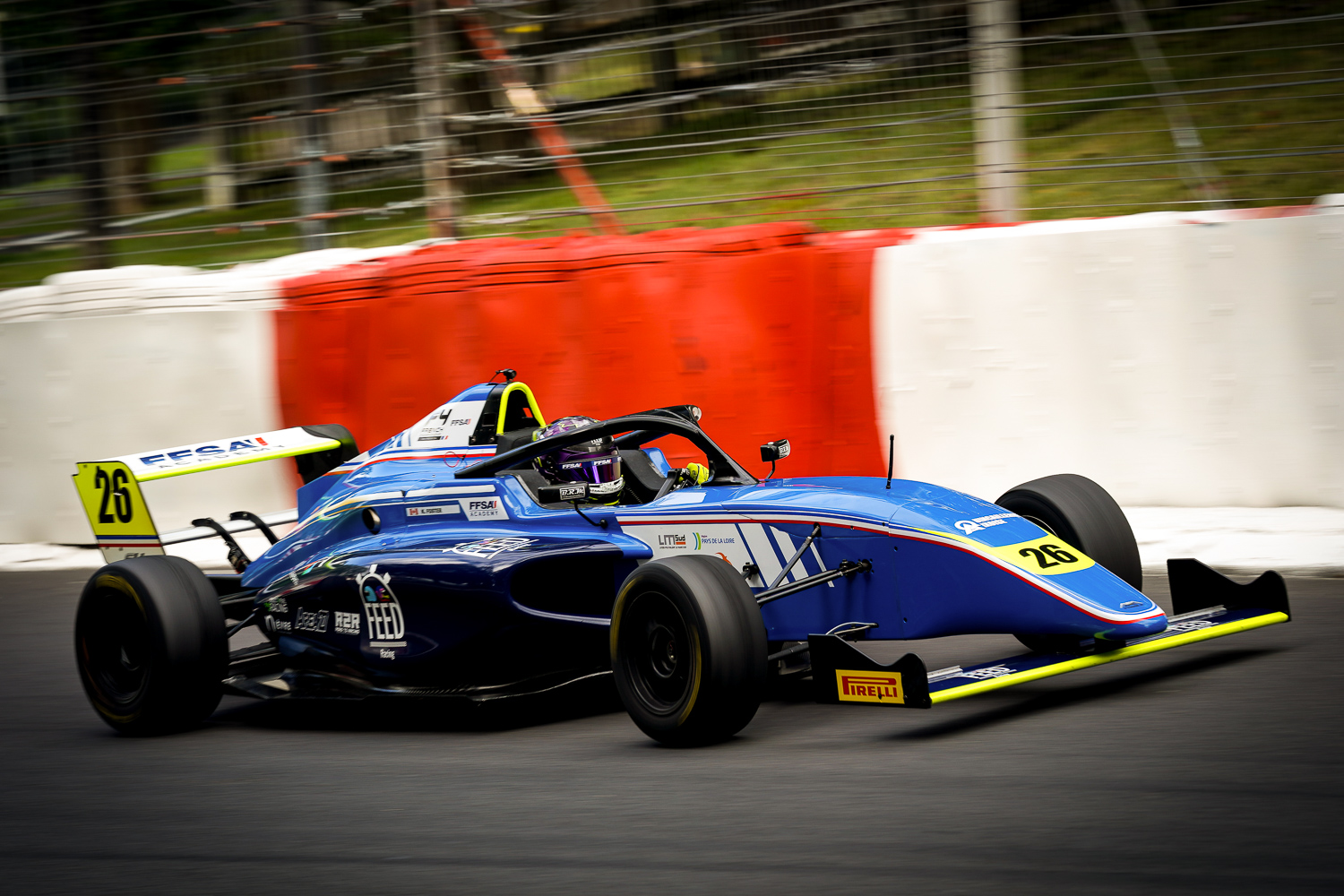 The French F4 Championship, the flagship event of the 2023 Pau Grand Prix, had a modified schedule, which allowed the field to split in two for both the Friday morning Free Practice and the afternoon Qualifying session, thus limiting the traffic on the track. The lines were dry for the debut of the academicians on this legendary circuit. The top times of the two groups went respectively to Enzo Peugeot (1:18.430) and Evan Giltaire (1:18.501).
But the rain came and the rain tyres were used for the Qualifying session. As expected on this track which winds between the rails in the heart of the city of Pau, while allowing high speeds to be reached, a few incidents led to yellow and even red flags being brought out, so that the suspense lasted until the end for pole position.
The drivers of Group 1 went on lap after lap, staying on track as long as possible and hoping that the track conditions would improve. Indeed, the best times were set at the end of the session. Evan Giltaire was at the top of the hierarchy with a time of 1'28″921, more than a second ahead of Italian Leonardo Megna, Frenchman Louis Schlesser, Ukrainian Yaroslav Veselaho and Spaniard Pol Lopez. Romain Andriolo (3rd in the provisional Championship) was the big loser of the day and plunged to the bottom of the ranking.
Group 2 was interrupted several times, especially in the middle of the session, when some drivers made mistakes. Here again, everything was decided in the last few minutes. Enzo Peugeot (1:24.112) and Japanese Hiyu Yamakoshi (1:23.949) managed to take provisional pole position, but Canadian Kevin Foster overtook all his rivals shortly before the chequered flag in 1:23.725. Belgian Yani Stevenheydens and American Garrett Berry completed the top five in this second group.
Foster will start from pole position in Race 1 ahead of Giltaire, Yamakoshi and Megna. Race 3, which will be called the "Grand Prix de Pau", will see a similar front row, but this time with Peugeot third ahead of Megna. Race 2, in which the top 10 cars reversed their positions, saw Lopez start first ahead of Berry.