Already a winner in Race 1, Enzo Peugeot repeated the feat in Race 3, beating Evan Giltaire and Belgian driver Yani Stevenheydens. This victory has a special flavour, as it allows the Frenchman to add his name to the list of winners of the famous event in Pau.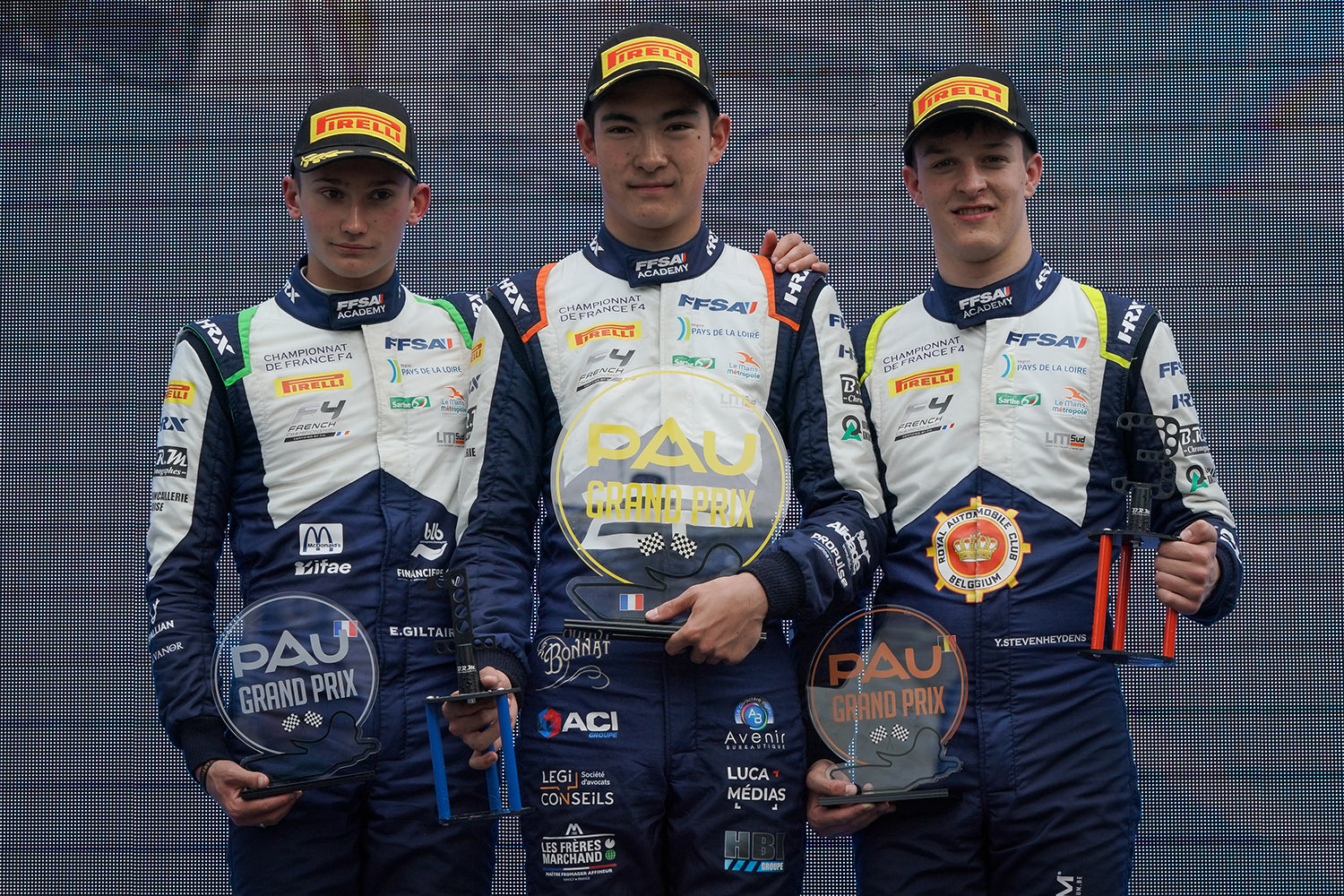 Single-seaters have always played an important role at the Grand Prix de Pau and Race 3 of the FFSA Academy F4 Championship was the main race of the meeting. Following on from Saturday's very lively day, this 80th edition kept thousands of spectators and television viewers constantly on the edge of their seats as they followed this captivating event, which had its share of twists and turns.
Race 3: The rain arrives
The track was dry and the cars were equipped with slick tyres when the drivers took their places on the starting grid in the heart of the city of King Henry IV. Kevin Foster retained his lead at the end of the day ahead of Evan Giltaire and Enzo Peugeot. Giltaire was already in a strong position at the start of the race, and when he braked against Foster, he took the lead. A few drops of rain started to fall, leading to an incident involving Italian Leonardo Megna, who plunged down the order, and Ukrainian Yaroslav Veselaho, who was forced to retire. The safety car barely had time to enter the track, when the race direction logically preferred to send the drivers back to the pits because of the increasing intensity of the rain.
A perfectly orchestrated ballet by the FFSA Academy mechanics switched the cars from slick tyres to "rain" tyres in a minimum of time, allowing the prestigious Grand Prix de Pau event to restart, to complete the extended duration for this great occasion (30 minutes instead of 20). In these slippery conditions, Peugeot proved to be the most accomplished. He passed Foster and then Giltaire and went on to win the race with great skill. Like the day before, Foster made a mistake at the Foch chicane and retired. Belgian Yani Stevenheydens climbed up to 3rd place ahead of Japanese driver Hiyu Yamakoshi and American Garrett Berry.
In the top 10, a final change occurred with two laps to go, with Edgar Pierre overtaking Louis Schlesser for 6th place. Stuck on the outside, Schlesser couldn't prevent Canadian Jason Leung and German Tom Kalender moving up to 7th and 8th positions. Romain Andriolo, who pushed all weekend after the places he lost in the Qualifying session, was rewarded with a brilliant recovery from 22nd to 11th place, only a thousandth behind the Italian Megna.
In the provisional Championship standings, Enzo Peugeot's excellent performance allowed him to steal the lead from Evan Giltaire. They widened the gap on Kevin Foster and Romain Andriolo, who did not have the weekend they had hoped for in Pau. Yani Stevenheydens, in 6th place, came closer to Hiyu Yamakoshi.
> Next race (4 of 7): 2nd-4th June 2023 at Spa Francorchamps (Belgium)
> Race 3 classification
1 Enzo Peugeot (France) with 16 laps
2 Evan Giltaire (France) at 2.750
3 Yani Stevenheydens (Belgium) at 6.007
4 Hiyu Yamakoshi (Japan) at 8.627
5 Garrett Berry (USA) at 9.155
6 Edgar Pierre (France) at 12.108
7 Jason Leung (Canada) at 12.687
8 Tom Kalender (Germany) at 13.160
9 Louis Schlesser (France) at 14.319
10 Leonardo Megna (Italy) at 16.247
11 Romain Andriolo (France) at 16.248
12 Andrei Duna (Romania) at 18.107
13 Max Reis (Germany) at 19.028
14 Gabriel Doyle-Parfait (Great Britain) at 24.171
15 Luca Savu (Romania) at 24.448
16 Joao Paulo Diaz Balesteiro (Colombia) at 27.671
17 Frank Porte Ruiz (Andorra) at 28.492
18 Karel Schulz (France) at 28.561
19 Finn Wiebelhaus (Germany), retired on lap 16
20 Kevin Foster (Canada), retired on lap 13
21 Enzo Richer (France), retired on lap 8
22 Edouard Borgna (France), retired on lap 8
23 Yaroslav Veselaho (Ukraine), retired on lap 3
24 Adrien Closmenil (France), non-starter
25 Pol Lopez (Spain), non-starter
26 Paul Alberto (France), non-starter
FL: Yamakoshi in 1:18.852 (average speed 126.0 km/h)
> French F4 FIA Championship (provisional after Pau)
1 Peugeot (FRA) 130 pts, 2 Giltaire (FRA) 126 pts, 3 Foster (CDN) 83 pts, 4 Andriolo (FRA) 74 pts, 5 Yamakoshi (JPN) 70 pts, 6 Stevenheydens (BEL) 62 pts, 7 Lopez (ESP) 52 pts, 8 Berry (USA) 42 pts, 9 Richer (FRA) 38 pts, 10 Megna (ITA) 31 pts, 11 Closmenil (FRA) 21 pts 12 Pierre (FRA) 13 pts, 13 Schlesser (FRA) 10 pts, 14 Savu (ROU) 8 pts, 15 Leung (CDN) 8 pts, 16 Veselaho (UKR) 6 pts, 17 Kalender (DEU) 6 pts, 18 Wiebelhaus (DEU) 6 pts, 19 Reis (DEU) 4 pts, 20 Schultz (FRA) 2 pts, 21 Alberto (FRA) 2 pts, 22 Porte Ruiz (AND) 1 pt