Spa Francorchamps marks the halfway point in the season of the French F4 Championship from 2nd to 4th June. In Belgium, many young drivers will be aiming for victory, starting with the two leaders of the provisional standings, Enzo Peugeot and Evan Giltaire.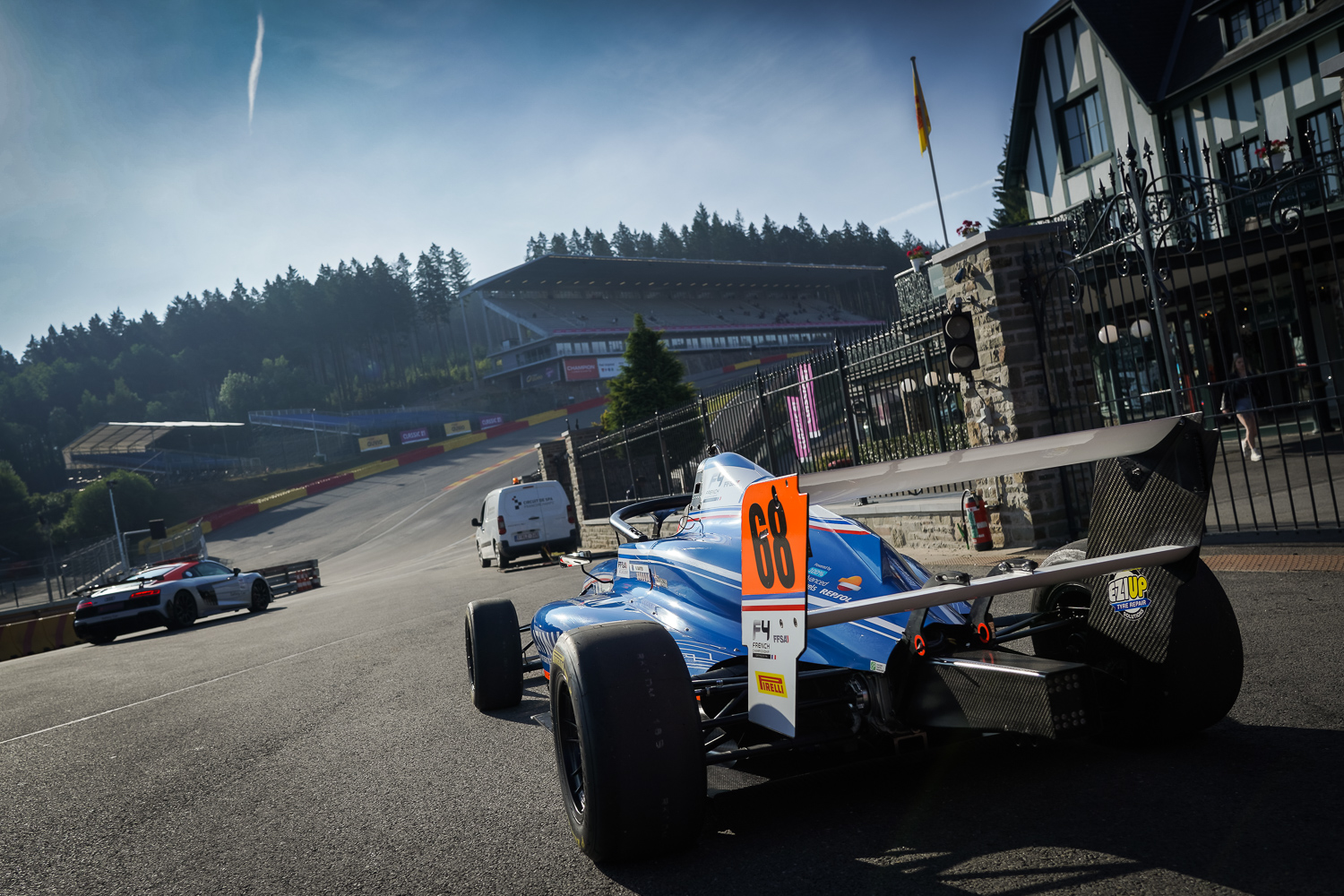 Will the Ardennes toboggan serve as the judge and highlight a small sample of drivers registered in the FFSA Academy Championship? Or, on the contrary, will we see a distribution of talent, with battles for victory involving several competitors? For the moment, the 2023 vintage has proved to be both highly competitive and particularly even. Seven different drivers have already mounted the top step of the podium. Two-time winners Enzo Peugeot and Evan Giltaire from France have created a small points gap in the provisional standings. However, the situation could quickly change if the likes of Canadian Kevin Foster, Frenchman Romain Andriolo or Japan's Hiyu Yamakoshi get the better of the leading duo.
The battle of the Ardennes
After Nogaro, Magny-Cours and Pau-Ville, the 26 drivers taking part in the French F4 Championship will be racing on a track with very different characteristics. Fast bends and slow corners follow one another in a natural and undulating environment, conducive to intense and spectacular racing. The weather forecast promises fine days at the start of June, but we know that the Belgian sky can always spice up the proceedings. With the opportunity to attend the meeting free of charge and just €5 to enter the paddock, the Spa Euro Race meeting promises to be a popular and lively event.
Already winner of one of the three races at Spa Francorchamps in 2022, Enzo Peugeot will be looking to win again in order to retain his Championship lead, which he managed to wrest from Evan Giltaire after his excellent Pau meeting. Always very quick since the start of the season when it comes to chasing pole position, Giltaire will be setting out with equally ambitious goals. Having failed to score a single point on the street circuit of Pau, Kevin Foster and Romain Andriolo will be out for revenge. Hiyu Yamakoshi, meanwhile, is on a roll and will be looking to confirm his rise to prominence.
Spotted by the RACB during the 'Road to F4' operation, Belgian Yani Stevenheyden will be keen to shine on home soil, while Enzo Richer will be out to conquer his first podium, which he has come so close to on three occasions this season. Spaniard Pol Lopez, American Garrett Berry and Frenchman Adrien Closmenil, who has already won a race in 2023, will also be on the watch list, as will Italy's Leonardo Megna and Frenchmen Edgar Pierre and Louis Schlesser. In all, there will be 26 drivers on the grid!
> Spa Francorchamps 2023 F4 programme
Friday 2nd June: Free practice (11:00 – 11:30) and Qualifying (17:00 – 17:25)
Saturday 3rd June: Race 1 (11:00 – 11:30) and Race 2 (16:50 – 17:20)
Sunday 4th June: Race 3 (16:05 – 16:35)
Provisional timetable, subject to change during the meeting.
> Race duration: 20 minutes + 1 lap
> Mygale single-seater, Renault turbo engine, Pirelli tyres, 100% renewable Repsol biofuel.
> Provisional standings after Pau
1 n°74 Enzo Peugeot (France) 130 pts
2 n°95 Evan Giltaire (France) 126 pts
3 n°26 Kevin Foster (Canada) 83 pts
4 n°16 Romain Andriolo (France) 74 pts
5 n°6 Hiyu Yamakoshi (Japan) 70 pts
6 n°17 Yani Stevenheydens (Belgium) 62 pts
7 n°5 Pol Lopez (Spain) 52 pts
8 n°18 Garrett Berry (USA) 42 pts
9 n°66 Enzo Richer (France) 38 pts
10 n°3 Leonardo Megna (Italy) 31 pts
11 n°14 Adrien Closmenil (France) 21 pts
12 n°27 Edgar Pierre (France) 13 pts
13 n°61 Louis Schlesser (France) 10 pts
14 n°37 Luca Savu (Romania) 8 pts
15 n°89 Jason Leung (Canada) 8 pts
16 n°44 Yaroslav Veselaho (Ukraine) 6 pts
17 n°11 Tom Kalender (Germany) 6 pts
18 n°4 Finn Wiebelhaus (Germany) 6 pts
19 n°28 Max Reis (Germany) 4 pts
20 n°9 Karel Schulz (France) 2 pts
21 n°7 Paul Alberto (France) 2 pts
22 n°22 Frank Porte Ruiz (Andorra) 1 pt
23 n°77 Joao Paulo Diaz Balesteiro (Colombia)
24 n°46 Gabriel Doyle-Parfait (Great Britain)
25 n°10 Andrei Duna (Romania)
26 n°2 Edouard Borgna (France)
Follow the event on the ffsaacademy.org website and on social networks.