The leaders of the French F4 Championship put on a show in Race 3 with an intense duel at Misano. Evan Giltaire was the eventual winner, with Enzo Peugeot dropping back a place for overtaking his rival off the track.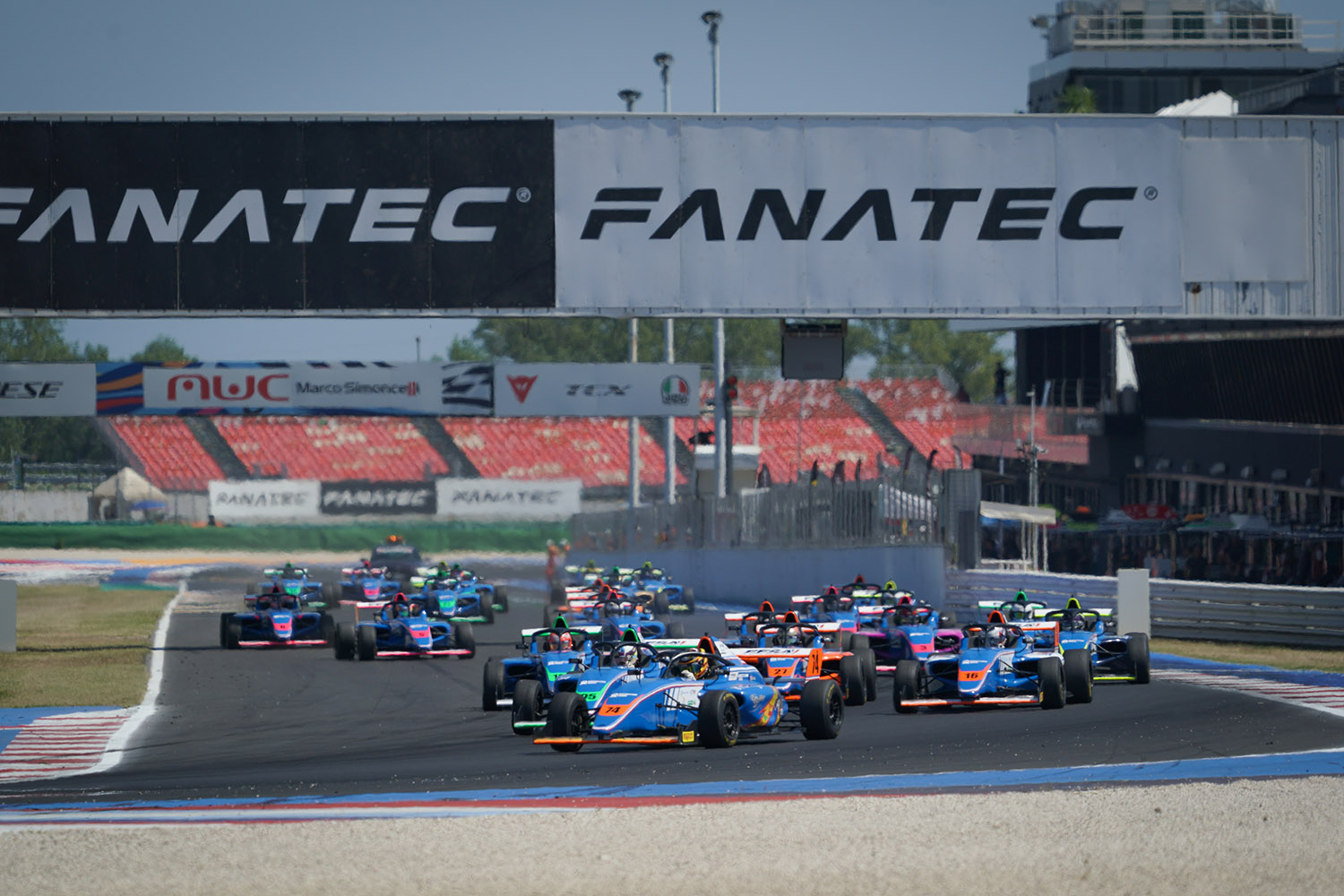 Clearly, the fifth round of the French F4 Championship was not lacking in interest, as the magnificent Italian circuit of Misano played a full part in the exciting debates, with the 25 FFSA Academy drivers battling it out. The expected showdown between Enzo Peugeot and Evan Giltaire, who are both aiming for the title, took place, as did that between Romain Andriolo and Canadian Kevin Foster for provisional 3rd place. Japan's Hiyu Yamakoshi was the big loser of this transalpine stage, which allowed drivers like Edgar Pierre and American Garrett Berry to confirm their rise to prominence.
A thrilling end to Race 3
Thanks to his double pole position in Friday's Qualifying session, Enzo Peugeot was once again positioned on the inside of the grid for Race 3, and he made sure of retaining his position when the lights went out. Evan Giltaire, Romain Andriolo and Romanian Andrei Duna immediately chased the leader, leaving Kevin Foster to worry Edgar Pierre for 5th place. A collision in the middle of the field resulted in German driver Max Reis retiring and the safety car coming out. During the neutral period, Yamakoshi was caught out during a slowdown and was unable to avoid the car of Italian Leonardo Megna. Both drivers retired immediately, forcing the safety car to return quickly to the track. Garrett Berry had just enough time to pass Louis Schlesser and move up to 7th position.
In the end, the race was back on track for a frenzied final few minutes! Three duos battled it out with great intensity: Peugeot / Giltaire for victory, Andriolo / Foster (who had passed Pierre) for the podium and Pierre / Berry for 5th place. Giltaire had to wait until the start of the last lap to find an opening on Peugeot, who tried to retaliate on the outside a few corners later to regain the lead. But Enzo's manoeuvre took him beyond the limits of the track and he was demoted to 2nd place. The winner, Giltaire, took advantage of the situation to retain the lead in the French Championship, but only seven points separate the two French hopefuls before the last two races. The suspense continues!
Behind him, Romain Andriolo held on to 3rd place despite the onslaught of Kevin Foster, taking his third consecutive podium at Misano. Pierre held off Garrett Berry by less than eight hundredths to take his third 4th place of the meeting. The podium is getting closer for the Frenchman! Romanian Andrei Duna was in position heading to the finish, but was forced to retire. Louis Schlesser, who was often fast throughout the race, finished in 7th position, leaving the last places in the top 10 to Karel Schulz, Enzo Richer and Spaniard Pol Lopez.
See you on 22nd-24th September at Lédenon (Gard) for the next event of the 2023 French F4 Championship.
> Race 3 standings
1 Evan Giltaire (France) with 11 laps
2 Enzo Peugeot (France) at -0.308
3 Romain Andriolo (France) at 0.759
4 Kevin Foster (Canada) at 1.154
5 Edgar Pierre (France) at 1.911
6 Garrett Berry (United States) at 1.987
7 Louis Schlesser (France) at 3.467
8 Karel Schulz (France) at 4.180
9 Enzo Richer (France) at 4.403
10 Pol Lopez (Spain) at 4.658
11 Adrien Closmenil (France) at 5.684
12 Tom Kalender (Germany) at 8.291
13 Frank Porte Ruiz (Andorra) at 12.484
14 Jason Leung (Canada) at 12.505
15 Paul Alberto (France) at 12.665
16 Yaroslav Veselaho (Ukraine) at 13.264
17 Luca Savu (Romania) at 13.549
18 Joao Paulo Diaz Balesteiro (Colombia) at 14.393
19 Yani Stevenheydens (Belgium) at 19.272
20 Gabriel Doyle-Parfait (Great Britain), retired on lap 11
21 Andrei Duna (Romania), retired on lap 9
22 Leonardo Megna (Italy), retired on lap 4
23 Hiyu Yamakoshi (Japan), retired on lap 4
24 Max Reis (Germany), retired on lap 2
25 Edouard Borgna (France), non-starter
Pole position: Peugeot in 1'37″469
FL: Peugeot in 1:38.386 (avg. 154.6 km/h)
> French F4 FIA Championship (provisional after Misano)
1 Giltaire (FRA) 228 pts, 2 Peugeot (FRA) 221 pts, 3 Andriolo (FRA) 149 pts, 4 Foster (CDN) 148 pts, 5 Yamakoshi (JPN) 107 pts, 6 Berry (USA) 94 pts, 7 Stevenheydens (BEL) 68 pts, 8 Pierre (FRA) 55 pts, 9 Lopez (ESP) 53 pts, 10 Richer (FRA) 44 pts, 11 Megna (ITA) 31 pts, 12 Closmenil (FRA) 23 pts, 13 Schlesser (FR) 23 pts, 14 Kalender (DEU) 22 pts, 15 Schultz (FRA) 11 pts, 16 Savu (ROU) 8 pts, 17 Leung (CDN) 8 pts, 18 Duna (ROU) 8 pts, 19 Reis (DEU) 8 pts, 20 Veselaho (UKR) 6 pts, 21 Wiebelhaus (DEU) 6 pts, 22 Porte Ruiz (AND) 2 pts, 23 Alberto (FRA) 2 pts.