Giltaire took pole position, dominated Race 1 and finished 4th in Race 2, bringing him to within four points of Peugeot in the provisional French F4 Championship standings. All will be decided in Sunday's final race! Stevenheydens won Race 2.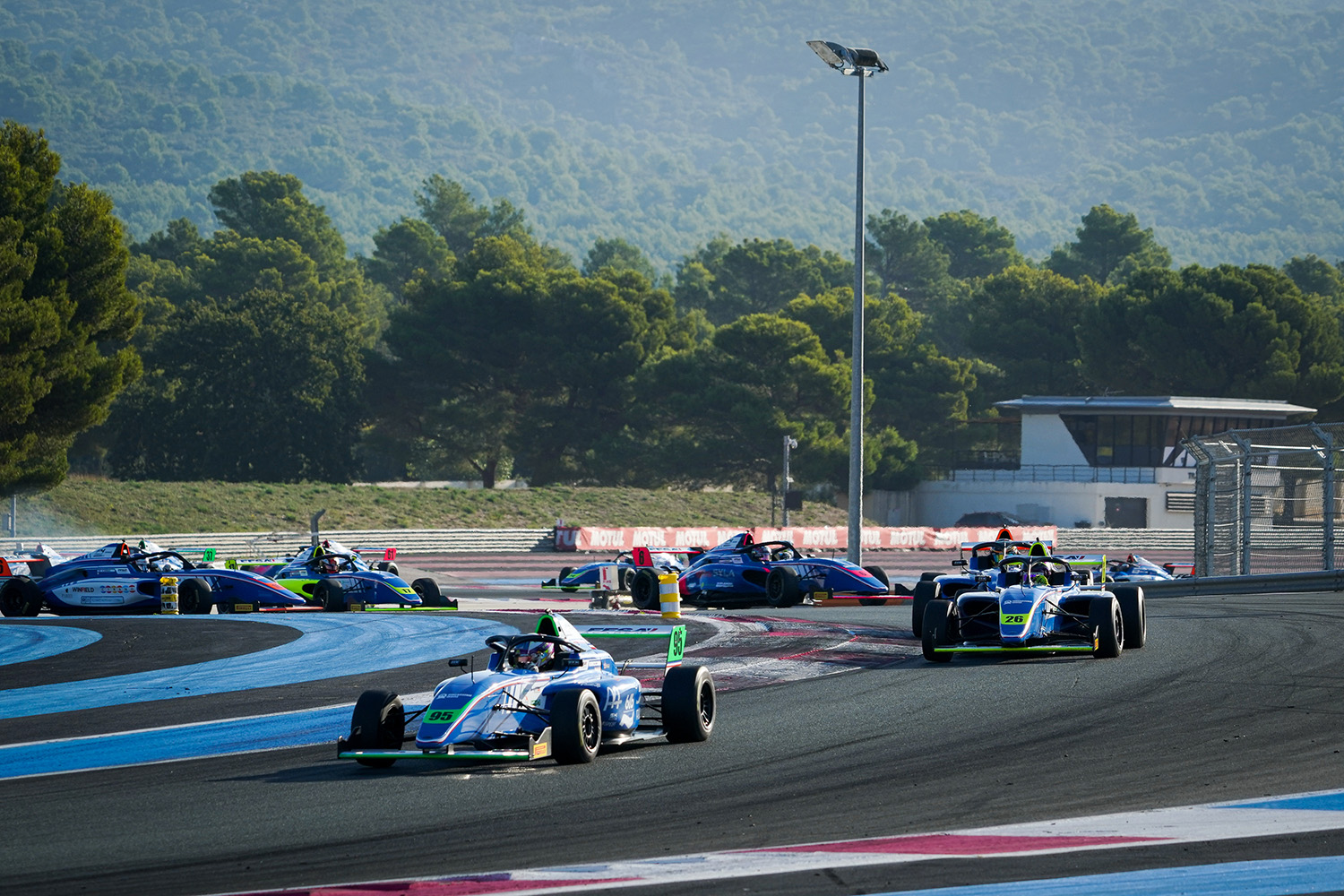 Under the sun of southern France, the Circuit Paul Ricard produced two quality races, interspersed with a few twists and turns that kept the suspense alive right to the end. Between Enzo Peugeot and Evan Giltaire, who will be crowned FFSA Academy Champion of France 2023? The answer late on Sunday morning, 8th October.
Race 1: Pole, victory and fastest lap for Evan Giltaire
Friday afternoon's Qualifying session ended with another pole position for Evan Giltaire. He was joined on the front row by Canadian Kevin Foster, ahead of Romain Andriolo and overall leader Enzo Peugeot. Giltaire got off to the best possible start and led all the way to the chequered flag. While Foster quickly moved into 2nd place, a superb battle ensued behind him between Peugeot and Edgar Pierre. Motivated by the prospect of a podium finish for the first time this season, Pierre found an opening shortly after the halfway point.
4th at the end of the Qualifying session, but starting only 9th due to a penalty, Paul Alberto was once again in the limelight after his encouraging meeting at Lédenon. Romain Andriolo lost more than ten places on the first lap, but showed himself capable of coming back to 6th with some excellent lap times. Adrien Closmenil was playing catch-up when he suddenly dropped from 6th to 12th place, before coming back to 10th behind American Garrett Berry, Belgian Yani Stevenheydens and Canadian Jason Leung. Hiyu Yamakoshi was soon forced to retire.
Race 2: Yani Stevenheydens holds off Garrett Berry
A lot happened late on Saturday afternoon at the Circuit Paul Ricard in Race 2. A few seconds after the lights went out, several cars in the leading group touched each other, not escaping damage from the incident. Paul Alberto and Edgar Pierre were involved and retired, as did championship leader Enzo Peugeot, while Japan's Hiyu Yamakoshi continued to race with a damaged front wing. Ahead of them, Garrett Berry maintained his advantage from pole position, determined by the principle of the inverted grid for the top 10 finishers in the Qualifying session. Yani Stevenheydens huddled in his wake, leaving Jason Leung just a few lengths ahead of an impressive chasing pack comprising Foster, Andriolo, Closmenil and Giltaire. But the positions weren't going to stay there, far from it.
Stevenheydens did well to surprise Berry and take the lead. Yamakoshi, who was having problems with his single-seater which had become difficult to take advantage of, added to the list of retirements after contact. Foster passed Leung, quickly followed by Giltaire who had just got rid of Adrien Closmenil. As the laps went on, Berry began to press more and more, forcing the Belgian leader to defend very hard. After the safety car entered the track for a few minutes, and despite Berry's vain attempts, Stevenheydens won the second F4 race of his career. Foster and Giltaire finished in 3rd and 4th place. Enzo Richer led the chasing pack, climbing from 18th to 5th place with panache. Leung was 6th ahead of Italian Leonardo Megna, with the final point going to Romanian Andreï Duna. Closmenil had to retire, while Andriolo could only console himself with the fastest lap of the race.
In the provisional FIA French F4 Championship standings, Enzo Peugeot has 295 points to Evan Giltaire's 291, who will start Race 3 from pole ahead of Foster, Andriolo and Peugeot.
Continuation of the programme at Paul Ricard: Race 3, Sunday 8th October 2023 from 11:00 to 11:30
> Race 1 standings
1 Evan Giltaire (France) with 9 laps
2 Kevin Foster (Canada) at 1.850
3 Edgar Pierre (France) at 4.738
4 Enzo Peugeot (France) at 5.195
5 Paul Alberto (France) at 7.043
6 Romain Andriolo (France) at 7.083
7 Garrett Berry (United States) at 8.324
8 Yani Stevenheydens (Belgium) at 9.361
9 Jason Leung (Canada) at 10.638
10 Adrien Closmenil (France) at 10.928
11 Gabriel Doyle-Parfait (Great Britain) at 11.671
12 Enzo Richer (France) at 12.016
13 Max Reis (Germany) at 13.497
14 Leonardo Megna (Italy) at 13.856
15 Frank Porte Ruiz (Andorra) at 14.931
16 Luca Savu (Romania) at 16.143
17 Tom Kalender (Germany) at 16.596
18 Finn Wiebelhaus (Germany) at 17.515
19 Joao Paulo Diaz Balesteiro (Colombia) at 18.994
20 Edouard Borgna (France) at 19.828
21 Louis Schlesser (France) at 20.211
22 Yaroslav Veselaho (Ukraine) at 20.621
23 Pol Lopez (Spain) at 22.116
24 Andrei Duna (Romania) at 28.367
25 Hiyu Yamakoshi (Japan), retired on lap 2
26 Karel Schulz (France), retired on lap 1
Pole position: Giltaire in 2:06.569
FL: Giltaire in 2:07.385 (avg. 164.5 km/h)
> Race 2 standings
1 Yani Stevenheydens (Belgium) with 10 laps
2 Garrett Berry (United States) at 0.557
3 Kevin Foster (Canada) at 0.820
4 Evan Giltaire (France) at 1.144
5 Enzo Richer (France) at 2.813
6 Jason Leung (Canada) at 4.245
7 Leonardo Megna (Italy) at 4.871
8 Andrei Duna (Romania) at 5.180
9 Frank Porte Ruiz (Andorra) at 5.296
10 Finn Wiebelhaus (Germany) at 6.409
11 Louis Schlesser (France) at 6.533
12 Tom Kalender (Germany) at 6.648
13 Gabriel Doyle-Parfait (Great Britain) at 7.237
14 Edouard Borgna (France) at 7.801
15 Luca Savu (Romania) at 9.202
16 Yaroslav Veselaho (Ukraine) at 11.912
17 Karel Schulz (France) at 19.160
18 Max Reis (Germany), retired on lap 7
19 Pol Lopez (Spain), retired on lap 6
20 Romain Andriolo (France), retired on lap 6
21 Adrien Closmenil (France), retired on lap 5
22 Hiyu Yamakoshi (Japan), retired on lap 4
23 Joao Paulo Diaz Balesteiro (Colombia), retired on lap 3
24 Paul Alberto (France), retired on lap 2
25 Edgar Pierre (France), retired on lap 1
26 Enzo Peugeot (France), retired on lap 1
FL: Andriolo in 2:07.538 (avg. 164.3 km/h)