At the end of an incredible suspense, Evan Giltaire turned the tables in his favour to become FIA French F4 Champion after a final victory in Race 3 at Paul Ricard ahead of his rival Enzo Peugeot and Japan's Hiyu Yamakoshi.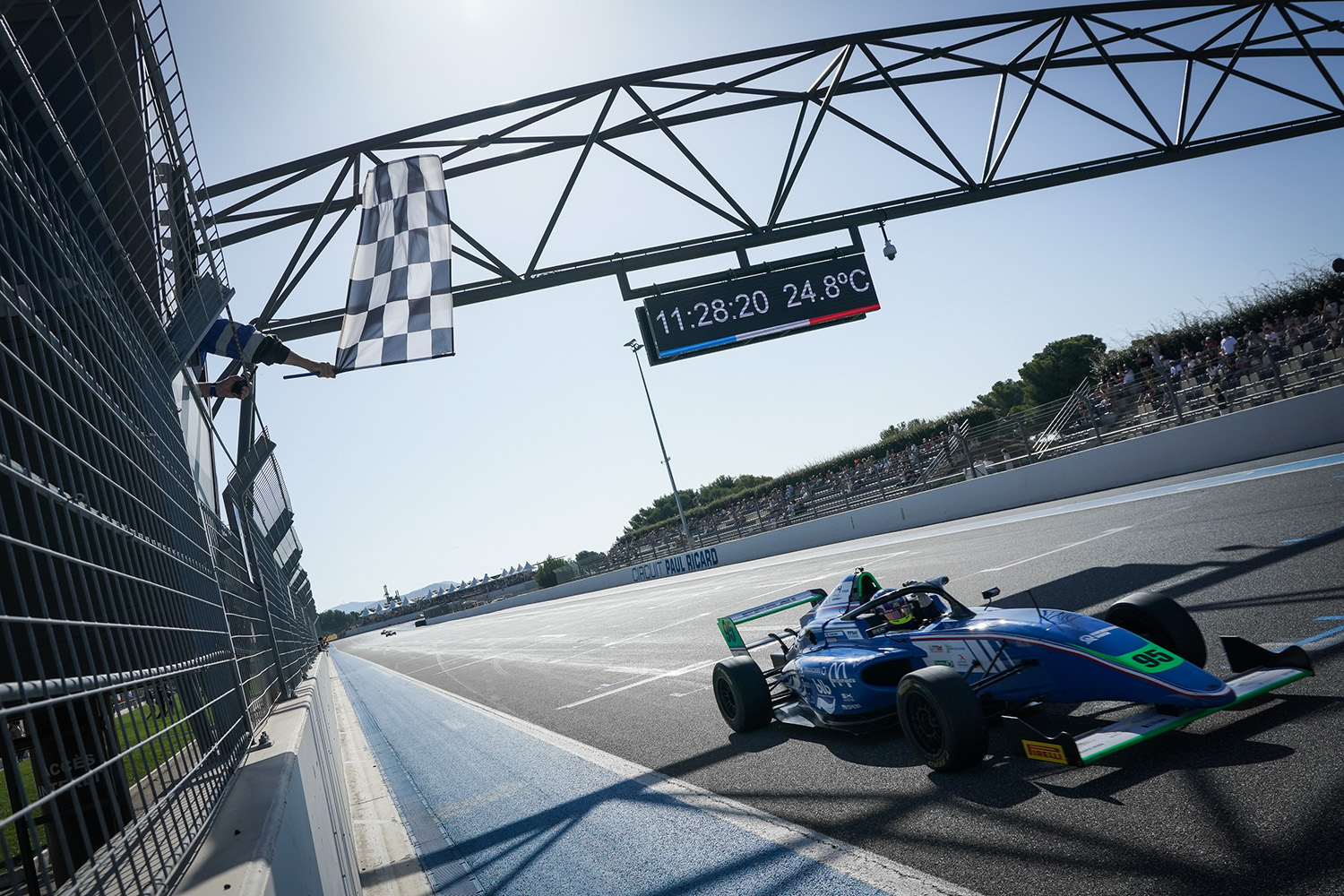 At the start of Race 3, Evan Giltaire had his destiny in his own hands. His double pole position on Friday enabled him to start from the top place on the grid once again. Although he was still four points behind Enzo Peugeot going into this final race of the season, he knew that another victory could give him the title, whatever his rival's result.
Race 3: Evan Giltaire in the lead from start to finish
Although he hesitated a little at lights out, Giltaire took the lead at the first corner despite pressure from Canadian Kevin Foster. Hiyu Yamakoshi made a magnificent start to the race, quickly getting the better of Romain Andriolo and Enzo Peugeot. Yani Stevenheydens, on the other hand, lost four places in the first-lap battle. Aware that his only strategy was to attack in an attempt to catch up with the leader, Peugeot first passed Andriolo, then Foster in an overtaking manoeuvre in which the two cars made contact. The contact damaged the Canadian's car, forcing him to retire without jeopardising his 3rd place in the Championship.
Peugeot continued its offensive by surprising Yamakoshi for 2nd place. Meanwhile, Giltaire had literally taken off at the front of the race, setting the fastest lap. He then kept up a very steady pace, enough to maintain a lead of almost four seconds at the finish. "At the finish, it was indescribable joy," admitted Evan, "My aim was obviously to become French Champion in my first season in a single-seater, but it was never easy. I arrived here at Le Castellet 28 points behind, but I made sure not to think about the Championship. I just concentrated on giving it my all, achieving the two pole positions, winning both Races 1 and 3, but also scoring maximum points in Race 2. It worked. But if I look back, I think I deserved this title, with the number of wins, pole positions and fastest laps."
Yamakoshi, who had been unhappy the day before, was happy to be on the podium once again, taking 3rd place in this case. However, it wasn't enough to deprive Romain Andriolo of 4th place overall. Paul Alberto finished the season on a high by moving up from 6th to 4th place in Race 3, just ahead of Andriolo. American Garrett Berry was again in fine form, finishing 6th ahead of Andrei Duna. Great Britain's Gabriel Doyle-Parfait drove his best race of the season, scoring his first points with a convincing 9th place ahead of Frenchman Karel Schulz. Enzo Richer, who had gained a number of places since the start, unfortunately ended his season by retiring.
This new season of the French F4 Championship ended on a high note, having more than lived up to its promise and kept us on the edge of our seats. In terms of numbers (27 single-seaters at Paul Ricard), nationalities, intensity, revelations, progressions, detection, number of different winners or circuits, the FFSA Academy can be proud of the choices made to make the unique formula a great success. Not forgetting fairness, cost control and the training of mechanics, who have played a large part in the success of the concept, to which we can add the expertise of the technical partners: Mygale for the F4 single-seaters, Renault for the engines managed by Oreca, Pirelli for the tyres and Repsol for the 100% renewable biofuel.
> Race 3 standings
1 Evan Giltaire (France) with 11 laps
2 Enzo Peugeot (France) at 3.898
3 Hiyu Yamakoshi (Japan) at 5.023
4 Paul Alberto (France) at 9.412
5 Romain Andriolo (France) at 10.470
6 Garrett Berry (United States) at 15.524
7 Andrei Duna (Romania) at 16.318
8 Edgar Pierre (France) at 16.494
9 Gabriel Doyle-Parfait (Great Britain) at 20.392
10 Karel Schulz (France) at 22.045
11 Adrien Closmenil (France) at 24.330
12 Frank Porte Ruiz (Andorra) at 25.272
13 Leonardo Megna (Italy) at 28.839
14 Jason Leung (Canada) at 31.328
15 Tom Kalender (Germany) at 31.883
16 Finn Wiebelhaus (Germany) at 31.982
17 Max Reis (Germany) at 32.129
18 Edouard Borgna (France) at 37.472
19 Louis Schlesser (France) at 37.855
20 Yaroslav Veselaho (Ukraine) at 39.040
21 Yani Stevenheydens (Belgium) at 43.314
22 Joao Paulo Diaz Balesteiro (Colombia) at 46.526
23 Luca Savu (Romania) at 1:09.178
24 Pol Lopez (Spain) at 2 laps
25 Enzo Richer (France), retired on lap 8
26 Kevin Foster (Canada), retired on lap 5
FL: Giltaire in 2:07.034 (avg. 164.9 km/h)
> Final standings of the 2023 FIA F4 French Championship
1 Giltaire (FRA) 317 pts, 2 Peugeot (FRA) 313 pts, 3 Foster (CDN) 216 pts, 4 Andriolo (FRA) 188 pts, 5 Yamakoshi (JPN) 146 pts, 6 Berry (USA) 124 pts, 7 Stevenheydens (BEL) 107 pts, 8 Richer (FRA) 76 pts, 9 Pierre (FRA) 74 pts, 10 Lopez (ESP) 54 pts, 11 Alberto (FRA) 38 pts, 12 Megna (ITA) 33 pts, 13 Closmenil (FRA) 30 pts, 14 Reis (DEU) 24 pts, 15 Schlesser (FRA) 23 pts, 16 Kalender (DEU) 23 pts, 17 Duna (ROU) 19 pts, 18 Leung (CDN) 14 pts, 19 Schultz (FRA) 12 pts, 20 Savu (ROU) 8 pts, 21 Veselaho (UKR) 6 pts, 22 Wiebelhaus (DEU) 6 pts, 23 Porte Ruiz (AND) 2 pt, 24 Doyle-Parfait (GBR) 2 pts, 25 Diaz Balesteiro (COL) pts, 26 Borgna (FRA).