The French F4 Championship started with a convincing victory in Race 1 for Masson, who followed up his pole position with panache. The reversed grid in Race 2 benefited the Thai driver Sutumno, who won in a solo race.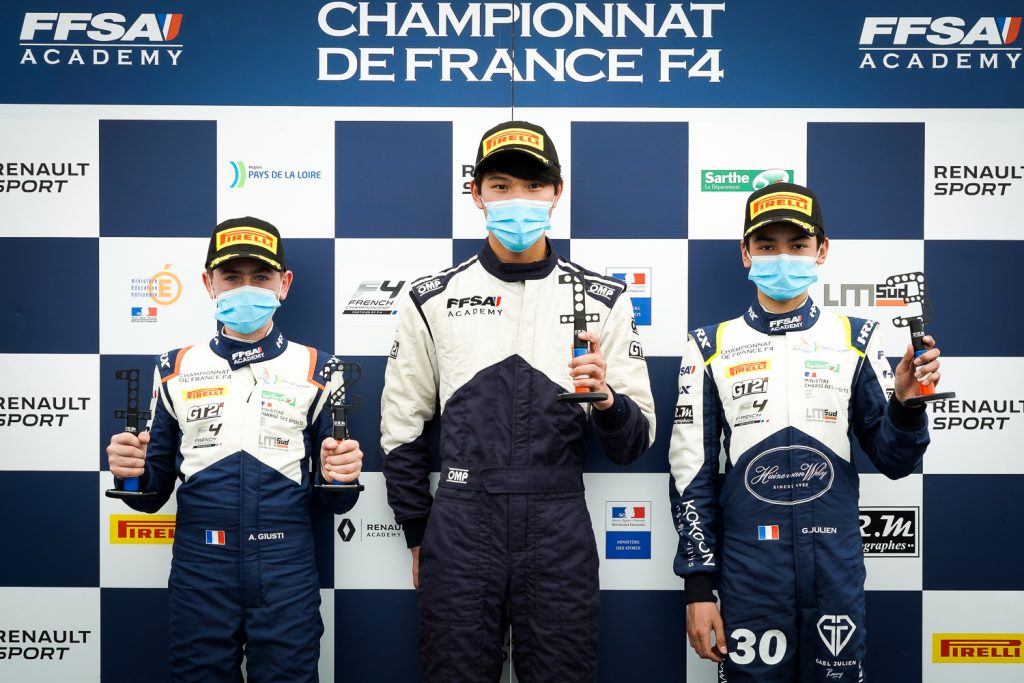 The race to succeed the 2020 Champion, Japanese Ayumu Iwasa, has been launched and many drivers look like they will be able to claim the coveted FFSA Academy title. Coming from different backgrounds, the 16 drivers entered form an international and homogeneous field, where drivers need to find a way to stand out. Esteban Masson was the first to do so with an excellent first day of competition. In Race 1, his victory quickly became apparent after he took pole position… "I concentrated on getting a good start and taking the lead without taking any undue risks in this first start of the season. I was fast in the first few laps, which allowed me to open up a gap. That was the objective, as it allowed me to manage my lead and above all the wear and tear on the tyres," commented Esteban calmly.
Esteban Masson dominates from start to finish in Race 1
Owen Tangavelou and Daniel Ligier set out with high ambitions for their second year in the discipline, and celebrated their first podium in F4. "I'm clearly aiming for the title this season, and this result confirms my determination to fight for victory at every race," Owen admitted after stepping off the podium. "I was able to pass the Australian Hugh Barter after the lights went out and then I saw that Daniel was also setting a good pace behind me, which forced me to keep going until the chequered flag."
5th on the grid, Daniel Ligier was very satisfied with his 3rd place. "It's a great way to start the championship. I feel that I have really turned a corner since 2020, I feel much more comfortable at the wheel of my car. I spent the whole race on Owen's tail, but I wasn't in a position to overtake him, so I preferred to secure this podium." Barter was constantly on the back foot and was unable to make up the places he lost at the start, and took the chequered flag in 4th place.
4th in the Qualifying session, Macéo Capietto would have liked to take part in this duel, but a mechanical problem on the formation lap unfortunately stopped him in his tracks.
An interesting duel for 5th place took place between the British driver Aiden Neate, the Swiss driver Dario Cabanelas and Gaël Julien, with the first two also fighting for the victory in the Junior class. Cabanelas was looking for the slightest mistake from his rival, but Neate held his ground. "I am satisfied with this first performance and success in Junior on my debut in F4, but I know that I still have a lot of room for improvement to reach the level of the drivers who finished ahead of me today."
A few lengths behind Julien, who was in 7th place, three drivers fought wheel to wheel throughout the race for 8th place. Alessandro Giusti finally got rid of the pressure from Noah Andy and Thai Thanapongpan Sutumno, who secured the front row of Race 2, characterised by its inverted grid for the top 10 of Race 1. Behind Enzo Geraci and Pierre-Alexandre Provost in the middle of an battle, a final incident involved Angelina Favario and Vignesh Kadarabad, when the female driver had just taken the lead over the Indian. The Polish driver Adam Szydlowski had to retire due to a mechanical problem.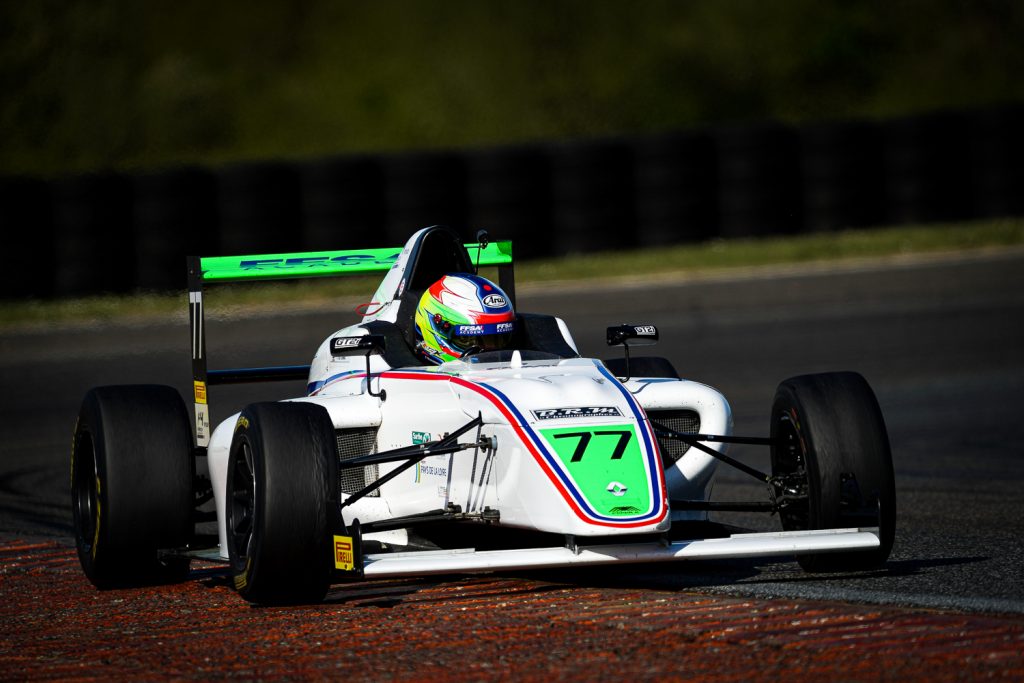 Thai victory in Race 2
As usual, the second race of the meeting was full of twists and turns in the field, but this time not for 1st place. Thanapongpan Sutumno from Thailand put in a perfect performance and won by a good five seconds. "This is my first win since I made the decision to come and race on the European continent, in karting in 2016. It's a great moment that motivates me for the rest of the season."
Brilliantly 2nd for several laps, Noah Andy made a small mistake that sent him straight into a spin with five laps to go. Concentrating on keeping Gaël Julien behind him, Alessandro Giusti avoided the unfortunate Reunionese driver and ran away with 2nd position. "I was already close to passing Noah at the start and I put him under pressure for several laps," said Alessandro. "Once I was 2nd, I managed to keep a fast pace until the end to stay ahead of Gaël".
"I really enjoyed this duel at the front, especially as I also had to watch Aiden Neate in my rear view mirror," confided Gaël Julien. "I could also see the chasing pack getting closer, while the car started to understeer at the end of the race. In these conditions, I was happy to be on the podium."
Three drivers spared no effort to improve their starting position, given according to the principle of the reversed grid. Daniel Ligier moved up from 8th to 5th place, Esteban Masson from 10th to 6th and Macéo Capietto from 16th to 8th, with the fastest lap. The three drivers put on a great show throughout the race. Australian Hugh Barter ended up in 7th position. Dario Cabanelas, who was 9th, followed closely behind in this tough battle, with the promising Pierre-Alexandre Provost in his slipstream. In Race 2, 11 drivers lapped in times grouped in 4 tenths!
Continuation of the programme at Nogaro: Race 3, Monday 5th April from 11.20 to 11.45
Race 1 ranking
1 Esteban Masson (France) after 15 laps
2 Owen Tangavelou (France) at 2″987
3 Daniel Ligier (France) at 3″455
4 Hugh Barter (Australia) at 4″447
5 Aiden Neate (United Kingdom) at 14″928, 1st Junior
6 Dario Cabanelas (Switzerland) at 15″421, 2nd Junior
7 Gaël Julien (France) at 15″875
8 Alessandro Giusti (France) at 23″691, 3rd Junior
9 Noah Andy (France) at 26″069
10 Thanapongpan Sutumno (Thailand) at 26″371
11 Enzo Geraci (France) at 34″019, 4th Junior
12 Pierre-Alexandre Provost (France) at 35″309, 5th Junior
13 Angélina Favario (France) at 1 lap
14 Vignesh Kadarabad (India) at 2 laps
15 Adam Szydlowski (Poland) 11 laps down
16 Macéo Capietto (France) non-starter
Fastest lap: Esteban Masson in 1'27″377 (avg. 149.8 km/h)
Race 2 ranking
1 Thanapongpan Sutumno (Thailand) after 15 laps
2 Alessandro Giusti (France) at 5″381, 1st Junior
3 Gaël Julien (France) at 6″809
4 Aiden Neate (United Kingdom) at 7″198, 2nd Junior
5 Daniel Ligier (France) at 9″205
6 Esteban Masson (France) at 9″421
7 Hugh Barter (Australia) at 9″825
8 Macéo Capietto (France) at 9″904
9 Dario Cabanelas (Switzerland) at 10″279, 3rd Junior
10 Pierre-Alexandre Provost (France) at 11″190, 4th Junior
11 Owen Tangavelou (France) at 12″695
12 Adam Szydlowski (Poland) at 13″082
13 Enzo Geraci (France) at 14″211, 5th Junior
14 Angélina Favario (France) at 39″037
15 Vignesh Kadarabad (India) at 53″839
16 Noah Andy (France) at 4 laps
Fastest lap: Macéo Capietto in 1'28″855 (average speed 147.3 km/h)