Mathematically, Japanese driver Souta Arao still has a very small chance of winning the title! But on the Paul Ricard circuit, Frenchman Alessandro Giusti and Australian Hugh Barter will be fighting hard for the title of 2022 French F4 Champion…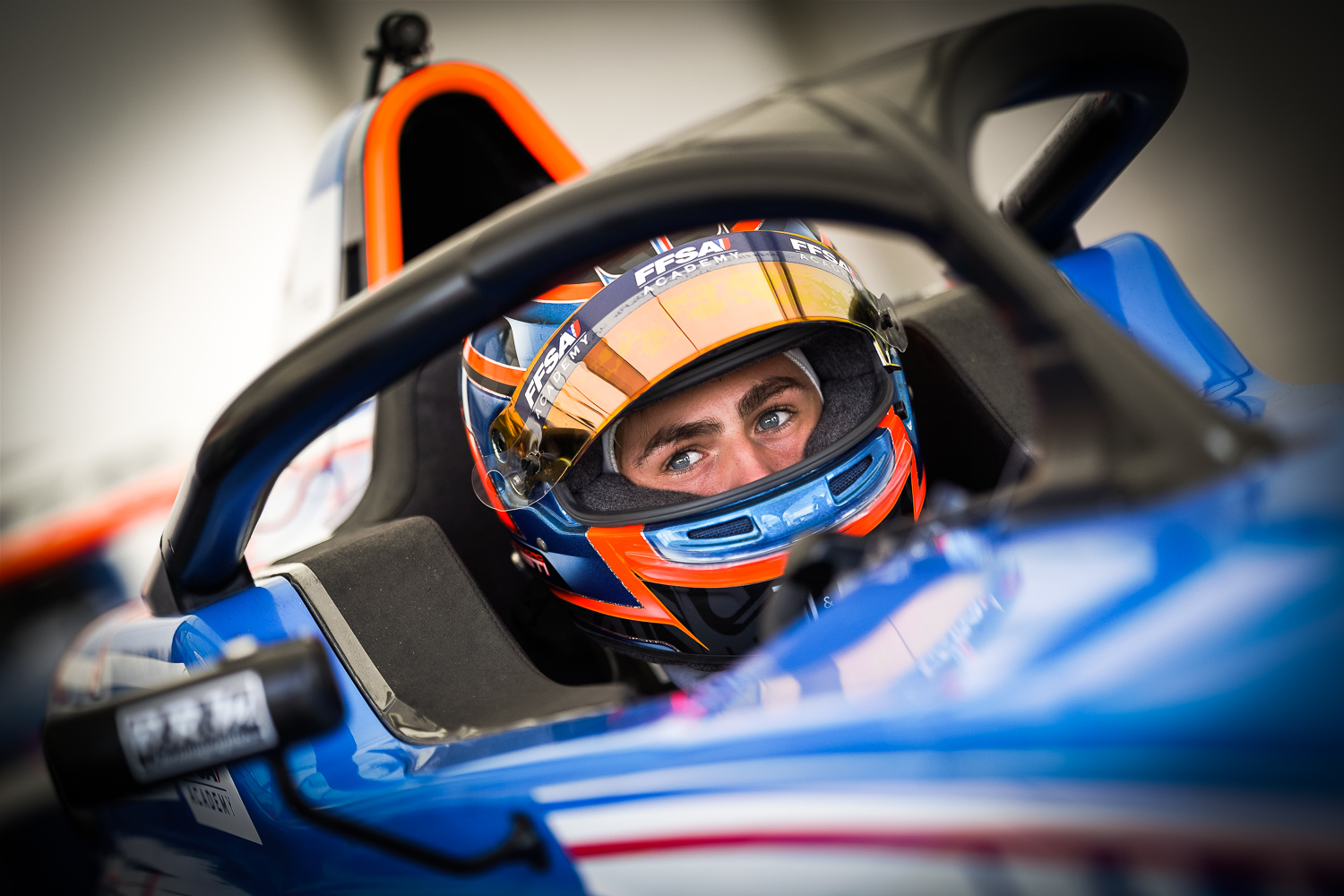 Who will succeed Frenchman Esteban Masson, who was crowned Champion in 2021 in the popular FFSA Academy Championship? We will probably have to wait until Sunday 16th October and the very last race to know which driver will be in the spotlight. The suspense promises to be intense at Le Castellet, but not only for the top place. Among the four major players of the season, only three will have the chance to climb on the final podium. Further back, the places of honour are also undecided. The track in the south of France, which has hosted the last few French Formula 1 Grands Prix, is never easy to get to grips with, while the weather can be a spoilsport in this autumn period.
A suspenseful finale
Alessandro Giusti is currently on a good run. Last year's F4 Junior Champion and used to podium finishes since the opening of the Championship in April at Nogaro, the young French hopeful celebrated his first victory in September at Lédenon, before taking the lead of the provisional ranking the following week in Spain at Valencia. The consistency he has shown throughout the season allows him to arrive at the Paul Ricard circuit with a 32-point lead. He will be able to keep an eye on his main rival in the race for the title, but be careful not to play it too safe against a formidable opponent. Hugh Barter is clearly the best performer this year, but his commitment to another championship has cost him valuable points.
Apart from Barter and Giusti, no less than six drivers managed to climb the top step of the podium: Souta Arao, Yuto Nomura and Enzo Peugeot twice, Romain Andriolo and Pierre-Alexandre Provost. Elliott Vayron, currently 4th in the standings, intends to take advantage of this seventh and final round to add to his score, in order to mount the final podium in the French Championship against Souta Arao, the Japanese driver in Red Bull colours scouted by the Suzuka Racing School. The latter will have to win everything at Paul Ricard and hope for no points from the Giusti-Barter duo in order to hope to win the Championship, which does not include any dropped scores this season. Not an easy task!
For the places of honour in this very international competition, the Swiss driver Dario Cabanelas and the Colombian Jeronimo Berrio can still improve their ranking. Behind them, Pierre-Alexandre Provost and Romain Andriolo will try to defend their top 10 positions against drivers who have often shown great things at the wheel of their F4 cars, such as the Belgian Lorens Lecertua, Edgar Pierre, Enzo Geraci or Louis Pelet.
From 14th to 16th October, 24 single-seaters will line up on the starting grid. The American Garrett Berry will join the ranks of the FFSA Academy on this occasion.
> F4 Paul Ricard 2022 programme
Friday 14th October: Free Practice (10:40 – 11:10) and Qualifying (17:20 – 17:45)
Saturday 15th October: Race 1 (11:45 – 12:15) and Race 2 (16:10 – 16:40)
Sunday 16th October: Race 3 (10:05 – 10:35)
> FIA French F4 Championship (provisional standings after Valencia)
1 Giusti (FRA) 250 pts, 2 Barter (AUS) 218 pts, 3 Arao (JAP) 183 pts, 4 Vayron (FRA) 176 pts, 5 Peugeot (FRA) 128 pts, 6 Nomura (JAP) 96 pts, 7 Cabanelas (SUI) 83 pts, 8 Berrio (COL) 80 pts, 9 Provost (FRA) 68 pts, 10 Andriolo (FRA) 68 pts 11 Lecertua (BEL) 50 pts, 12 Pierre (FRA) 48 pts, 13 Geraci (FRA) 40 pts, 14 Pelet (FRA) 40 pts, 15 Reis (GER) 23 pts, 16 Villagomez (ECU) 11 pts, 17 Richer (FRA) 8 pts, 18 Sarrazin (FRA) 7 pts, 19 Réveillère (FRA) 3 pts, 20 Mini (PAN) 2 pts
> Mygale single-seater, Renault turbo engine, Pirelli tyres, 100% renewable Repsol biofuel
Follow the event via the ffsaacademy.org website and social networks.